There are some things that never go out of style, and that includes a culinary trip to Paris. You can do so many trips to the City of Lights and still not be able to keep up with its restaurant scene. Same if you lived in Paris, because there's always something new. Here are the top restaurants to put on your list that are worthy of inspiring a trip to Paris.
Whether you're a serious foodie or interested in the dining scene — or both — this guide is filled with essential restaurants to go in Paris right now. It's even sorted by the best lunch and dinner spots, top dishes, and aesthetic. Basically, with the following list you'll be ready to take on the city of Paris and eat like never before.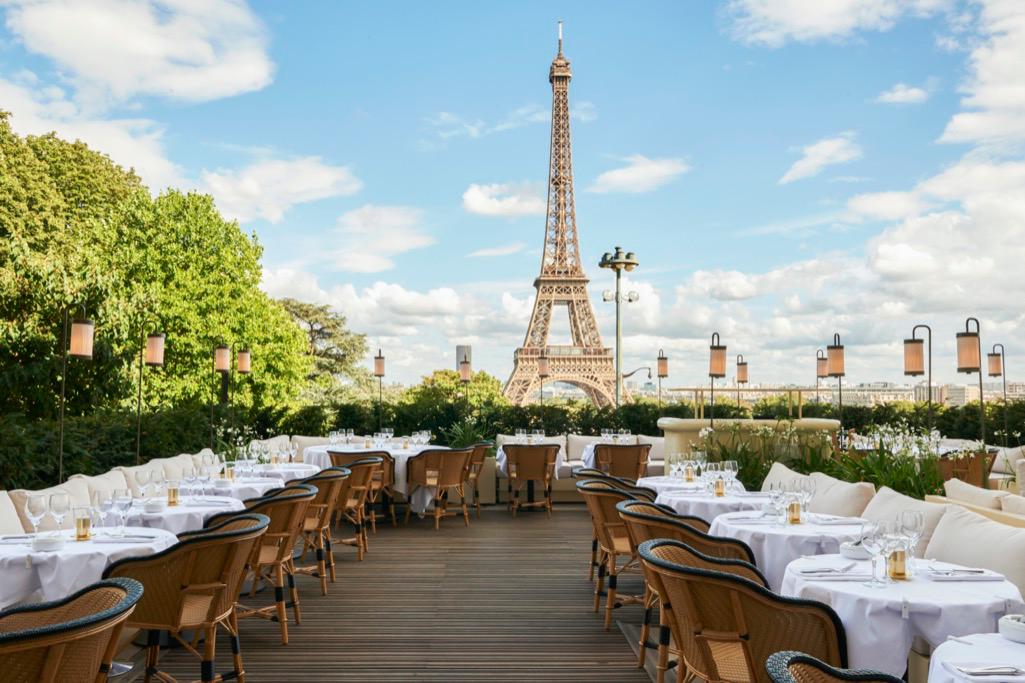 The Lunch Scene

The Restaurant: Girafe
The Location: Trocadéro
Girafe is located next to the Cité de l'architecture et du patrimoine and nestled within the gardens of Trocadéro. From here, you're a stone's throw away from multiple museums, the Seine, and the Eiffel Tower. With interiors designed by Joseph Dirand, Girafe features a marble bar, lush plants, and a distinct 1930s atmosphere. Additionally, from its terrace, you can eat while marveling at the beauty of the Eiffel Tower. The menu focuses on bringing fresh seafood to the French capital. Often prepared in simple-yet-inventive arrangements, dishes typically depend on the season. Although Girafe sticks to seafood, it's cooked in a variety of styles and cuts with an accompanying wine list that matches the selections perfectly.
Address: 1 Pl. du Trocadéro et du 11 Novembre, 75016 

The Restaurant: L'Avenue
The Location: 8th Arrondissement
L'Avenue is a place to see and be seen. The restaurant is popular among celebrities and politicians alike. Being on the corner of Avenue Montaigne, it is a prime spot to sit outside and watch fashionable visitors and Parisians go by. The food is fresh and flavorful with a menu that has tons of options depending on what you're feeling. Some recommendations include the burrata, tuna tartare, lobster pasta, and sea bass. 
Address: 41 Av. Montaigne, 75008 

The Restaurant: Le Train Bleu
The Location: Quinze-Vingts
Le Train Bleu is located in Gare de Lyon, a train station steeped in history. Its interior is filled with gold ornamentation, paintings on the ceilings, and chandeliers. The luxurious restaurant transports guests to another period in time where they forget all about where they are going or where they came from to enjoy a great meal. Impressively, its reputation has remained unchanged over the years. For food, Le Train Bleu has partnered with Michelin chef Michel Rostang to create a seasonal menu that focuses on French tradition. Subsequently, the menu features old classics from when Le Train Bleu first opened, in addition to new fan favorites. 
Address: Pl. Louis-Armand, 75012 

The Restaurant: Loulou
The Location: 1st Arrondissement
Loulou sits in sprawling greenery at the edge of the Jardin des Tuileries. So part of the restaurant is open air and practically in the famed Garden itself. The facade of the Musée des Arts Décoratifs creates an opulent background for guests who come in looking for an elegant culinary experience. The interior part of the restaurant is again designed by Joseph Dirand (who also designed Girafe). He aims to pay homage to the French Decorative Arts movement. For example, Loulou features paintings, mirrors, leopard-print carpeting, and a slew of Eero Saarinen's Tulip chairs. The menu focuses on Italian gastronomy, with chef Benoit Dargère reinventing the classics and sourcing fresh local ingredients.
Address: 107 Rue de Rivoli, 75001 

The Restaurant: Forest
The Location: 16th Arrondissement
Located in the Modern Art Museum of Paris, Forest is a restaurant that thrives in the creative spirit it is surrounded by. Star chef Julien Sebbag has concocted a menu that celebrates Mediterranean cuisine while focusing on fresh sustainable ingredients. The dishes are simple yet beautifully arranged with plenty of vegetables, herbs, and nuts to create healthy but tasteful combinations. Likewise, the cocktails are equally as inspired with garnishes. We recommend eating out on the terrace surrounded by the columns and trees. 
Address: 11 Av. du Président Wilson, 75116 

The Restaurant: Hôtel Costes
The Location: 1st Arrondissement
Hôtel Costes isn't just another luxury hotel in Paris. Its chic style attracts a younger, happening crowd. Tons of people come in to see what all the fuss is about. Although there's indoor seating, the courtyard is the place to be. Jean-Louis Costes has had huge success in creating a menu that takes both traditional and contemporary approaches. Try the signature dishes, which include the asparagus, foie gras, veal chop, and the "tigre qui pleure" — Thai-style marinated beef. Also, the restaurant is great at night, when the space becomes almost entirely lit by candles. 
Address: 239 Rue Saint-Honoré, 75001 
The Dinner Scene

The Restaurant: Gigi
The Location: 8th Arrondissement
Although it opened only a year ago, Gigi is already a fierce competitor for the most glamorous restaurant in Paris. Just a block away from the Seine, it's on the seventh floor of the Théâtre des Champs-Élysées on the Avenue Montaigne. From there, you not only get a great view of the Eiffel Tower, but almost all of Paris. You'll want to dress to impress, because the crowd will be stunning whether they're out on the terrace or inside listening to the live band. Gigi has Italian fare and offers two separate menus. The Bellini Bar serves thin-crust pizzas, classic Italian cocktails, and caviar. Meanwhile, the Cucina features pastas, meats, fish, and truffle shaved onto just about anything.
Address: 15 Av. Montaigne, 75008 

The Restaurant: Victoria Paris
The Location: Ternes
Facing the Arc de Triomphe, Victoria is one of Paris's most iconic restaurants. It has huge windows that overlook the bustling Place de l'Étoile. The restaurant feels removed by its interior old-world elegance, yet still immersed in the lively city. However, Victoria transforms throughout the day as visitors come in for breakfast, lunch, aperitifs, or dinner. The Mediterranean cuisine has the culinary signature of chef Yiannis Kioroglou. He's cooked in San Sebastian, the French Rivièra, the Italian countryside, and even the Caribbean. At night, the atmosphere becomes more hip as house music plays and the lights dim. 
Address: 12 Rue de Presbourg, 75116

The Restaurant: Matignon
The Location: 8th Arrondissement
Matignon is right by the Champs-Élysées and across the street from the Jardins du Théâtre Marigny. Designed by Jacques Garcia, the restaurant is a dimly-lit, gold-colored room that creates a chic environment. A noteworthy dish to try is the "Crying Tiger," which is a lightly seared steak. After 11 p.m., the restaurant changes into a club with dancing and drinks renowned in Paris. As a result, this is a place that not only attracts curious visitors, but also the rich and stylish.
Address: 3 Av. Matignon, 75008

The Restaurant: Mūn
The Location: 8th Arrondissement
Mūn opened its doors in the summer of 2020 and has been a hit in Paris ever since. The kitchen is led by chefs Julien Chicoisne and Roland Puse, who serve Japanese cuisine but with a more modern approach. So you can find sushi, sashimi, and wood-fired yakitori, but also tartares, carpaccios, and larger plates on the menu. The interior is filled with an Asian atmosphere featuring velvet chairs, alcoves, varnished wooden panels, and lanterns. But what everyone is talking about is the rooftop terrace. Especially since it has tons of seating, lush plants, and views that go on for miles. 
Address: 2 Av. des Champs-Élysées, 75008

The Restaurant: Café Lapérouse 
The Location: 8th Arrondissement
The original Lapérouse goes back 250 years and hosted the likes of Victor Hugo, Marcel Proust, and Émile Zola. The current owner happened upon a portrait of another Lapérouse, a navigator and wine merchant who mysteriously disappeared. Thus began the idea to create a new venture, Café Lapérouse, based on the lost explorer. Partnering with prominent designers in Paris, like Dior, the restaurant features maritime artworks, antiques, and furniture inspired by the explorers' travels. The space includes two terraces and dining areas that have become popular places to eat. In addition, there's a wine cellar, a fine food store, and an ice cream shop. 
Address: 2 Pl. de la Concorde, 75001 

The Restaurant: Langosteria 
The Location: 1st Arrondissement
Langosteria is already a famous culinary tour-de-force in Italy. And now it has opened its first establishment outside the country. Langosteria Paris is located on the seventh floor of the luxury hotel Cheval Blanc. As a result, it has a large dining room and terrace, which overlook the Seine. The authentic Italian seafood (Langosteria translates to langoustine) brings in the who's who of Paris. You survey a wide array of seafood as you move from appetizers to the main course. While food is prepared with traditional Italian methods, Langosteria spruces it up for the modern palate.
Address: Cheval Blanc, 8 Quai du Louvre, 75001

The Restaurant: Cecconi's, Soho House
The Location: 9th Arrondissement
Cecconi's is a famous Italian establishment that became part of the Soho House family in 2004. Since then it has popped up in the exclusive club's properties from New York to Mumbai. Now, Soho House Paris has its own Cecconi's. As a result, the menu features flagship dishes, such as lobster pasta, fusilli with kale, and its classic meatballs. These dishes are perfect after a day working in the lounge or sunbathing by the pool. 
Address: 45 Rue la Bruyère, 75009 

The Restaurant: Verde
The Location: 8th Arrondissement
Verde is a chic restaurant with an open kitchen where you can fully immerse yourself in the dining experience. Focusing on French gastronomy while keeping up with seasonal trends, Verde serves inspired small plates. The menu is curated by Julian Thibault, who spent time working at Le Grand Véfour. Additionally, its convenient location (on Avenue George V) brings in both the fashionable and the young professionals. The bar serves pristine cocktails and offers a true mixologist experience, but with a Parisian twist.
Address: 24 Av. George V, 75008 Paris
Best for Foodies

The Restaurant: Parcelles
The Location: Le Marais
Parcelles is the quintessential Paris bistro. It opened its doors in 1936 and is situated on a charming Parisian side street. The interior is decked out in vintage furniture and tiled flooring, with a wooden bar and gilded ceiling. Chef Julian Chevalier regularly switches up the menu, depending on what's fresh and most in season. In addition, this bistro places special emphasis on French wines, with sommelier Bastien Fidelin creating thoughtful pairings. You can choose from dishes like the Country Pâté, Ris de Veau (veal sweetbread), Pork Polenta, and the Crème Caramel. 
Address: 13 Rue Chapon, 75003 Paris

The Restaurant: Arpège
The Location: 7th Arrondissement
Arpège is an award-winning restaurant with three Michelin stars that has a one hundred percent vegetarian menu. Famed Chef Alain Passard is fond of saying that the best cookbook ever written "is by Mother Nature herself." Consequently, his restaurant focuses on the ingredients grown in three top "kitchen gardens" in western France. Basically, he chose each location for its culinary possibilities. So you could call Passard somewhat of a hybrid. Both chef and farmer, he cultivates inspiration on the farm and then brings it into the kitchen to amaze diners. 
Address: 84 Rue de Varenne, 75007 

The Restaurant: Clamato
The Location: 11th Arrondissement 
Clamato was started by the same people who created one of Paris's best restaurants, Septime. Although equally as popular, Clamato focuses almost entirely on seafood. For example, its menu is subject to the daily catches and arrivals sourced from different parts of France. Each item comes from artisanal and sustainable fishing methods. The food is light and simplistic, just what you want from seafood. We suggest you order a plate of oysters paired with some sparkling wine, which is always a good idea. Clamato doesn't take reservations, so be sure to arrive early.
Address: 80 Rue de Charonne, 75011 

The Restaurant: Pastore
The Location: 9th Arrondissement
Pastore is known for having some of the best Italian food in Paris. The spacious restaurant has a spartan feel, with lower tables, empty walls, and dark brown chairs. The extensive wine list has over 250 options, so you can find just the right bottle to go with your meal. The restaurant's owners, Emma Hayes and Lorenzo Sciabica, previously worked at the famous Osteria Ferrara. A must-have on the menu is the burrata, which comes from Puglia and is finished off with a drizzle of infused olive oil. 
Address: 26 Rue Bergère, 75009 

The Restaurant: Vantre
The Location: Folie-Méricourt
Vantre is a French bistro filled with oak floors, bistro chairs, and classic vintage lighting. It opened its doors in 2016 with Canadian sommelier Marco Pelletier at the helm. As you can imagine, he has a serious wine cellar: nearly 18,000 bottles under 4,000 references. By partnering with Japanese chef Masaki Nagao, Pelletier harmoniously brings together contemporary French food and old vintages of wine. From the menu, you can order popular dishes like gnocchi in sage butter, roasted duck, and chai crème brûlée. 
Address: 19 Rue de la Fontaine au Roi, 75011

The Restaurant: Le Bon Georges
The Location: 9th Arrondissement
Le Bon Georges has gotten a lot of accolades since it opened. That's because it's unpretentious and not trying to be more than it needs to be. Moreover, the cheaper prices and fixed lunch menu bring in regulars, which gives the restaurant a neighborhood feel. The owner, Benoît Duval-Arnould, grew up on a farm and is dedicated to using organic seasonal ingredients. He sources them through French producers and suppliers. The old school chalkboard menu features new and enticing specials. But we suggest ordering the steak with a nice bottle of wine. 
Address: 45 Rue Saint-Georges, 75009

The Restaurant: Huîtrerie Régis
The Location: 6th Arrondissement
Huîtrerie Régis is a small, hole-in-the-wall oyster bar known mainly by insiders. It seats about 20 people at a time and has a vast array of oyster options paired with a selection of wines. Huîtrerie is French for oyster farm. Here, you can also get prawns, sea urchins, and scallops if you're all oystered out. Also, the menu has a small selection of desserts. The place is often packed and the oysters are the best in Paris. 
Address: 3 Rue de Montfaucon, 75006 

The Restaurant: Early June
The Location: 10th Arrondissement
Early June is a neighborhood wine bar that hosts traveling chefs for a few weeks to a few months. Basically, chefs come from around the world to put together their favorite dishes. So Early June offers a wide array of cuisines, from Vietnamese to Danish to Burmese. You can choose from a great selection of natural wines to go with the small plates. But come early if you want to get a seat. There are no reservations. Instead, there's often a line of people waiting to get in, nursing glasses of wine. 
Address: 19 Rue Jean Poulmarch, 75010 

The Restaurant: Café Les Deux Gares
The Location: 10th Arrondissement
Café Les Deux Gares has the ambiance of a great bistro, with thrifted rattan chairs, cement tiles, and stained wood. Located right by a train station, the restaurant has both indoor and outdoor seating where you can experience a slice of daily Parisian life. The food is priced well with a great lunch menu that has tons of options. Chef Jonathan Schweizer, formerly with the hit restaurant Sauvage, presents dressed-up dishes that take classic bistro food further. You can also choose from a great wine list. With all this going for it, Café Les Deux Gares is sure to be happening this fall. 
Address: 1 Rue des Deux Gares, 75010

The Restaurant: Le Rigmarole 
The Location: 11th Arrondissement 
Chefs Robert Compagnon and Jessica Yang have earned a Michelin star with their restaurant, Le Rigmarole. Most likely because their cooking goes against fancy French food, with a constantly changing menu that continues to surprise. Dishes are inspired by both European and Japanese cuisines, but you never know what you're going to get. Although there is an à la carte option, we suggest to put your trust in the kitchen with the specially designed Chef Menus. Reservations are hard to get, so book in advance. 
Address: 10 Rue du Grand Prieuré, 75011 

The Restaurant: La Cagouille
The Location: 14th Arrondissement
La Cagouille is a seafood restaurant near the famous Montparnasse cemetery. While the seafood is always fresh, the menu depends on the daily catch. Dishes are prepared simply and in a way that brings out the flavor of the fish. Try the salmon steak, pan-baked cod, or the pan-fried red mullet. Then wash it all down with some of La Cagouille's organic wines, chosen to complement the fish and shellfish preparations. 
Address: 10 place Constantin-Brancusi, 75014 

The Restaurant: Septime
The Location: 11th Arrondissement
Septime is a Michelin-starred restaurant and one of the most highly rated eateries in Paris. It made it onto "The World's 50 Best Restaurants" list thanks to Chef Bertrand Grébaut, who previously worked under Alain Passard at Arpège. The food is sourced by some of the best producers from around the world. Basically, you choose from two fixed menus: 60 euros for five courses, and 95 euros for seven courses. With a reputation like this you'll have to book weeks in advance, which is why we're telling you now. 
Address: 80 Rue de Charonne, 75011