There are some especially good eats out there for the holidays. NYC restaurants are back, for ordering in Chinese for Christmas or want to blow it out for New Year's Eve,  Even if you miss your Bubbe's famous latkes, these are your go-to restaurants this holiday.
  Or, really anytime of year, these restaurants are some of the best takeout in NYC.

Sadelle's
When we called out Bubbe's latkes, we were actually dreaming about the latkes at Sadelle's.  And the bagel tower.  And the impossibly thin cut lox.  Don't forget the pigs in a blanket.  Let's just read off the entire menu; at Sadelle's for Hanukkah, Festivus and Kwanza, they just have it all going on.  Anytime of year, Sadelles is some of the best takeout in NYC.
Musket Room 
The Musket Room is an example of why New York is so special. You can walk down a neighborhood street, in the quaint, yet slightly gritty neighborhood of Nolita, and your local spot is a Michelin-starred restaurant.  It's wooden, un-clothed tables may be unassuming, but the service and food are next level.  You may not think of this as takeout in NYC, but with the pandemic, that's now an option.
The Musket Room is open for reduced capacity dining.  However their delivery menu brings you the choice of a roast chicken or mackerel, and to flex their culinary muscles. It reminds you why they are a Michelin-starred restaurant. The more culinary items include an uni toast and a homemade sourdough with whipped ricotta, flower butter and a walnut pate.  This is one of those meals you likely aren't able to create at home, unless of course, you're a Michelin-starred chef.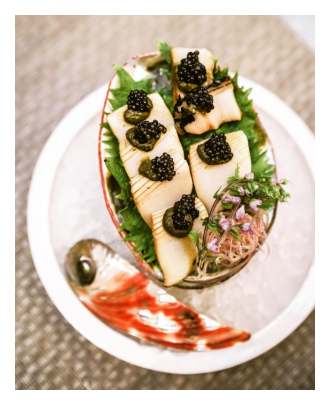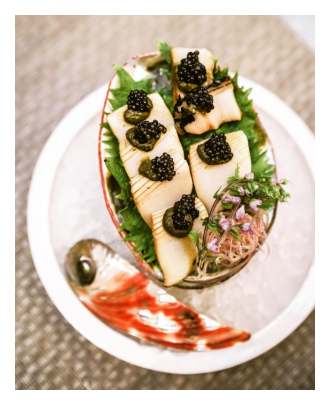 Kappo Masa 
Even if you know your way around a kitchen, there's nothing like ordering in sushi.  Sushi is probably the most popular takeout in NYC. And if there's a year you should feel guiltless to treat yourself, it's this one.  Kappo Masa is open again for dine-in and people watching.  But for those who want to order the best takeout in NYC, their delivery may just be one of the prettiest presentation out there.  They have a relatively reasonable sushi roll tasting for $62. For this modest sum, you get popular favorites like the King Crab California and the shrimp tempura.  If you're feeling really baller for takeout, the Toro Caviar Roll weighs in around $240.  It is Masa's sister restaurant, after all.