From a fiscal perspective, there's the everyday responsible you. You dutifully write that $100k pre-school tuition bill, pay your multiple mortgages, and plan for that far-off rainy day. But then there's the vacation you, and all bets are off. Here are noteworthy hotel gift shops where your credit card will come out to play.

Agora Ibiza at Six Senses Ibiza
Six Senses Ibiza is a wellness retreat driven as much by the local culture as it is by local artists and musicians. The core of the Six Senses Ibiza is sustainability, which extends to its high-end hotel gift shop. Agora Ibiza is more like a high-fashion-brand boutique. And it brings the very best of local Ibiza designers and artisans together.
Agora Ibiza has arranged four chapters of fashion-buying experience into the store: recycle, restore, rent, and reduce. While luxury was once synonymous with a range of rich and shiny things, the team at Agora recognizes that this is no longer the case. Instead, guests are after experiences in nature. As a result, Agora sells items that have been produced to contribute zero waste, or that up-cycle existing garments. That's what we call a high-end gift shop.

As a resort gift shop, Agora has the unique opportunity to dress guests for their Six Senses experiences. For New Year's Eve, the boutique dressed guests for the ball in designer gowns rented especially for the evening. Each gown fit the theme of "Xaracca Futura," an ode the beloved hidden bay Six Senses is located on.
Agora's Cinderella Wardrobe enables guests to feel like a princess for the night in a gown that looks as if it were made for them. The beautiful boutique is also the perfect backdrop for guests to dress up and take photos as if they, too, were runway models being fit for a red-carpet experience.
GOOP at Rosewood Miramar
No matter what your opinion is of Gwyneth Paltrow, it's indisputable she's built herself quite the empire at GOOP. We'd be hard pressed to find anyone who isn't at least a little bit intrigued by a product at GOOP. Gwyneth and her team curate the best in class in everything from cookware to vibrators. There's even a candle called "Smells Like My Vagina", so clearly they don't take themselves too seriously.
It makes sense that in Gwyneth's hometown of Montecito, Calif., GOOP would represent, which it does at the Rosewood Miramar. You could outfit your entire life, from your skin care regime to your top-of-the-line gauzy sweaters.
The shop takes inspiration from French makeup counters of decades past with cupboards and floorboard in glossy periwinkle paint. The team stocks shelves with Goop's top picks of sunscreen and face scrub for light packing travelers in the "goops, I forgot" section. There are also Gwyneth's favorite bikinis and coverups — and beachside tote bags.
Gwyneth has designed Goop to have something that even the most well prepared guests of the Rosewood forgot. Maybe you brought toothpaste…but you didn't bring a zero-waste charcoal toothbrush, did you?
Emporio Sirenuse and Eau D'Italie at Le Sirenuse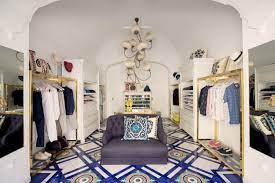 Ever been to Sirenuse? Nowhere else can you find everything you need to feel like you stepped out of Call Me By Your Name. This is more than a high-end hotel gift shop. Positano is a fantasyland unto itself, where embroidered terrycloth two-piece sets and floral pleated shorts suit every occasion. Emporio Sirenuse is really a fashion brand run by two designers who get what it means to be on the Mediterranean.
Their philosophy is that the Amalfi coast is about more than just a Vespa ride and baskets of lemons. The designs found at their store are influenced by Mesopotamia, Marrakech, Palermo, and Damascus. That rich background is reflected in the unique and intricate patterns and textiles that go from nautical stripes to a bright space-themed print. The five-inch short trend is timeless for Sirenuse. Classic caftans, polos, and graphic tees are also part of the permanent collections. And yet, their sophisticated styles are unique. This is a one-stop shop for a summer dress for any occasion.
At Eau d'Italie, the staff match clothes with award-winning fragrances blended by the Sirenuse family themselves. Before daughter Marina started the fragrance company, she was a documentary film maker. Her desire to capture the sensuousness of her surroundings bled into the characteristic fragrances of the Sirenuse. She derives her scents from the surrounding natural landscape, and they are part of the DNA of the hotel environment. This high-end hotel gift shop will take you to another world.
House of Dior at Cheval Blanc, Saint Barths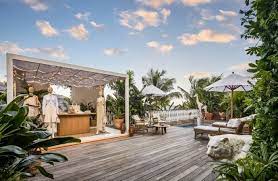 The boutiques at Cheval Blanc are island institutions in their own right. Small designers showcase women's wear collections both on the in-store mannequins, and on live models who walk spontaneously through the hotel once a month. To really get a sense of the hotel, it's important to know that it is regarded as a palace of the West Indies. It is a place where you might be seated next to Beyoncé and Jay-Z while dining.
Now, the Cheval Blanc have upped the ante, bringing in a Dior boutique pop-up of women's ready-to-wear resort wear.
The Cheval Blanc is known to draw guests from Paris, New York and London during high season. The confluence of such strong cultural influences is demonstrated throughout the collection. If the experience wasn't high end enough on its own, the new  hotel gift shop pop-up is sure to drive the level of opulence over the top.
Singita Boutique and Gallery at Singita Lebombo
Hotel gift shops can be one-stop shops for the snacks and sunscreen you might have forgotten. Rarely are they boutique stores where you might need a whole other suitcase to travel home with. This high-end hotel gift shop, Singita Stores,  might just be the exception.
The locally-made home goods and jewelry are the products of artisans who aim capture a bit of the bush in their designs. It seems hardly possible to find necklaces and wrap dresses of this quality at other stores, and the unique stools and chairs for sale are eye-catching additions to any living room.
We love that the shop is created with design enthusiasts in mind. It also pays respects to the great artistry and talent held by many designers in the region. Many wooden, wicker, and woven stools make up the collection of surprisingly sleek and modern pieces. There are small overtly South African motifs, but many of their pieces are much more subtle in influence, and are designed to fit in with any design.
If you fall in love with the hotel, you can almost recreate your experience at home with a hanging chair or leaf lamp. And for those looking for a small take-home item, we love the unique candle holders.
Related: Where to stay in South Africa