We really like our seafood, especially our crab. In particular, our crab cakes. So it's not lightly that we're throwing this out there: the best crab cake of your life is at a cheese shop in Sag Harbor. Cavaniola's, a place where there are no price tags (just hefty totals at the cash register), has perfected the perfect cake. This is the recipe, for you to recreate year round.
Cavaniola's Crab Cake
Yields six 4oz crab cakes

Ingredients
1 pound of crab meat
1/3 cup mayonnaise
1 cup panko breadcrumbs
1 tsp fresh minced thyme
1 egg
2 tbsp dijon mustard
1/2 tsp hot sauce
1/2 tsp salt
1 tsp black pepper
2 tbsp minced chives
1 tsp Old Bay seasoning
1 tbsp Worcestershire
For the Remoulade
3/4 cup mayonnaise
1/2 cup chopped bread and butter pickles, diced
1/4 red onion, diced and rinsed under cold water
2 tbsp capers, diced
2 tbsp chopped parsley
1 clove of garlic, minced
2 tbsp chopped dill, plus more for garnish
2 heaping tbsp dijon mustard
Juice of 1/2 lemon

Directions
Crab Cakes
To a large bowl, add the mayonnaise, egg, mustard, hot sauce, salt, pepper, old bay seasoning, Worcestershire, thyme, and chives. Mix thoroughly until there are no lumps. Next, add the crab meat and 1/2 cup of breadcrumbs. Using a scoop-and-fold motion, gently mix the ingredients together. You want the mixture to be thoroughly combined, but still have large chunks of crab meat intact.
Refrigerate the crab mixture for 20 minutes to allow it to set.
Next, line a baking tray with parchment paper. Using a 1/2 cup measuring tool, fill the cup with the mixture. Once it's in the measuring cup, press down firmly on the mixture to shape the cake and get rid of excess moisture.
Once the mixture is formed, slap the cup into the palm of your hand to release the cake. Place on the baking sheet and repeat with the rest of the mixture.
Place the baking sheet in the freezer for 20 minutes.
Once the cakes are firm, begin the breading process. Set out two bowls. In one bowl, add 1/2 cup panko breadcrumbs. In the other bowl, mix one egg yolk and a splash of water. Then, gently dunk the top of your crab cake into the egg wash, then the panko. You want a light coating, not an overwhelming layer of breadcrumbs. Gently flip the cake over and repeat on the other side.
Next, in a large non-stick pan over medium-high heat, add olive oil and butter. Once the butter is hot and foamy, add your crab cakes one at a time. Fry the cakes over medium heat for about five minutes, then flip. After about a minute on the other side, use a large spoon to baste the cakes with the butter. Fry for 4 more minutes.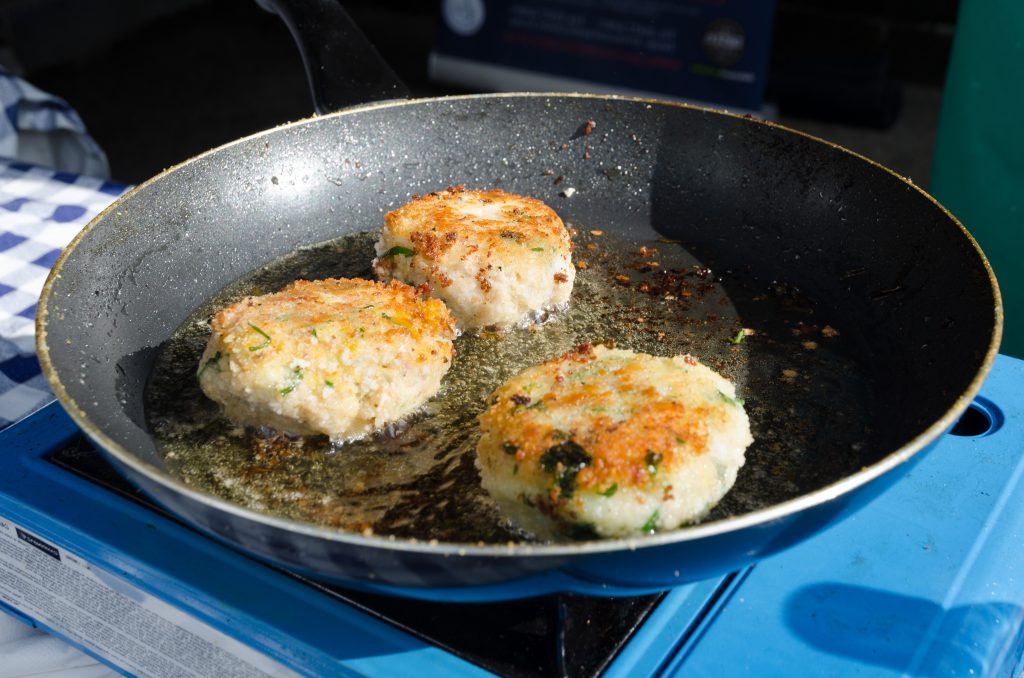 To complete the cooking process, remove the crab cakes from the pan and place them back on the baking tray. Bake for five to six minutes in an oven set at 425 degrees.
Remoulade
While the crab cakes bake, make your remoulade. Add the mayonnaise, pickles, onions, capers, garlic, parsley, dill, mustard, lemon juice, salt and pepper to a bowl and mix well.
To plate, spread a spoonful of remoulade onto a plate, then place the crab cake on top. Garnish with an extra dollop of remoulade and a sprig of dill, and serve.
Related Articles
Restaurant Reviews: Barking Crab
The Perfect Summer Salad: Crab & Fennel