We have a theory, which we actually got from Heidi Klum, that no matter how much soup you eat — even bisque — you're not gaining weight. Clearly it's worked for the Project Runway star, so we'll have what she's having. I mean, there's nothing better than a bowl of hot soup. It warms your body up, fills you up and tastes delicious. And it's the perfect dish to make a meal of.  So if you're looking for the best soup in NYC, here are the top four soups to order in.
Fred's at Barneys New York
 It feels just good to write Barneys, which for us was the start of the Apocalypse with their closing (not to be dramatic).  And wow, those guys at their restaurant Fred's are fighters, not only surviving the closing of Barneys, but dealing with COVID and a lot of people not knowing they're open for delivery. So we're including them on our soup list this week, because we love fighters.
While Barneys may have closed, Fred's remains open and is still one of the most popular soup places in town. They've been serving up bowls of soups for years and the soup is always made fresh with high-quality ingredients.
The Soup: Lobster Bisque
Their lobster bisque, as well as their Estelle's chicken soup have been classics for decades.  You can't go wrong with chicken noodle soup, but we lean towards the bisque, which has big chunks of lobster and just the right touch of cream but not so much you're regretful afterwards.
Pairs Well With
The pommes frites are among the best in town or pair your lobster bisque with a club salad.
Café Luxembourg
Another long-standing NYC institution, Café Luxembourg has been open for decades.
And if Café Luxembourg has proven anything in this pandemic, it's that its lines for brunch are not going anywhere.  Even this winter, where they've brought out the big heating lamps and pitched a tent for the season.
The food here has actually gotten even better during the pandemic, as they've integrated with their sister restaurants Odeon and Café Cluny to refine the menu and offer the best French cuisine in the West Village.
The Soup: French Onion Soup
It's not surprising that the signature soup at a French bistro is the classic French onion soup. And this has to be the best French onion soup in NYC. With its' caramelized onions, rich bone broth and topped with crispy baguette and generous gruyere, it's what you want to order to cut the chill this winter.
Pairs Well With:
You can't go wrong with any of the choices on the menu, really. The steak frites are unforgettable or try the steak tartare, which is spiced just right.
Sarge's
We know we're pretty fancy at Galavante, but we have always kept it real. There have been many cool diners that have come and gone over the decades in NYC, creating their own version of the classic matzo ball soup, but Sarge's has always been the consistent forefather of this New York classic.
The Soup: Matzo Ball Soup
The Matzo ball soup has been a staple at Sarge's since they opened in the 1950's and it's still just as popular today.
Their rich chicken consume and large matzo ball that disappears quicker than you think it would are just the consistency and comfort we all need right now.
Pairs Well With
The Reuben sandwich is perfect to enjoy with a bowl of matzo ball soup, or enjoy a side of mozzarella sticks and potato pancakes.  Their menu is like a dictionary of comfort food.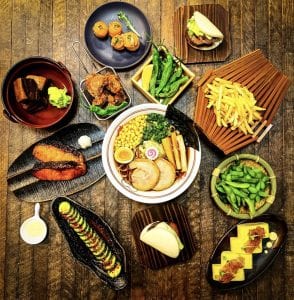 Ippudo
We know you secretly love the Cup O' Noodles, which was late night grub for many of us in college.  Even today, there's something comforting and familiar about the dehydrated peas and carrots, and salty broth, though decades later there are luckily more upscale (and healthy) options.  Still one of the best ramen is at Ippudo, where the West Side and East Village locales are open for delivery and takeout.
The Soup: Ramen
The traditional pork version, with broth, pork belly, rice noodles and vegetables definitley shines, but the vegetarian rendition in our opinion is just as good.
Pairs Well With:
Whichever ramen you choose, it goes great with a side of the French fries with miso seasoning and homemade dipping sauces.
Whether you're looking for spicy beef stew or traditional chicken broth comfort food, New York City has a restaurant that will satisfy your craving. So go and order in some of the best soup NYC has to offer.
If you liked this article, you definitely need to check out these others: