Sometimes it's practically impossible for a restaurant to not succeed, because the space it's in is just a winner. That's the case with Comodo NYC in the Freehand Hotel. Serving breakfast, lunch, dinner, and late-night drinks, Comodo offers Latin-American fare for every occasion. Here's the review.
Overview
In October of 2021, 10 years after they opened their first restaurant by the same name, Tamy Rofe and Felipe Donnely took a chance with Comodo 2.0. Their goal was to serve Latin American fare in a space that feels like home — but better. The result? A cozy yet elegant ambience with a menu that'll keep you coming back. 
Atmosphere
Three words to describe Comodo's atmosphere: cozy, comfortable, and connected. This is a restaurant to keep in your back pocket for when you want something fun but not too trendy, exciting but not overwhelming, comfortable but still upscale. Comodo's got your back. The name is Spanish for "comfortable", so its romantic lighting and linen curtains just make sense. It has the same charm as attending a dinner party at your most stylish friend's house. The energy is lively enough for a fun night, but temperate enough to have a good conversation. Essentially, the unofficial theme of Comodo is balance.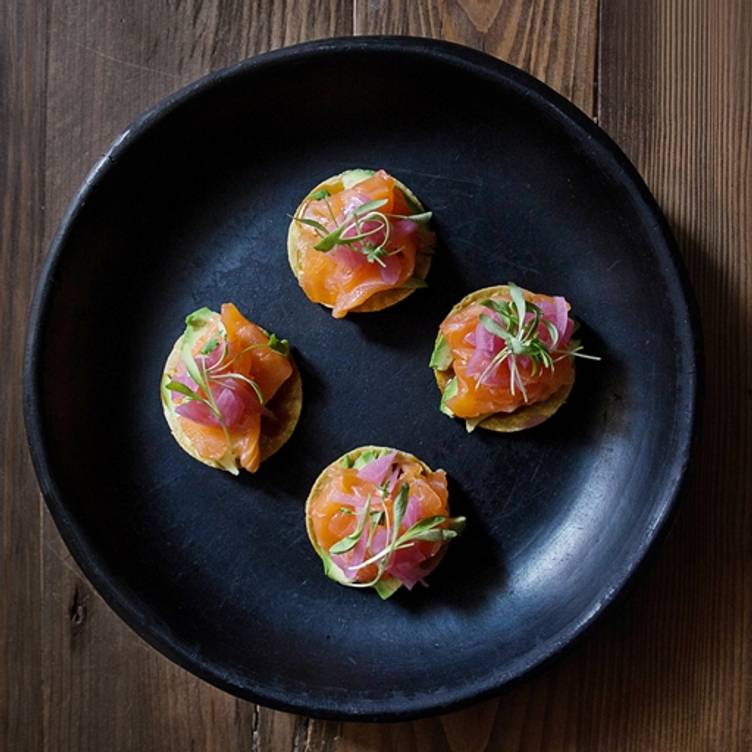 Food
When the Galavante team meets for a dinner, it's a "one of everything" kind of meal. We love an appetizer, but it's always a little disappointing when the starter outdoes the main. That's why Comodo is doing it exactly right. The menu is well-balanced and exciting from start to finish. It allows you to go heavy on the apps (we recommend the oysters and ceviche tostadas) while still saving room for the inventive yet familiar mains. A yuzu mignonette takes East coast oysters to the next level, and melt-in-your-mouth ceviche pairs perfectly with a crispy masa tuile. Unless you're a massive fan of pork belly, skip the mega-rich arepa and opt for the garlic shrimp. Don't forget to soak up the oil with the crispy sourdough. 
If you're going to order one main, make it the grilled clam rigatoni. (What can we say? We like seafood.) For a side of veggies, you can't go wrong with the smokey half cauliflower, smothered in chimichurri. The little gem salad is also excellent, and presented beautifully. 
Drinks
Comodo self-describes its drinks as classic, Latin American-inspired, and "sexy in a way only NYC can be." After sampling both the cocktail and wine menus, we can vouch for that. The cocktails are reliable but nothing crazy — we opted for a spicy margarita and the 'Summer Perks,' a gin and elderflower cocktail. The real star, however, is the wine. Comodo's wine list is extensive, with options by the glass or bottle. Sporting varieties from France, Italy, Spain, America, and Eastern Europe, there's something for everyone. 

Service
Service was great — half the night. Wine recommendations were passionate and at the ready, and our server expertly took care of every guest. Then one of her colleagues took over and things went downhill. We found ourselves with empty glasses and a lack of engagement. The waitstaff started with a bang and fizzled out at the end.
Overall: 8/10.
When it's great, it's great.  Come for the food and wine, but don't expect a complete fine dining experience. 
FAQs
Q: Where can one view the menus online? 
A: The menus for Comodo are available here.
Q: When is brunch offered? 
A: Brunch is available 9a.m.-4p.m. Saturdays and Sundays.
Q: Where can one go to book a reservation? 
A: Reservations should be made at resy.com.
Comodo Information
Address: 23 Lexington Ave, New York, NY 10010
Hours:
Sunday                  9a.m.-4p.m., 5-10p.m.
Monday                  8-11a.m., 12-4p.m., 5-11p.m.
Tuesday                 8-11a.m., 12-4p.m., 5-11p.m.
Wednesday           8-11a.m., 12-4p.m., 5-11p.m.
Thursday               8-11a.m., 12-4p.m., 5-11p.m.
Friday                    8-11a.m., 12-4p.m., 5-11p.m.
Saturday               9a.m.-4p.m., 5-11p.m.
Phone number:   2124751924
Map: