Little did you know that Soho House is literally planning world domination. In addition to the social clubs with 30,000+ people on the waitlist, the Soho House founders want to dominate your everyday. Enter the home collection, which is inspired by their cooler-than-cool Soho Houses around the world and biggest seasonal designs. Here's the inside look.
A Home Away From Home
In 2016, the team at Soho House got a little tired of hearing, "Where can I get that lamp?" Hence Soho Home, a curated home- and décor brand connected to Soho House's many beloved interiors. 
Despite being known as the members-only club, Soho House's selective accessibility makes the concept all the more lovable. And it all lies in Soho Home's ingenious concept. Yes, as a Soho House member you're privy to undeniable benefits (including discounted Soho Home prices). But no membership is no problem, because Soho Home pieces are available to all.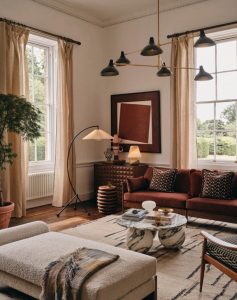 Soho House flawlessly curates each of its locations to a specific, consistent vibe and aesthetic. For instance, Nashville is playful, musical and organic. Holloway is serene yet decadent. DUMBO is urban and seductive. In terms of identity, the home collection follows suit. Drawing inspiration from Soho House locations across the world, the newest 100 piece-collection brings "The House into the home." 
Eclectic, Functional Design
The way we see it, vacation is a state of mind. And in an era where we're all seeking ways to incorporate island-time energy into our daily lives and homes, Soho Home answers our prayers. Mood-boosting colors and rich textures liven up the new collection, highlighting pieces that border standalone statements, like the Lyla Footstool. The collection is certainly eclectic, but it's a restrained kind of eclecticism. Rich neutrals pepper the site, paired with textures that speak for themselves. Think faded jewel tones — and lots of them.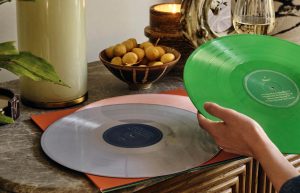 Additionally, you can filter collections by Soho House location. From Soho House Rome, for instance, you'll find unique marble showstoppers, like the Oxley Coffee Table with Arabescato Corcia Marble and the Amelie Pestle & Mortar made out of green marble.
More partial to Nashville's decor? Browse a collection that marries mid-century textures with vintage shapes. Oh, and if you want to go beyond just hotel furniture, look no further. Included in the newest collection is Soho House's first vinyl collection. Meant to emulate the moods and styles within the Houses, the three-disc set journeys from day to night. Yes, in more ways than one, you can now bring Soho House home.
Related Articles: