There is no question when you walk into SONA that someone with impeccable taste is in charge. That someone happens to be actress Priyanka Chopra Jonas, and, yes, apparently she's good at everything. Now those place settings and accoutrements in the NYC restaurant are available to take home. (And we don't mean by snagging that butter dish in your purse, either). Introducing SONA Home.

A Global Take on Luxury
If SONA, the NYC restaurant headed by Priyanka Chopra Jonas and Maneesh K. Goyal is on your radar, make checking out their new home collection your next priority. The SONA Home Collection debuted as complements to the restaurant's Indian cuisine. If you want to curate a dining experience that is inviting and bold while maintaining a feeling of elegance, you'll want to see these items ASAP. The luxury linens, barware, decor, and dinnerware capture a kaleidoscope of time and place.
Who doesn't want to transform their space into a mecca of culture and enchantment? Whether you're in the market for dinnerware or need a memorable housewarming gift, SONA Home's got you covered. Moreover, Priyanka and  Maneesh source the materials for the collection globally, a.k.a. you get the best of the best. So no matter what catches your eye, you can trust that it's up to the highest quality standards.
Delicate Botanical Designs
SONA Home's debut dinnerware collection is Sultan's Garden. The color palette's earthy green acts in contrast to stark white. Early near-Eastern ceramic artwork is the inspiration for the pieces in the Sultan's Garden collection. The designs that adorn the vessels for eating and drinking depict ornately detailed vegetation and animal life, including lions, turtles, and palm trees.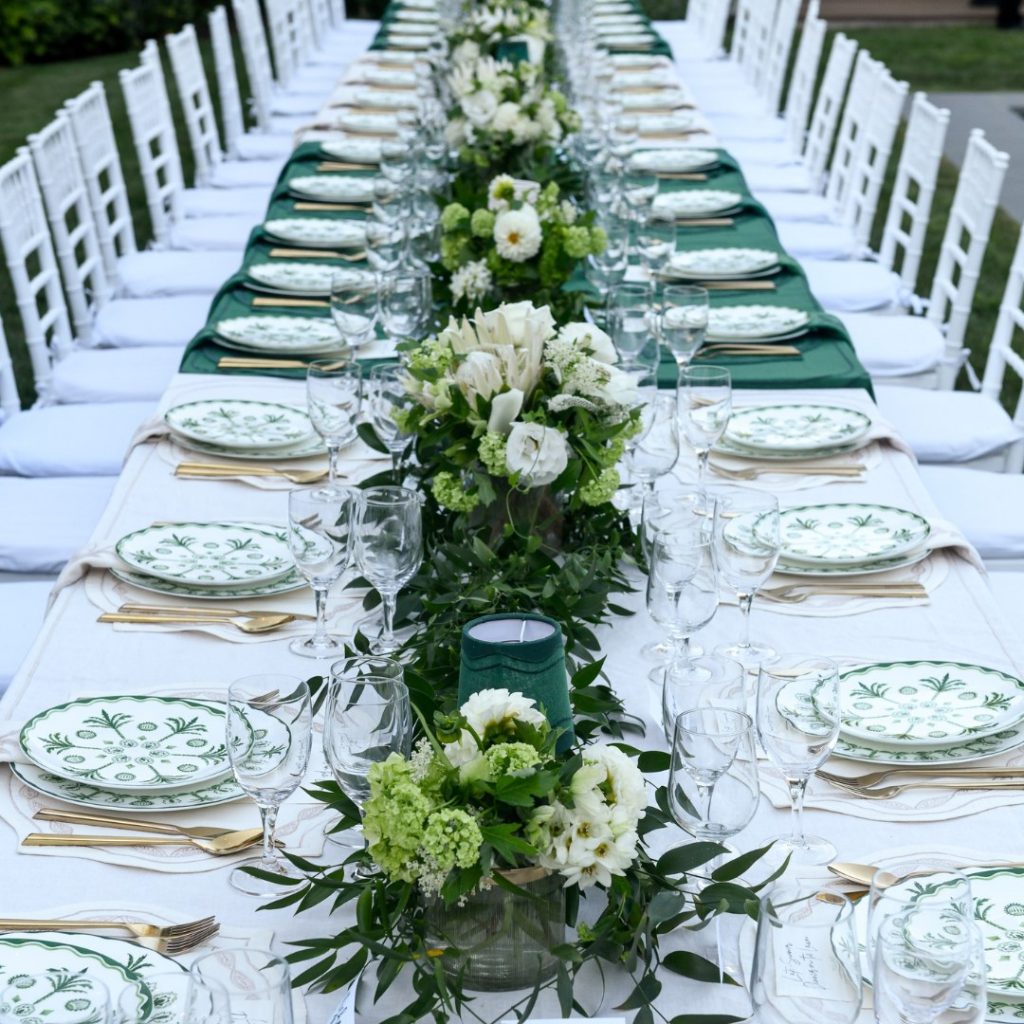 The collection's linens are an assortment of placemats, tablecloths, runners, napkins, and lamps. The linen-cotton blend is designed in NYC in sea greens and blues, as well as Panna white. And they're delicately embroidered with designs inspired by India's beaches.
A piece in the SONA Home Collection you can't miss is the Panna Two-Bottle Cooler. Its functional design will keep your favorite whites or roses chilled. Also, your dinner guests will find it hard not to admire the sleek design and engraved palm tree on either side. You won't want to put this away, even after the party is over.
FAQ's
Q: Who are the founders of SONA Home?
A: The founders of SONA Home are Priyanka Chopra Jonas and Maneesh Goyal
Q: What does SONA Home offer?
A: So far, the SONA Home collection sells table linens, dinnerware, barware, and dining-room decor.
Q: What inspired the collection?
A: The beaches of India and early, near-Eastern ceramic artwork inspired the collection.