One of the best parts of traveling is having someone else make your bed every day. Somehow those sheets, perfectly ironed, just feel more luxurious in a five-star hotel. But they can feel just as good at home, where there's something about the depths of winter that makes you want to get cozy. These are the top linens that will make you want to hit snooze.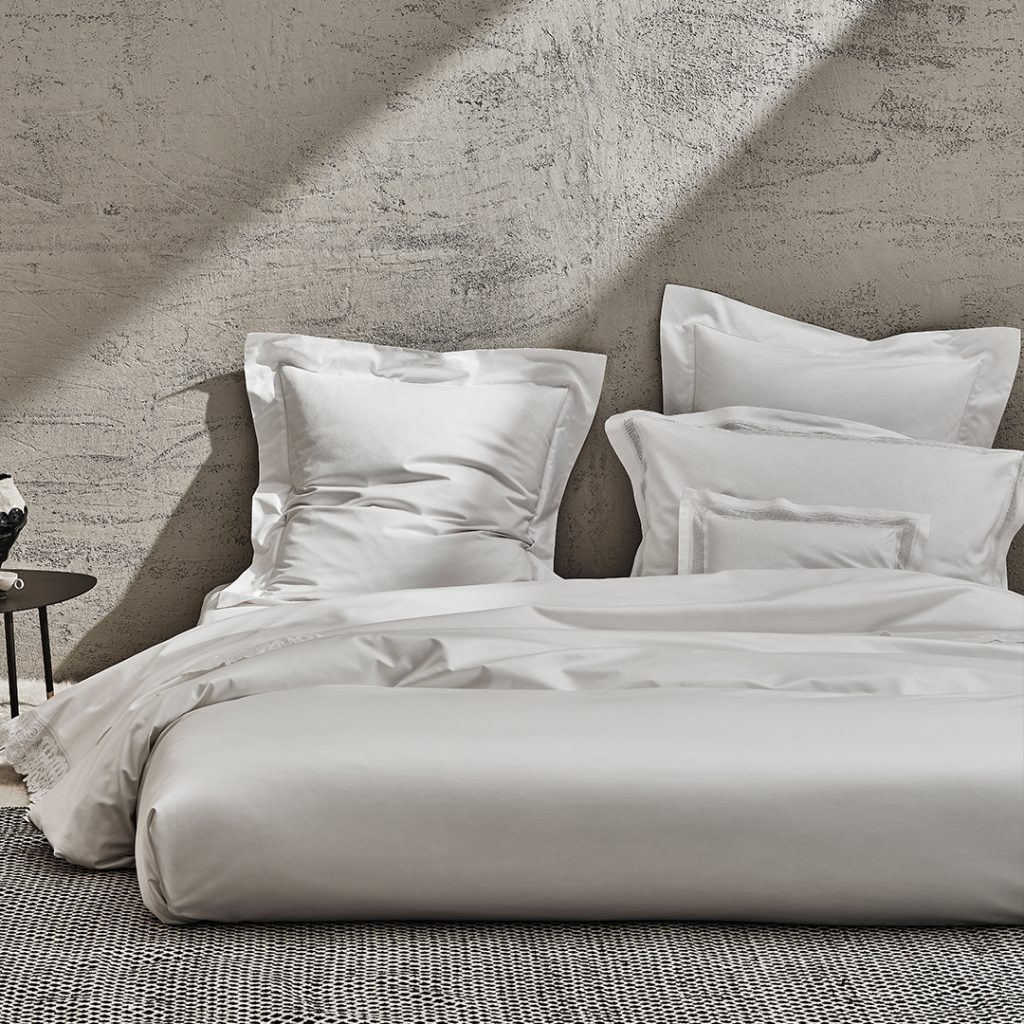 We know you love a good hotel stay when traveling. Part of the reason is that unbeatable feeling of pulling back the covers on an immaculately made bed and crawling underneath them. What if we told you that you don't even need to leave your house to get those perfectly-starched sheets? During these cold winter months, our beds take on a whole new importance. And if you're going to stay in bed, you're going to make it count. Put on your PJs and check out the best in-home bedding.
RH

Overview
Some things are best kept classic, and it can surely be argued that bedding falls in that category. For the best bedding out there, RH offers an Italian Vintage sateen sheet set with a 60o thread count. To sweeten the deal even further, these sheets actually get softer with every wash. They come in eleven colors, so there's sure to be a set to match your bedroom design. Additionally, become a member and you can score some serious discounts on everything that RH has to offer.
Frette

Overview
It's no secret that when it comes to luxury, or matters of romance, the French sensibility is a reliable one. So it's no surprise that Frette has some of the best bedding. Its Lux Percalle Sheet Set is clean and light, making it an ideal choice if you live in a warm climate. Moreover, these are the sheets for you if you want to fall asleep every night with the elusive feel of perfectly crisp hotel sheets against your skin. Additionally, for orders over $500, Frette will ship your bedding to the U.S. for free.
Celso de Lemos

Overview
Celso de Lemos is a Portuguese brand, and if you haven't already heard of it…congratulations, your life just became more expensive. Don't worry though, you'll love us for it. Many aren't privy to the fact that Portugal exports some of the best bedding and towels in the world. They're so luxurious that you might feel like you're melting into your bed. Celos de Lemos' Calypso collection is satin, 100% Egyptian cotton, and uniquely reflects light — creating daydream-worthy illusions.
Mandarin Oriental

Overview
When one of the top hotel groups in the world starts making linens, we're pretty sure that it will be some of the best bedding around. Peruse the Mandarin Oriental's linen options and you'll be left wondering: Why just buy linens when I can buy the whole bed? This is a one-stop shop for all things bed-related. The Classic bed and bedding set includes a mattress, box spring,  feather bed, protector, sheets, a duvet, pillows, and pillowcases.
Cozy Earth

Overview
When Oprah recommends these linens as her favorite bedding, who are we to argue? According to Ms. Winfrey, Cozy Earth's sheets are the "softest ever." If she loves them, chances are that so will you. Especially when they're made with viscose from bamboo and are entirely eco-friendly. These sheets also get softer the more you wash them. Moreover, they regulate temperature, so you're never too hot or too cold. Sleep that's sustainable and comfortable? That's what dreams are made of.