Joelle Mentis, Writer
Yes, it's as fancy as it sounds. Dynamic husband-wife duo Nandini and Yusef Austin have expanded their operations to the Hudson Valley and now offer custom infusion blends. And Yusef, otherwise known as the Cocktail Architect, (and the best mixologist in NYC) knows about bevs, having mixed some for Oprah herself. With these new infusions, think next-level Kaffir Lime Leaf, Lemongrass Hibiscus, Rose Petal, Star Anise and Cardamom.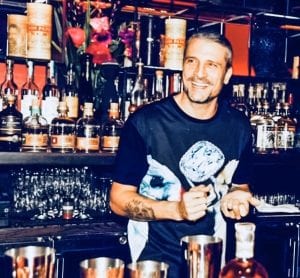 An Opportunity to be Together
The weather is getting warmer, people are getting vaccinated, and the stimulus is rolling in, so now is the time to get outside with your friends. And what better way to break in the barbecue than with an actual, friends-invited-over happy hour. While the pandemic kept everyone away from bars, The Cocktail Architects have been busy shaking up new cocktails. And nothing is simple with the Cocktail Architect. Their specialty is to create seasonal menus that showcase culinary experiences rich in flavor and culture. If the pandemic has taught us anything, it's that there's no need to waste money or calories on bad drinks. But it's also taught us that those nights out with friends are precious. 
Bespoke Cocktail Kits
Since the beginning of the pandemic, we have all missed the in person time spent building bonds and making memories. So they've brought the missed experience to them. Their new bespoke cocktail kits feature special drink infusions and all the tools you need to make cocktails at home. They also offer virtual mixology classes where anyone can learn how to mix like the pros. Instead of run of the mill cocktails, the Cocktail Architects create masterpieces with stories behind each ingredient. They give information about the medicinal properties of the ingredients used, as well as practical cocktail tips and tricks. Everyone walks away with skills that can be used for a lifetime, and delicious, completely unordinary drinks. To celebrate spring or your second dose, The Cocktail Architects are your go-to. 
Connect with the Cocktail Architect
Visit The Cocktail Architect and message them at [email protected] to get your custom elixirs, which are great for non-alcoholic drinks as well as a spritz to your everyday sparkling water.