Yes, seriously, mush is a thing. It's an authentic Navajo dish typical of the Southwest that is made of blue corn. And what Chef Anthony Marazita of Amangiri does with mush is nothing short of next-level. The food at Amangiri is off the charts. Chef Anthony was kind enough to share his secret recipe for pancakes and it's legitimately the best pancake in the world. One night Chef Anthony also made us this tasting menu, with lobster, blue corn polenta and fry bread.  We wake up craving that fry bread.  Therefore we played around a bit in the kitchen.  The result is we have our own version the recipe to serve at your next home-cooked meal.  And yes, lobster is involved.
Serves 4 as a first course, 2 as a main dish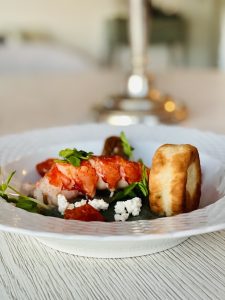 Ingredients
4 4-5 ounce lobster tails
1 ½ cups Blue corn mush
3 teaspoons Juniper ash
5 cups Chicken broth, refrigerated
1 cup Non-dairy milk, preferably oat milk
3-4 tablespoons of butter
1 ½ tablespoons fleur du sel
Garnish
3 ounces fresh farmers cheese
16 mini heirloom or cherry tomatoes
Pea shoots
Cilantro
Navajo fry bread
Olive oil
Directions
For the roasted tomatoes:
Preheat oven to 400 degrees.  Place foil on a baking sheet, and toss the tomatoes in olive oil and fleur de sel, until coated.  Roast in the oven for about 25-30 minutes, just before tomatoes are going to burst.  Set aside until ready to garnish.
For the mush: 
The food at Amangiri can include something called mush, and it's a gourmet feat.  In a heavy bottom pot like a Dutch oven, bring 2 cups of the chicken broth to a low boil over medium to medium high heat.  Add in the juniper ash and fleur du sel, and stir until dissolved into the broth.  Place in a bowl and set aside.
In the same Dutch oven or pot, mix the cold broth with the mush until the mixture is smooth.  This will make the mixture smooth and not lumpy, which happens when your liquid is initially too hot before the mush can be blended in with the broth.  Place the pot on the stove and add in the juniper ash broth and bring to a boil over medium high heat. Reduce to a simmer, stirring constantly, for about 8 -10 minutes.  Add in the oat milk, and continue to cook for another 4 minutes.   Add the butter until melted through.  Set the mush aside uncovered as it will thicken to the right consistency.
Time to Make the Lobster 
In a medium pot or 3-4 quart sauce pan, bring about 3/4 cup of water to a boil. Add in the lobster tails, cover and cook over medium heat for about 4-5 minutes. The tails should be bright red when cooked through.  Drain the water and de-shell the lobsters. Reserve the shells separately to make lobster broth you can freeze for another time. In the same pot, melt 2-3 tablespoons of butter over medium heat, and add in the lobster meat.  Reduce heat to low and coat the lobster tails in butter for about 2 minutes until warmed through.
Keep the Mush Warm 
Re-warm the mush, until nice and hot.  In 4 large shallow bowls, create a circular layer of mush in the center of the serving dish. Place a lobster tail right down the middle of each bed of mush.  Garnish evenly with the fresh farmers cheese, 4 roasted tomatoes, cilantro and pea shoots.  Finish with the Navajo fry bread.
Check out our photos for presentation ideas, but this is where you should freestyle and bring out your inner artist.  The food at Amangiri is off the charts, and this recipe will take you right back.  Well almost, no one beats Chef Anthony.  Drizzle with just a touch of olive oil and serve.