There is nothing like a road trip, especially when you want a quick weekend getaway. On our top list of 23 places to travel in 2023, we went around the globe but also included the Hudson Valley. Once a challenge to locate a good place to stay, the Hudson Valley today is one of the hottest places for new luxury hotels. Enter Habitas-on-Hudson, a retreat that allows you to relax and unplug. This new hotel combines luxury accommodations, access to the outdoors, and fine dining. Bonus is that it is just a quick road trip from NYC.
A New-ish Sustainable Hotel Group
Habitas-on-Hudson is a new-ish hotel group that you can expect to hear more about. They opened their first hotel in Tulum based on creating sustainable, low-carbon footprint hotels. From there, Habitas-on-Hudson quickly expanded to Morocco, Saudi Arabia, and San Miguel. In the coming years, they're planning to open additional locations, including Bhutan. In creating the hotel portfolio, Habitas-on-Hudson's philosophy is responsible tourism. To achieve this, they source labor and ingredients from local communities. Additionally, Habitas-on-Hudson also constructs its hotels in a way that minimizes their environmental impact.
Habitas-on-Hudson opened its latest location in December just outside Rhinebeck, New York. Habitas-on-Hudson is the original 18th-century Belvedere Mansion. It was once the property of famed hotelier Andre Balazs, who is still a partner in the project. Fields and lush green forests surround the hotel, so without lifting a finger, the setting is naturally beautiful. And while the Belvedere Mansion remains a grand old home, Habitas-on-Hudson creates a rustic, cozy retreat.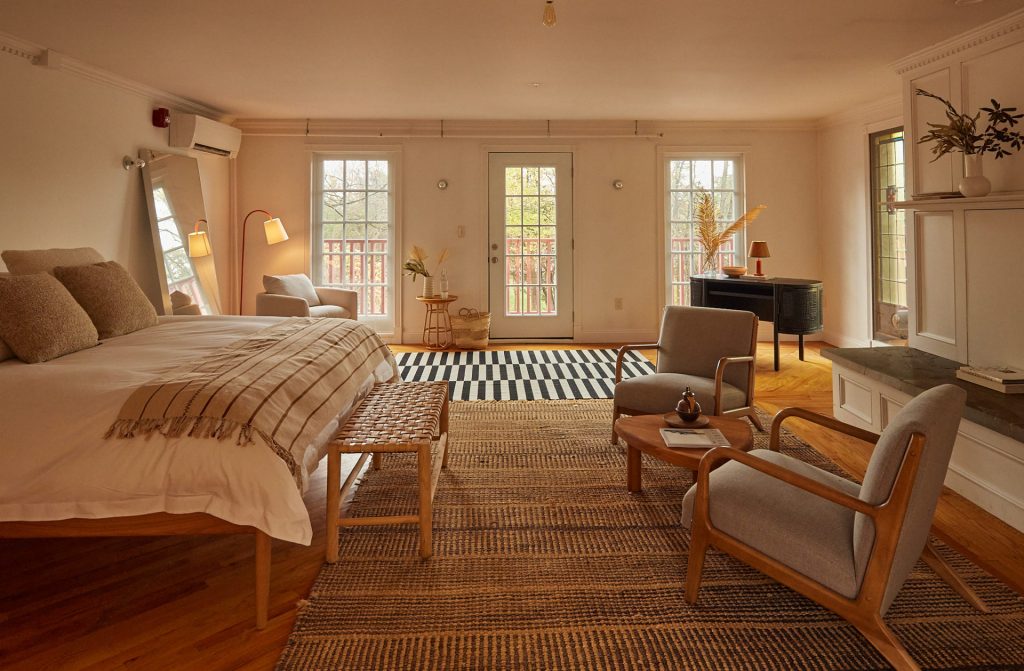 An Inspired Place
The ethos of Habitas-on-Hudson is sustainability. As a result, Habitas-on-Hudson renovated the Belvedere mansion with a minimalist design. The hotel plays with natural materials and neutrals throughout. There are 30 guest rooms and the property is split into three parts: Manor, Lodge, and Stonehouse. Each area has a unique design and details that immerse hotel guests in the lap of nature.
Habitas-on-Hudson allows you to disconnect from the hustle and bustle of the city. Whether you're there for a road trip from NYC in the winter or summer, there are activities here that keep things interesting. Habitas-on-Hudson revolves around the combination of wellness, cuisine, and adventure. So, guests can dip into an exhaustive list of diversions focused on food, music, learning, and art. Additionally, there's the social aspect. Within the hotel, community building is one of the goals of the Habitas-on-Hudson philosophy.

Wine + Dine
Habitas-on-Hudson also builds community through food. Family dinners and outdoor BBQs are some of the ways that they naturally connect guests. The pub and restaurant at Habitas-on-Hudson are the main draws of the 18th-century Manor. In particular, the restaurant Social practices sustainability. The chef uses locally-grown ingredients from nearby farms to create hearty, rustic and honest food. The menu changes seasonally and you'll find dishes like steak tartare, brook trout, and maple-glazed baby carrots.

Mingle and Grow
Since Habitas-on-Hudson has plenty of land around the mansion, there's always some outdoor activity going on. You can go for a swim, or a hike, ride a bike, do yoga, or play volleyball. There's also archery if you want to channel your inner Katniss. Alternatively, you can enjoy massages, sizzle in the sauna, or relax in the jacuzzi. Add in the special outdoor performances and you have yourself a worthwhile road trip from NYC.
Related Articles