You've done pretty well for yourself in life. A lot of hard work and a little bit of luck, and you've rocked it out. Now you're coming up on that milestone, and you're not going to let the occasion pass. You want to blow it out big. You're bringing the family and the friends. Perhaps there will even be fireworks. Whether it's a big birthday, that promotion at work, an anniversary, or making a s— ton of money on a deal, we have the place for that. Here are five places celebrate special occasions, like it's the roaring '20s again. And maybe, the occasion is just life. That's reason enough.
Templeton House, London
It's surprising that there are any secrets in London, let alone of the best-kept variety. But there is Templeton House, once home of Winston Churchill with two acres and a 28,000 square foot mansion. The house has seen its share of guests and served a variety purposes.  And by that we mean it's been everything from hospital to college dormitory to Downtown Abbey set. But recently, the famed estate received a $40 million facelift, which restored it to its former greatness and then some. If $40 million doesn't get you on our list of places to celebrate special occasions, we don't know what will.
Just the exteriors took nearly three years to update. Inside, a grand portico entrance frames the hallway that leads to the Portland Stone staircase. The architectural team worked night and day to master every detail, from the restored iron door handles to the 17th-century-style imported glass windows from Japan. The Versailles-inspired garden replicates the grounds Churchill roamed when living there. The estate is just massive, and if you're going to blow it out in English style, this is the spot.
Room to Explore
London hotels often offer cramped city quarters that leave little room to spread out. Templeton House ensures you have the chance to spread your wings, with a plethora of rooms and grounds to explore. And even though the house appears old, the renovation included modern fixtures that elevate the experience. Heated floors and a secret eight-person elevator hide among the extravagant decor. And in the basement, you have a state-of-the-art spa, game room, cinema with wet bar and the largest residential swimming pool in London. This is the kind of place you want to stay in for a while.
The eight separate rooms in the home act as separate suites, so you can come in twos, or you and your friends can rent out the whole place. The prices are so top dollar that a vacation here is out of reach for even some celebrities. But this locale is the definition of places to celebrate special occasions. So if you have the extra dough, fly your friends in.
Villa 20 at Amanzoe, Greece
Under the Webster Dictionary's definition of places to celebrate special occasions, Villa 20 at Amanzoe is listed prominently. This place was made for the grandest, most epic, better-than-Michael-Rubin's-4th-of-July party. Perched at the top of a remote Grecian cliff, this nine-bedroom villa is baller with a capital B. No matter who you are, Villa 20 leaves you speechless. Who knew something like this home exists in the world? Villa 20 alone is nearly as big as the entire Amanzoe resort, and the villa's private spa is larger than the hotel's. The main attraction of most villas might be the infinity pool (or six of them in total in the compound), but Villa 20 has that and much more.

As Baller as It Gets
In addition to the nine luxury suites, some of which have their own private pools, the villa has countless dining spaces, its own spa and techno gym, a barbecue, a fire pit and a traditional Greek Taverna. The restaurant really does come to you in this case. The place has with its own staff who prepare meals, do spa treatments and instruct fitness classes, in addition to the regular services. Behind the more spacious areas for family hangs, there are private meeting rooms and a library tucked away for when it's time for business. After all, you did something right at work to end up here.

Villa Sola Cabiati at Grand Hotel Tremezzo, Lake Como
If George Clooney doesn't invite you to his and Amal's digs on Lake Como, we have the next best thing. Villa Sola Cabiati, a standalone property owned by the Grand Hotel Tremezzo, is a 16th-century home and one of the most majestic places on the lake.  It's one of the most lavish places to celebrate special occasions in Lake Como.
The home now has the modern amenities guests require, such as air conditioning and WiFi, but aside from a few required updates, the main building appears untouched since the 18th century. We're talking frescos by the Tiepolo school, mosaico venezia floors and beautiful glass chandeliers. Neoclassical artists were brought in to decorate the grand marble entrance and staircase with stuccoes. The whole private residence is one of the most opulent on Lake Como.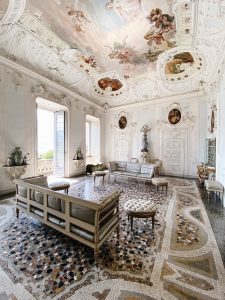 The Specifics
The six-bedroom house goes for upwards of $40K a week, so you definitely want to save this trip for that very special occasion. But once you're here, you don't need to indulge in anything else because simply walking down the hallway feels luxurious. Not to mention, the museum upstairs houses some gorgeous fine art. And after all, you're on Lake Como.
Rockstar Villa, Eden Rock, St. Barths
The top of the food chain stays in St. Barths. The tippity-top of the top stays at Eden Rock. And only the .01% — we're talking people with worldwide name recognition — stay at Rockstar Villa. When it comes to tropical destinations, you really can't beat St. Barths. The clear-blue ocean and powder white sand turn off no one.

But the best way to indulge in the luxuries of St. Barths is by staying at this all-star villa. The secluded house doesn't just have a 66-foot pool and a golden bathroom. It also has a spa, a gym and a recording studio with equipment used to record some of the most famous music ever produced. You can even opt to source some local musicians and a top-notch producer to record your own tracks.

Rock & Roll
Everything is rock & roll themed, but not in a kitschy way. There's a sleek record-shaped fountain and an all-white living room that's perfect for throwing massive ragers. After the remodel in 2017, the villa is even more stunning, with six new suites and rooms. It is, as many say, like a luxury yacht on land. We've mentioned it before, but it's important to note: You better plan ahead if you want to stay here because you'll be competing with Leo (you know, DiCaprio) for time.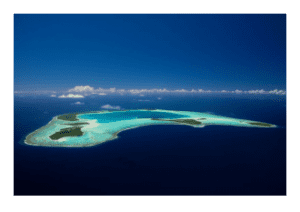 The Brando, French Polynesia
We've waxed poetic about The Brando countless times because there's just so much material to write about. The gorgeous island in French Polynesia with white sands and impossibly blue waters is the oasis where, if you've really made it in life, you should be celebrating. Clearly, Kim Kardashian had the same idea when she flew friends and family here for her big 4-0.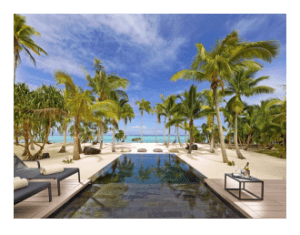 Welcome to Paradise
Private villas, which stretch across the island, all look out on the lagoon. Each comes with spa treatments, excursions and activities, and lavish meals for the whole clan to indulge in. You can swim with whales, horseback ride and kayak. If you make like Kim Kardashian, you can bring your own DJ and dance all night with your nearest and dearest.
The other upside to The Brando is the complete privacy that the remote location affords. The paps, no matter how large their telephonic lenses, can't follow anyone to the private island. Which means what happens at The Brando stays there.