We know that Dior may not be considered a necessity in life, but its ski gear is just everything. This season's DiorAlps collection is all about the statement, from the top of your head with cashmere beanies to the tip of your toes with après-ski boots. What we like about the collection is that it's not just $6K ski coats either.
Overview
Ski season is almost upon us. And the latest DiorAlps Capsule Collection has arrived just in time. The DiorAlps line reimagines not only your skiing needs, but will remake your entire ski lifestyle. Now you can hit the slopes in style and comfort without sacrificing utility. And for skiers who seek the perfection of the Alps, this collection embodies everything about the place. (And if you're not there, you'll feel like you are.) From ski suits to down jackets to snow boots to phone holders — all water-repellant — Dior has everything you need to keep you warm and your belongings safe and dry. Plus, the designs are so good that you'll be the envy of the après-ski crowd — without even needing an outfit change.
8 Easy Pieces
Here are eight essential pieces of gear for your 2022/2023 ski season, made with water-repellant fabric and drop-dead-gorgeous Dior designs, including Mizza leopard prints, Dior Oblique, and blue, white, gray, and red color combos.

1. Stand-Collar Thermal
If you need a little extra warmth under your ski coat and want to do it in style, the Dior ski gear stand-collar thermal is the perfect piece of ski gear to add to your ensemble. Zero seams and a snug fit make for an ideal undershirt.

2. Dior Snow Earmuffs
Keeping your ears warm is essential at high altitudes, and DiorAlps gear has you covered. Nothing says cozy and cute like these retractable fleece earmuffs.

3. Snow Boots
It's no secret that moon boots are making a full-swing comeback, and there's no better place to show them off than the ski lift. DiorAlps has a range of chunky and functional boots to choose from, so you can be sure they'll match the rest of your DiorAlps ski gear.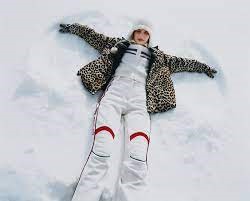 4. Flared Ski Pants
Who says ski gear can't be couture? These flared ski pants beg to differ and will have you coasting down the mountain with rockstar flair. The zipped hem will also ensure a tight fit with your matching boots.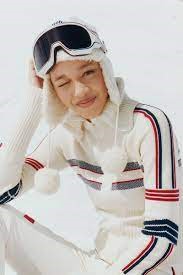 5. DiorAlps M1I
There are two hallmarks of a quality ski mask: visibility and fit. Thanks to DiorAlps ski gear's technology, the DiorAlps M1I gives you peripheral vision and thermo-formed foam straps to adjust perfectly to your face. They've also received the anti-fog treatment.
6. Hooded Down Jacket
This hooded down jacket from DiorAlps ski gear is a must-have for your next ski vacation. Multiple zip pockets offer security for your belongings and your ski pass. And the wind-resistant, sleek design will keep you warm without slowing you down.
7. Stand-Collar Sweater
Serial ski vacationers know that après ski is a quintessential part of the experience. With Dior's ski gear line, you can stay fitted and warm at the lodge in this stand-collar sweater. No matter if you're sipping a cocktail or hot chocolate — you'll look good doing it.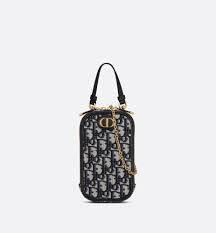 8. 30 Montaigne Phone Holder
Keeping track of your phone in the powder is always a nightmare. Thanks to Dior ski gear, worrying about your phone is a thing of the past. This three-zip closure phone holder will keep your phone and cards safe on and off the slopes.
Related Articles