Joelle Mentis, Writer
If you recently watched Matt James' season of The Bachelor, you weren't alone in lusting after Kit Keenan's stunning wardrobe. Rumor has it, before filming even started, she had boxes upon boxes of clothes sent to her to try on. The 21-year-old Instagram influencer may be a little dramatic, but she is a style icon who comes by it honestly. After all, her mom is one of the best-known fashion designers — Cynthia Rowley — who's been keeping up with these changing times.
Let's face it: All-inclusive resorts had their moment. Especially post-Covid, our vacation plans are looking a little different. Not only are we wanting to spend time away from crowded places, but we're also looking for spots like Amanvari and Paradero, where we can take to the waves and seize the day.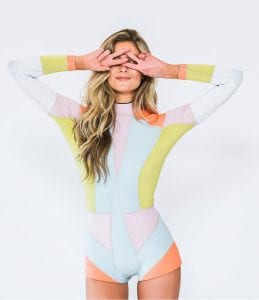 But when we're out carving through chop, or catching a break, we want to look like we know what we're doing — and of course we want to look good, too. Since her brand launched in 2012, the famous fashion designer mom of Kit Keenan, Cynthia Rowley, has been redefining swim and surf gear, and her practical and yet super-chic aesthetic is perfect for the Galavante traveler. A lover of all things surf, Rowley knows what it takes to make a perfect wetsuit, and every detail, from the side zips, to the back pockets were thought of with function in mind. But she also is first and foremost a lover of fashion, and her suits, which range in style and shape, suit every body and personality.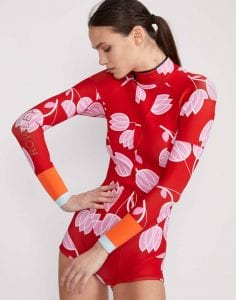 Wet Suits, For You and All Your Bachelorettes
Her original color-blocked wetsuit has been a favorite for years, and it isn't a surprise. The suits, which vary in sleeve length, feature eye-catching and alluring geometric shapes colored in arrays of pastel and vibrant hues that flatter every figure. Modesty and functionality become sexy, and their practicality is just an added benefit to the couture aesthetic.
This season's designs highlight her figure-flattering silhouette in new colors and fun prints, including paisley and SpongeBob. As the warmer weather nears, everyone should get their hands on one of her pieces.