When a country's slogan is "pura vida" – meaning "pure life" and "plenty of life" – it's a country worth looking into. And that's exactly what Costa Rica is all about: an abundance of pure, rural, natural beauty. But unlike other comparable getaways, getting there doesn't require two flights and a boat. Or, say, a treacherous rental car journey along a militia-laden dirt road without a GPS. (We speak from experience.) Wild as it is, one of the greatest things about Costa Rica is its accessibility. Which leaves you more time to focus on the important stuff. You know, like surfing, hiking, and cocktailing – with natural ingredients of course. This is your travel guide to Costa Rica.
Why now:
Yes, we are in a pandemic, but Costa Rica and the Four Seasons is a piece of normal in this madness.  The pandemic is coming up on a year, and you need a real break.   And some vitamin D.  And throw in a cocktail while you're at it.
Good For:
Couples, friends, families and solo travelers.  Pretty much anyone who enjoys warm weather and gorgeous scenery, looking for a more cultural Caribbean/Pacific experience.  But from there, it's choose your wide array of adventure.  Long peaceful walks on the beach? .  Check. Luxurious spas? Check.  Extreme sports? Check. Costa Rica has something for everyone.
The Highlights:
Immersing yourself in the natural beauty of the country, with excursions to Corcovado National Park and Arenal Volcano. Hire a driver of course, and stop at the Eco Termales Hot Springs complex.
Learning to surf at Witch's Rock. While it's naturally wild and rugged, it's one of the best places to get on a board for the first time.  The instructors are rather easy on the eyes as well.  See our interview with Nautica model Will Tant for more on that. For those staying at the Four Seasons, get hooked up with Tropic Surf on the resort. Their also easy on the eyes instructor will get you up on your board in no time.
Taking a zip line on the wild side. Also, hiking, biking paddle boarding and all the active adventure you can handle.
Taking a Guachipelin canyon tour, rappelling and swinging through the jungle. Can you say shot of adrenaline?
Spending the afternoon in the town of surfy Tamarindo, with an Imperial in one hand and a spoonful of snapper ceviche in the other.
Making the Four Seasons in the Papagayo Peninsula your home base for the week, to explore the rugged and unspoiled country. There's something balancing about eco-tourism and high-thread count sheets.
Suggested Stay:
At least 4 days.  Or live a little, and spend a whole week, or two.  Or buy a villa.  Yes, we can help you with that too.
What to Know:
High season at the luxury properties can require a minimum stay.  The Four Seasons requires a 10-nighter, if you're going around Christmas to New Years.  While it's unlikely there will be a cancellation during the holidays, last-minute travelers who are able to book a next day flight can call to squeeze in. Otherwise, book far in advance.  During off and rainy seasons you might have the resort almost for yourself. But master and sous chefs might also be on vacation or in training, resulting in fewer restaurant choices available at that time.
The Location
The Four Seasons Resort is a 30-minute car ride from Liberia International Airport, in the northern part of Costa Rica. You can catch direct flights from the US (including New York), making this a highly accessible weekend getaway. If you bring your entourage, book one of the 25 suites. Or go all out with the 3 bedroom villa with plunge pool and butler on call.  Why?  Because you're worth it.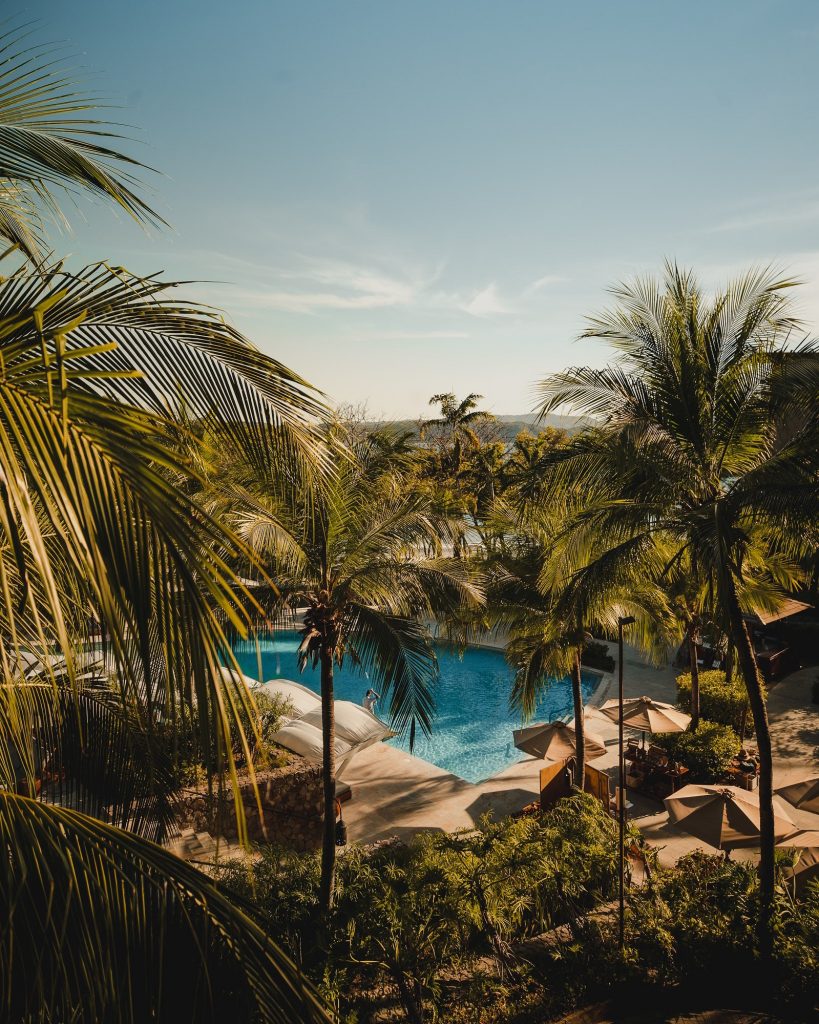 You have arrived
Yes, you have arrived.  Manicured gardens, secluded roads, a line of lush palm trees, and a refreshing cilantro orange juice is how they say welcome, Four Seasons-style.  Designed by famed architect Ronald Zuerche,  the 43 acre resort, is situated 320 feet above the Pacific ocean. It's flanked by beaches on both sides. In essence, it belongs under the definition of paradise.
A Tree House of Your Own
There's a reason why this property is the favorite of the hotel group among many Four Seasons aficionados.  Someone had their thinking cap on when the rooms were designed with the feel of a luxury tree house. The style embraces the indigenous surroundings and culture.  This is a hotel that is unmistakably Costa Rica. They have lushly cozy, well-appointed rooms decked out in exotic colors and natural fabrics.  They really did think of everything, including the micro nets on the terraces that afford you the luxury to chill out during the evenings mosquito-free. There's no such thing as a bad room either. All offer an outdoor living space with ocean views, complete with howler monkeys making quite the racket.  For large families, consider renting (or buying – yes, it happens – this resort is that compelling) one of the Four Seasons Private Residences, which offer all the amenities of the hotel.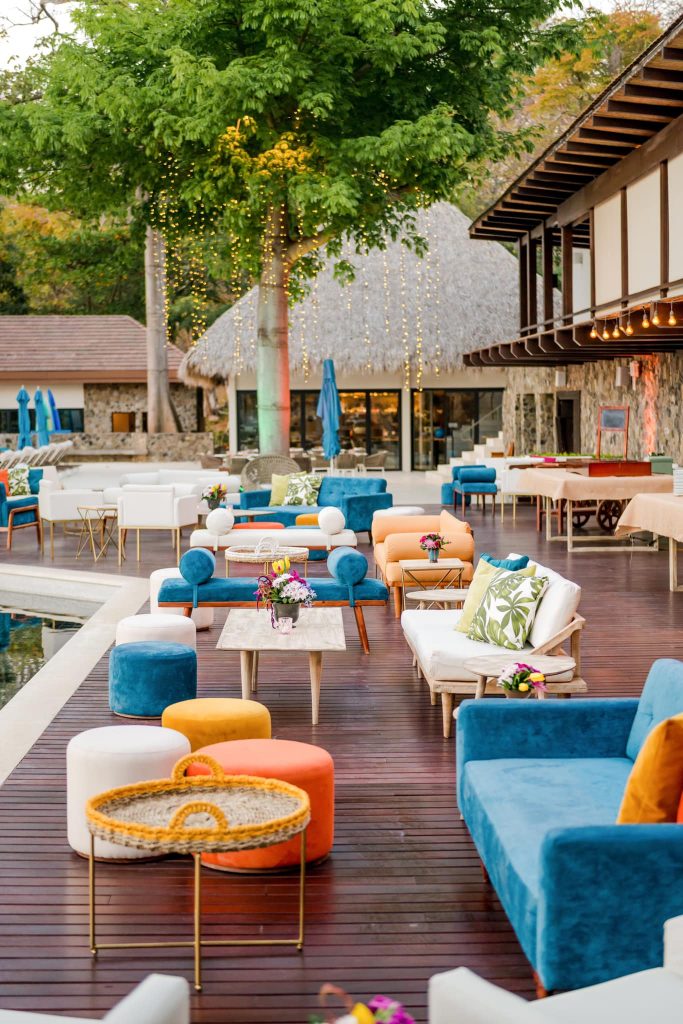 Wine and Dine
Besides its secluded locale, there's a reason why most guests never eat outside of the Four Seasons.  There's also a reason why you need almost a week to experience all dining spots. Even during COVID they are plating up top notch cuisine.  Options span the globe, including Pesce which features Italian cuisine. Bahia is all-day dining and fresh fish. Anejo, has an impressive selection of sushi, exotic local cocktails and delicious bocas from around Latin America.  There is little in life better than starting the day with a huge plate of fresh local fruits combined with a still hot freshly baked banana bread cake. For a heartier meal, try Tico's eggs with a hash brown waffle. Huevos Rancheros, are excellent, and yourself a favor, and order extra mole sauce.
Lunch standouts are the fish tacos, fresh ceviche and Latin fish and chips, poolside, of course.  Tired of what is on the menus? Of course that's no problem.  Be creative and ask for an off-the-menu red snapper as fried whole fish served with local beans and rice.
Off-Site Restaurants
While the food is tops at the Four Seasons, there are plenty of places to field trip to eat.  One of our favorites is the simple Dive Bar to watch the sunset on the marina. It's perfect after your day on a boat or to eat the best tacos on isle and comfort foods like nachos and ceviche.  The fancy restaurant Poro Poro, is at the Exclusive Resort's compound and serves up fine dining.  The Andaz delivers excellent food as well, with their fine dining answer, Ostra Restaurant. Or for a lunch out, at Andaz Beach House.   One of our favorite finds though is Prieta Beach Club, where you can eat right on the sand and take in the sunset.  Food is good, not exceptional, but the setting more than balances.  For a nicer meal at Prieta, have the concierge at the Four Seasons reserve for you ahead at Olas, their private restaurant.
The Activity Buffet
There's a reason why you can spend a week at the resort, and surrounding area.  The Arnold Palmer designed golf course has 6,800 yardage, 18 holes, par 72 course.  They have spectacular views over the Papagayo Gulf and Pacific Ocean.  The hotel has complimentary like the rum and chocolate tasting, a stand up paddle tour in the morning and group yoga.  Or you can just chill by the pool and beach, which is why you'll want to spend at least 4 days, if not more.
And that's not even what there is to explore outside of the resort, which is abundant.  One of our favorite all-level hikes is at Sensoria, about 2.5 hours away. At Sensoria, you hike to 4 different waterfalls, of course taking a dip in each.  The beauty of the trip is basing out of the Four Seasons, and then exploring for hours in every direction. That is of course, on days you're not entertained at the resort.
A rough day of surfing or golfing, necessitates a spa treatment. Highlights are the bamboo massage to hit relaxation nirvana, followed by the hot and cold plunge pool afterwards. Pura Vida? Doesn't get more pure than that.
FAQs
Q: When are the check-in and check-out times at the Four Seasons Costa Rica?
A: Check-in is at 3p.m., and check-out is at 11a.m.
Q: Is there Wi-Fi?
A: The Four Seasons Costa Rica has complimentary premium Wi-Fi.
Q: When is the spa open?
A: The spa facilities are open from 8 a.m.-8 p.m. There is also a fitness center at the resort open from 6 a.m.-8 p.m. If you are looking for more wellness options, wellness consultations are available for guests wishing to integrate healthy habits into their lives for positive change.
Four Seasons Costa Rica Information
Address: Liberia Guanaste 26Km al Norte del Doit, CR-G, Peninsula Papagayo, 05000, Costa Rica
Phone number:   +506 2696 0000
Map: