When you think of the biggest celebs in New York, there's tough competition. You've got your billionaires, like Bezos, Tisch, Rockefeller. Then you've got your celebs; outside of LA, NYC has the highest concentration. But we couldn't think of anyone bigger than Jay-Z and Bey. This is where to find Bey and Jay in NYC.
Hudson Clearwater Restaurant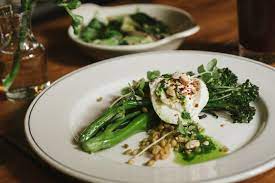 If you're important enough to get a dinner reservation at Hudson Clearwater, it might bother you when the hostess comes up to ask politely if could move your table. But you'll understand a few moments later when Beyoncé and Jay-Z walk through the doors expecting their usual spot. The speakeasy-style restaurant (the door is still hard to find) is hidden and hipster enough to be romantic. This is one reason it's a long-time favorite of Bey and Jay in NYC. The couple visited for a dinner of small plates one night before heading to their friend Chris Martin's Coldplay concert.
One thing about Bey and J is that they do not compromise on food. Though they could've chosen a tonier restaurant in the West Village, they picked a spot where the food is guaranteed to impress every single time.  You can watch as chefs prepare each meal in a kitchen that is virtually in the dining room. The hanger steak, sea bass, and short ribs are packed with flavor. And the din of bar-hopping Village dwellers creates the perfect ambiance for a pre-show cocktail.
MAMO

Beyoncé and Jay-Z love Italian food. And like us, they're big eaters. So, naturally, after the 2019 Met Gala, the couple took their daughter, Blue Ivy, to the Soho Italian eatery MAMO. The New York-ified version of the famous location in Antibes is a favorite of locals and celebrities.
But MAMO chooses consistency and comfort over flashy additions. Perhaps that is how it retains a loyal crowd of regulars, like Bey and Jay, who come back ritually. The menu has gone virtually unchanged. Simple, recognizable dishes highlight fresh ingredients, like truffles and heirloom tomatoes. And the soft, warm lighting and leather sofas make the environment welcoming enough for a family dinner.
Regulars say that some dishes are outstanding, while others are just good. But the service is known to be always attentive, making you feel like part of their big Italian family. When not jet-setting to Italy, this is where to find Bey and Jay-Z in NYC.
Lucali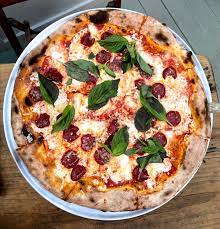 There's only one dingy-looking pizza place in the world that Beyoncé would helicopter in for, and that's Lucali in Brooklyn. She's not alone in her obsession. Featured in Vogue and The New York Times, Lucali is famous for its all-star pie. It's so good, you'll find Bey and Jay-Z in NYC just for a slice.
The oh-so-Brooklyn pizza place is sparsely decorated with uncomfortable-looking wooden tables and only one thing on the menu: pizza. But outside, a velvet rope wrapped around the block guides you through the long line, which could take hours.
Lucali pies are favorites of the famous couple because the ingredients are just perfect. And the technique is unmatched. Fewer and fewer spots in the city still make pizza the way it should be made. That is, the Brooklyn way, with bubbly thin crust and the perfect combo of cheeses and velvety sauce. It sounds simple, but the recipe and process took decades to perfect, with generations of dough-tossing and topping-testing. Though the pies are undoubtedly worth it, if you aren't Bey and Jay, you might have to plan around the times you can wait in line. But according to the singers, you have to go at least once.
Related: Top NYC Pizza – The Real List