The royals — they got it going on. From little Louis up to the late Queen Elizabeth, the royal family — well, they're not just like us. But we can travel in style, just like the Windsors, who do it quite well. With a royal family vacation in mind, here are some top spots around the world that are literally fit for a queen — and a new king.
Tresco, the Isles of Scilly
Who knew there was a subtropical island in the royal family's backyard? Dubbed the "Cornish Caribbean," Tresco is certainly not short on white sand and clear blue water. But perhaps not in the Capri resort-style you're used to. This island paradise has a little bit of everything, from secluded enclaves to bronze-age burial sites to exotic gardens not found anywhere else. And while it seems like it's the royal family's own private hideaway, you are more than welcome to visit.
Tresco is the only inhabited and privately owned isle of Scilly. The owner? The Duke of Cornwall, and we can't thank him enough for making the luxuries of the British empire available to us all. You can rent the Dolphin House, an old, converted rectory that sleeps 10. Cozy bedrooms overlook a distant lighthouse. But it's the cook's kitchen and large dining room that make this house a home. The coziness is likely why the royals keep coming back, as Prince William has done since childhood.
If you want to rent a smaller cottage, the island is dotted with them. Many of the seaside escapes cater to various retreats, as well. If you're a runner, swimmer — even a guitar enthusiast — you'll find your community on the isle. You can also visit luxurious gardens that are home to over 20,000 plant species from around the world. Tresco is the perfect combination of nostalgia, luxurious environment, and exclusivity only a royal could love. As far a royal family vacation? Tresco takes the top spot.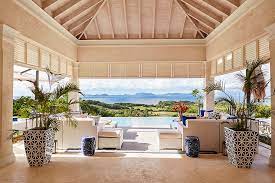 Mustique, The Grenadines
There's a Caribbean-type theme that the royal vacations share in common. And you can't miss this island in the Grenadines. The island of Mustique has seen royal ownership since its origins as a tourist destination. This makes it an easy choice for Princess Margaret, William, Kate, and dozens more celebrities.
The fact that Mustique is a strict no-fly zone says a lot. It's definitely quite private. In fact, you'll have to register with island security before arriving. But this just adds to the ambience. Mustique is the kind of place where everyone knows each other, whether from the summer before or Hollywood's latest movie. And mixing in with celebs — even royalty — is a way of life. You party together, too. David Bowie used to throw big soirees at his villa, as does Johnny Depp. Mustique is really just one big happy place and not short on invitations.
For Charles' 60th birthday, William and Kate rented Villa Antilles. The masterpiece has four bedrooms and views of the coast and open sea. It was built in 2016 by a developer who's friends with William. There are four staffers on duty who cater to your every need. We're not sure how much the royals paid to stay there, but you can rent Villa Antilles for $27,000 per week.
Despite Mustique's lively scene, it's largely untouched by tourism and development. The island's location — which is just below the hurricane belt and out of reach of the most torrential weather — luckily helps preserve its natural beauty.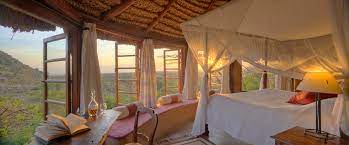 Lewa Wildlife Conservancy, Kenya
Africa holds a special place in William and Kate's hearts. In 2010, Will dropped to one knee to propose in a log cabin in Kenya. One place they especially love is the Lewa Wildlife Conservancy. The couple has been outspoken about their support for the conservancy, as well as the staff who work tirelessly to preserve the wildlife all over the continent. In addition to protecting endangered species, like the Grévy's zebra and the black rhino, the conservancy invests in the surrounding communities. Its programs teach locals how to live harmoniously with the environment and emphasize healthcare, water, micro-enterprise, and youth empowerment.
Each lodge offers a unique Kenyan experience. There are thatched roof lodges and modern poolside villas. There's also a stunning main house with a spa and wellness center. Each stay comes with a safari in the bush. So you can also sleep under the stars and amid the wildlife. And gaining more awareness about your surroundings through clinic and school visits can make for a totally enriching experience.
Will and Kate take full advantage of what they can experience on the reservation. It's pretty clear that Kenya has a lot of magic to offer. After all, what's not magical about royals falling in love — not only with the land but more deeply with themselves.
Map:
2 Dolphin Row, Tresco, Isles of Scilly TR24 0QD, United Kingdom