You are an insider and have spent your time in NYC wisely — from the time you moved here in your 20s and knew every bouncer from Bungalow 8 to the Pink Elephant. You're so dialed in, you're considered friends and family to the guys at Carbone, and you can always score a prime table next to Kendall and Gigi (who, by the way, are just the sweetest). Staying on top of what makes this city so darned special is your calling. So now we have a list for you that sums up the latest in this private-club craze that's hit Manhattan. And you know, it drives New Yorkers crazy when they can't get access. These are the private clubs where you want to call in your favors for a seat at the table.

Aman
Overview
First rule of thumb. Not all private clubs in NYC are created equal. Some, like Aman, seem to exist in their own stratosphere. Telltale signs? Aman charges a six-figure membership fee, and it has a waiting list a mile long — it's that good. Located in the Crown building on 57th and 5th, Aman is the latest club to enter the member's-only scene. Aman's New York flagship is far beyond a resort or even a wellness retreat, though. There's a three-floor spa, two low-key restaurants, and a speakeasy jazz bar.
And as Aman fans know, it's all in the details. The rooms, at 750 square feet, are huge by city standards. And just in time for winter, it's worth mentioning that Aman has a thing for fireplaces. They can be found between two windows, which you really don't see anywhere (never mind New York City). They also appear in the indoor pool in the spa. It's cozy couture at its best.
Aman's spa has other unique details, as well, like rain showers that mimic tropical storms — complete with thunder and lightning effects. The spa is the same size as the one at Amangiri (25,000 square feet) and is helmed by a Harvard-trained doctor whose menu includes IV drips and acupuncture.
The Scene
Celebrities show up here in droves for their parties and launches. But the Aman team is tight-lipped about who comes to the club. We did get a bead on opening night, when NYC mayor Eric Adams, Demi Moore, and Katie Holmes were in attendance. Oh, and those Aman fans we talked about? Well, they include Bill Gates, Mark Zuckerberg, the Kardashians, Angelina Jolie, David Beckham, George and Amal Clooney, Tom Hanks, and members of various royal families. It's only a matter of time before they check out the New York flagship.
Casa Cruz
Overview
There's no fish and chips at this New York-ified version of London's most elite private club. They say it's technically not exclusive, but so far, Casa Cruz, on East 61st Street, offers entry and services only to a select group of "invested" company. Located in a Beaux-Arts mansion, the private playground was curated by the designer for the Prince of Wales. There is a staircase covered in mirrors, cherry paneling, and cool vintage turntables. It's really the vintage vibe that stands out here. Each of the six floors is like a different space. And every floor is part of your home if you're a member, with Keith Haring and Andy Warhol artwork on the walls.
Less exclusive is the 66-seat restaurant below, which is open to the public but still treats you like a king. Casa Cruz in London reportedly catered to members throughout the lockdown. And that type of dedication to its guests comes through at this new outpost. It's the kind of place where people look the other way if you're smoking a cigarette. In other words, members rule.
The Scene
The well-connected professional elite flocks to Casa Cruz. Dasha Zhukova and Lauren Santo Domingo, of social-media fame, were seen at a party with Victoria von Faber-Castell, the daughter and heiress to the pencil company. Additionally, Isabella Massenet of Net-a-Porter and celebrity stylist Elizabeth Saltzman are fans. This is the crowd you didn't know you needed to know.

The Ned
Overview
Since Covid, it's all about creating a controlled environment. That is the MO for private clubs in NYC. And who are we kidding, your network of CEOs needs a place to cajole for dinner and a drink before heading out to party. Like Casa Cruz, The Ned also comes from London. But instead of scooping up the models, it brings together a working collective.
The Ned falls under the umbrella of Soho House, and thus caters to frequent flyers of both. But if Soho House is where the work gets done, the Ned is where young and old can mingle. The cost of a membership is $5,000 per year ($2,500 for Soho house members), which affords guests the ability to belong to multiple clubs. Owning multiple memberships is the London way.
The building, formerly the NoMad Hotel, has bedrooms available for members who might party too hard and need to crash somewhere. There are also four bars and two restaurants. The Little Ned is open to the public, but again, getting in is tough.
The Scene
Some private clubs keep their community very hush hush. Not the Ned. You know right away when the hottest celebs of the moment pass through its doors. For the Ned's opening in June, Robin Thicke performed for a crowd that included Leo DiCaprio, Gigi Hadid, Evan Mocke, and Julia Fox.
Casa Cipriani
Overview
Somehow Cipriani is still one of the hottest brands in the world. Harry did, after all, invent the Bellini. If anyone is to have a private club in NYC, it's Cipriani. Casa Cipriani is a hotel and social club located in the Battery Maritime building on the southern tip of Manhattan. Built in 1906, the ferry terminal looks like it's straight out of Paris. Inside, the Cipriani family, along with Thierry Despont, the man behind the Ritz Paris, has created an Art Deco experience that translates from the bar all the way to the gym.
There are 47 guest rooms, a jazz bar, a 15,000-square-foot gym, and a pool. There are also larger event spaces like the rooftop terraces and a ballroom. But the real hook is the unique architecture and the views of the water. Members have an enduring love for the brand, as well as for the special building, which could have come straight out of Europe.
The Scene
For a private club in NYC, Cipriani draws a regionally disparate crowd. Drew Barrymore, John Legend, Chrissy Teigen, and Alicia Keys are all power players who you'll find hanging out at Casa Cipriani.
Zero Bond
Overview
If you've been alive for the last year, you know Zero Bond. It's the designated meeting place for New York City's Mayor Adams, and it is the number-one coolest club in NYC. Founder Scott Sartiano has been in the club scene for decades, which is clear from how he conjured one of the most famous members lists in nightlife history — Zero Bond's waiting list is almost 10,000 long — and created a close-knit community centered around million-dollar details.
The club has a bar, café, restaurant, and screening room spread across 20,000 feet and two floors. The building, which is located at 0 Bond Street in NoHo, was built in 1874 for use as a factory. As a result, the spaces are framed by brick walls and high ceilings. The walls are decorated by Keith Haring and Andy Warhol. And soundproof phone booths are perfect for handling intimate calls in the midst of a chic co-working space.
It's the type of place where a private Baccarat-crystal room for founding members requires your fingerprint for entry. Importantly, Sartiano knows what he's doing in creating open and inviting spaces that facilitate productivity and social conversation.
The Scene
Mayor Adams celebrated his election in November on the fifth floor here with rapper Bobby Shmurda and actor Forest Whitaker. After the Met Gala last year, Elon Musk hosted a party which saw Leo DiCaprio and Lil Nas X. And Gigi Hadid hosted her 27th birthday party there last spring. Kim K. once said that Zero Bond was so comfortable it's "like sitting in someone's living room," which is likely why she brought Pete Davidson there on their second date.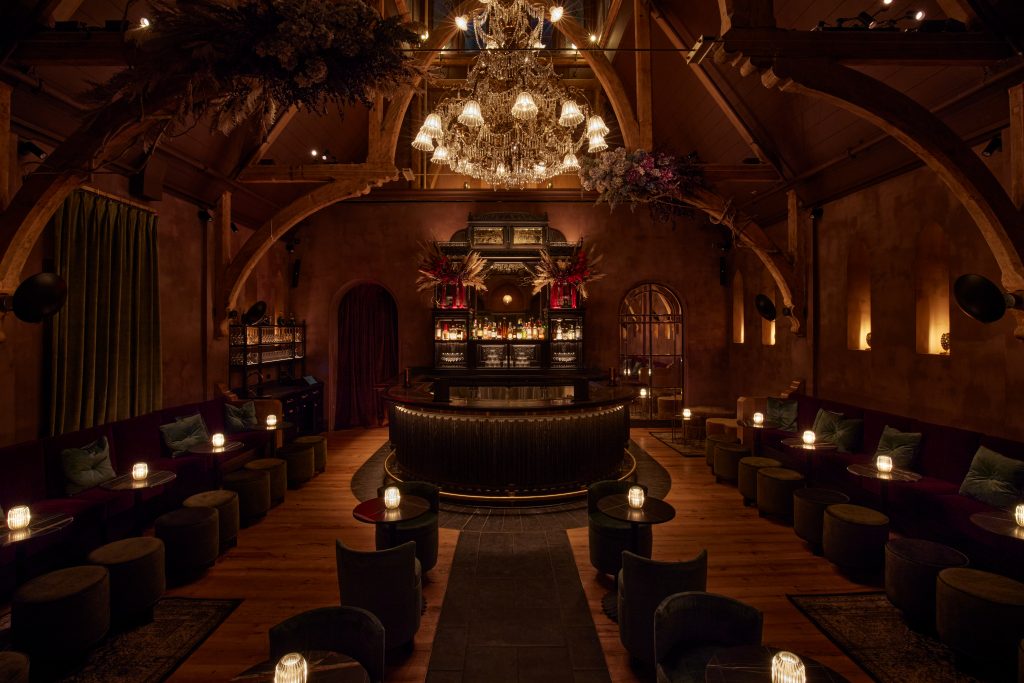 Chapel Bar
Overview
If all you want is to dance like no one's watching, Chapel Bar is the one. It's located in the lobby of the Swedish museum Fotografiska behind a hidden door in a beautiful 19th-century chapel. Originally the members-only club was created so that the Fotografiska and NeueHouse communities could connect. It's turned into one of the most exclusive speakeasy bars in the city. A discrete door on the side of the museum's lobby leads to a dimly lit room dressed in velvet and lit by large chandeliers. The club has an intimate vibe that includes the global arts scene's top players. Its community of culture creators come for the unique cocktails made from rarer alcohols like chartreuse. Chapel Bar is a truly exclusive nightlife experience.
The scene
Last year, the cast of Gossip Girl was seen attending a private event. Other guests like to keep on the low, but you can bet that Manhattan's elite are here. Chapel Bar hosts nightly parties during Fashion Week.
Related Articles: