High tea may sound highbrow. But, the tradition started with the working class, who dined at a high table with high chairs at the end of a long day. Anyone who's been to Claridge's though knows that today's high tea is pretty fancy. This is the menu of tea sandwich recipes that will inspire you to make a meal of it yourself.
Congratulations King Charles
We're in a King Charles frame of mind, with the coronation and all. In his short time as the top dog on the throne, KC, as we'll call him, is pulling no punches. He may just surprise us all, as he literally cleans the house with family members that shall remain unnamed. We hope that the one tradition he keeps up though is the afternoon tea. These are the tea sandwich recipes you just can't live without.
Tea Sandwich Recipes for All Occasions
In addition to the royal coronation right around the corner, Mother's Day is also within sight. Therefore, these tea sandwich recipes come at the perfect time. Also, the best thing about hosting your own grown-up tea party? It takes the hustle out of lunch. So, we have a few of our favorite tea sandwich recipes, along with a hosting timeline and menu. After all, you do want to enjoy your time, so the key is to keep your afternoon tea running smoothly.  Then, all you have to do is set the table.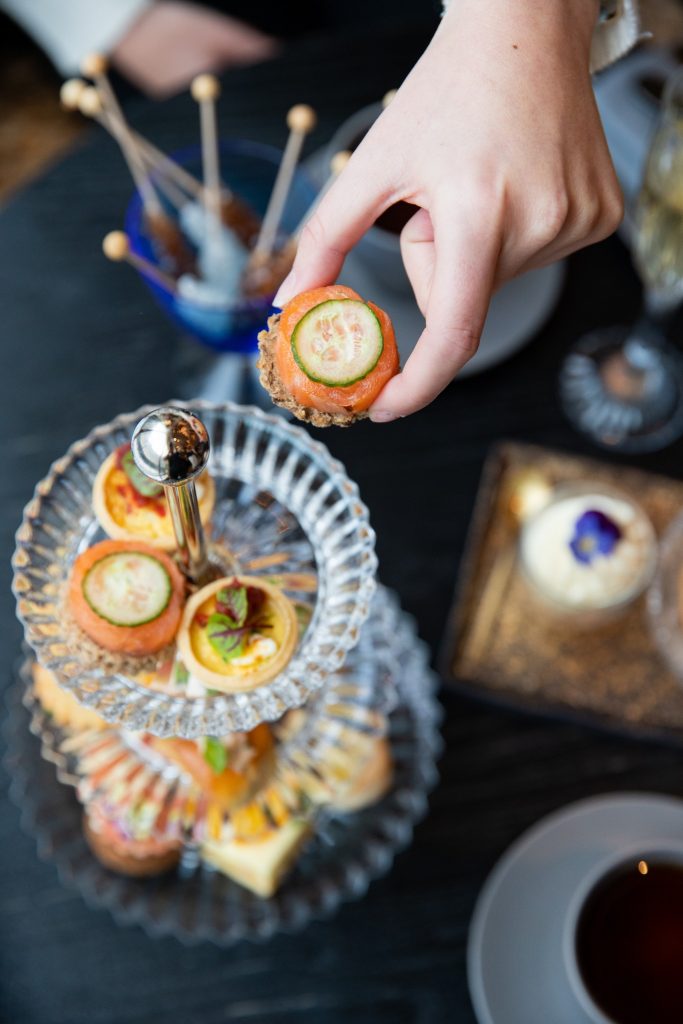 A Royal Tea At Home
The beauty of afternoon tea is that you can have a lavish spread with relatively low effort. The bulk of your menu is in small bites, so a few ingredients can go a long way. The basic idea is to combine a few different varieties of spreads, your favorite fruits and veggies, proteins, and some key base carbs. With these afternoon tea sandwich recipes, you can get creative with mixing and matching. Then, you pair the bites with a selection of tea and bubbles, and voila, an afternoon tea fit for the royals.
Sample Menu Ideas
Prosciutto, fig, & mascarpone on crostini
Blini with creme fraiche & caviar
Scone with fig jam, blackberries & cream cheese
Mini bagels with smoked whitefish salad, cucumbers & dill
Mascarpone, pear, and fig jam on a baguette
Horseradish dill cream cheese with cucumbers, radish & smoked salmon on a mini bagel
Here's a sample list of our favorite ingredients to stock up on before hosting an at-home tea service
Spreads & Cheeses:
Cream cheese
French butter
Creme fraiche
Jam
Pesto
Mascarpone
Proteins:
Smoked salmon
Caviar
Roe
Prosciutto
Smoked whitefish salad
Fruits & Veggies:
Radishes
Figs
Blackberries
Strawberries
Cucumbers
Pears
Carbs:
Rye bread
Milk bread
Blinis
Mini bagels
Baguette
Scones
Your (Tea)Timeline
Even with something as low maintenance as an afternoon tea, hosting any event is no small feat. So we've put together a foolproof hosting timeline for you that makes the whole thing a little more manageable.
1 Week Before
The guest list is set, the invitations sent, and the theme decided. Now that it's one week before the big event, it's time to get into the real prep.
Make a detailed shopping list and cooking schedule based on your menu.
Stock up on your beverages of choice: tea, coffee, bubbles, mixers, etc.
Create a playlist to set the mood for the event (including Mom's favorites for extra brownie points).
Create a seating plan & make sure you have all the proper silverware & tableware. Now's a good time to grab some fun sets of teapots and cups.
Make space in the refrigerator for all the goods. It may sound obvious, but if you've ever hosted an event, you know how important this one is.
3 Days Before
With the space prepped and the menu ready, three days before your event is the sweet spot for preparing your ingredients.
Do the actual grocery shopping for the meal. Hit all the bakeries, delis, and specialty shops for the best quality items.
Prep the small stuff: stow away any items you don't want your guests to see, stock the bathroom with all the necessities, etc.
1 Day Before
We're big fans of day-before preparations. The less you have to do on the actual day of your afternoon tea, the better.
Set the table, tea sets and all.
Start cooking anything you can prepare ahead of time. In this case, throw together any of your spreads or jams (if you're not doing store-bought), slice your veggies, etc.
Last-minute cleaning & touch-ups of your space.
Grab anything you forgot in the first round of grocery shopping; it happens to the best of us.
The Day Of Preparation
The big day! Despite the detailed timeline, we really do mean it when we say an afternoon tea takes the fuss out of hosting. With most of your foods prepared ahead of time and simple beverages doing the heavy lifting, now it's just time to enjoy yourself.
Grab extra ice.
Pop the bread in the freezer for extra-easy sandwich assembly.
Chill any appropriate beverages.
Finish "cooking" (assembling, in your case) the rest of your dishes.
Turn on the curated playlist you made.
Set out the tea and goodies, and enjoy.
Our Favorite Tea Sandwich Recipes
There are endless combinations to make out of just this list of ingredients, from sweet to savory, to just plain decadent. Here are the recipes for a few of our favorite recipes for tea sandwiches.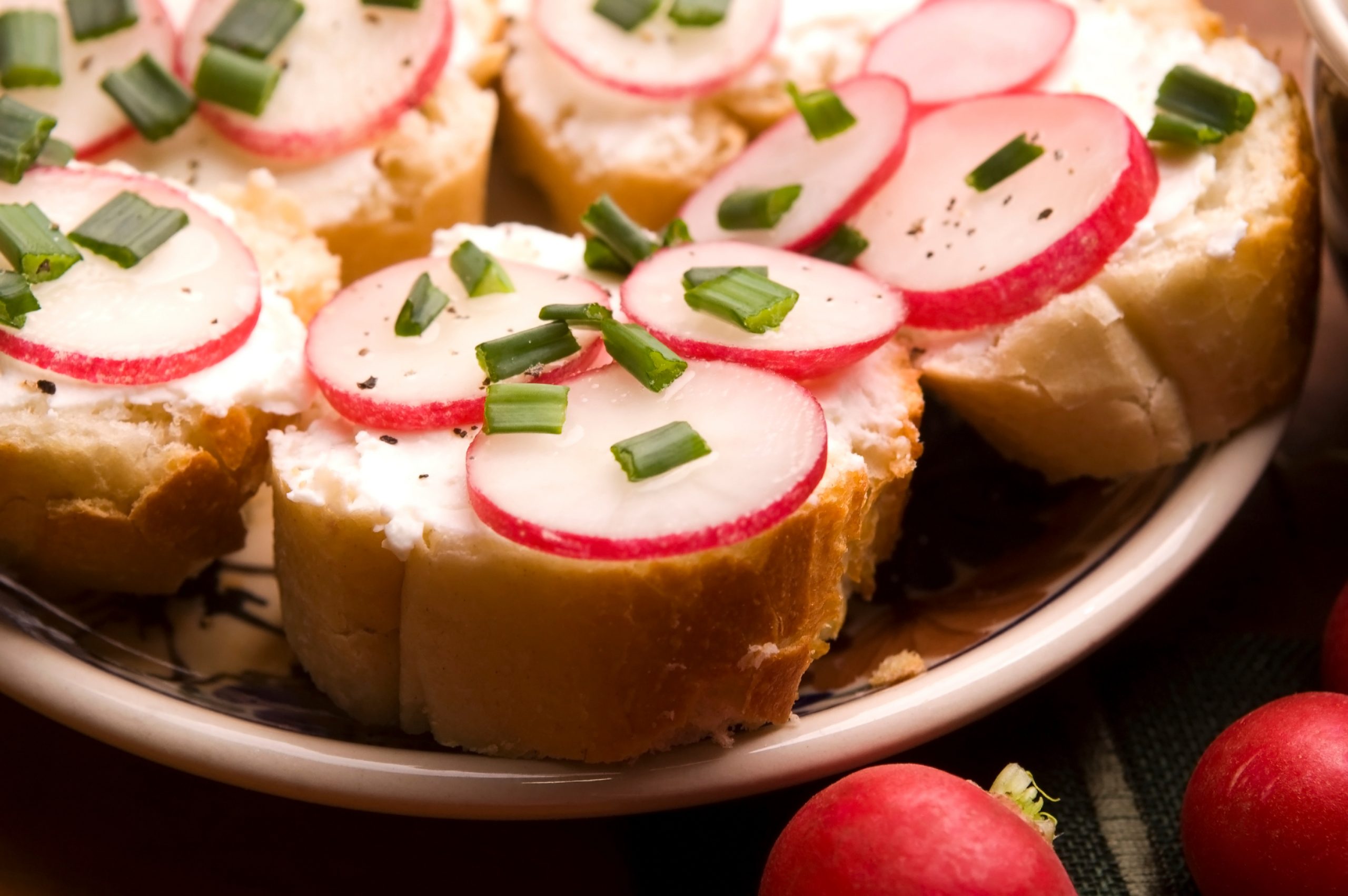 Caviar Butter & Radish Tea Sandwich
High-quality French butter and sliced radish are a classic combination. But elevating it with caviar butter– yes, you read that right– is a no-brainer for your elevated tea party.
Ingredients
One bunch of radish, sliced
6 slices of milk bread*
4 sprigs of dill
Flaky salt
Caviar butter
*Pro tip: pop your bread in the freezer for a few hours before assembling the sandwiches. Frozen bread cuts neater and holds its shape better than one at room temperature.
Directions
Begin by rolling out your slices of milk bread with a rolling pin. They should be about half the thickness of their original size. Cut off the crusts, then spread a generous layer of caviar butter on both sides. Evenly arrange your radish slices on one slice of bread, then sprinkle with a few pieces of dill and a bit of flaky salt. Place the top piece of bread on each sandwich. Finally, using a small circular cookie cutter, press the sandwiches into petite circles. Serve with extra dill on top of each mini sandwich.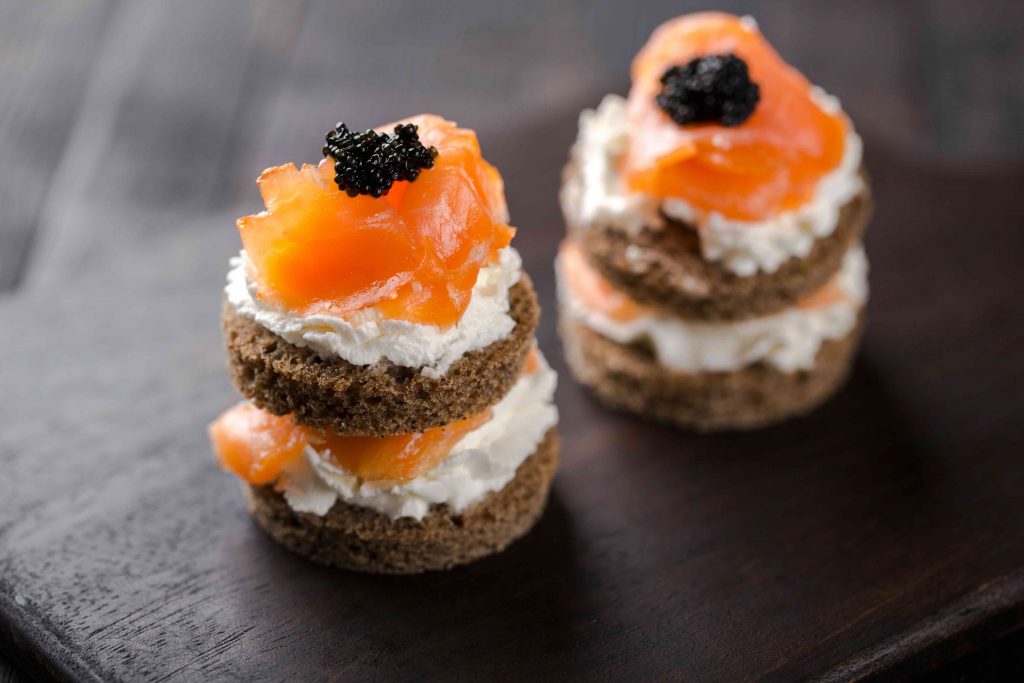 Smoked Salmon & Horseradish Dill Cream Cheese Bites
The homemade horseradish dill cream cheese is the star of this sandwich. It's also probably the most actual cooking you'll do for this whole meal– which is saying something. Paired with buttery smoked salmon and punchy roe, this might be your new favorite tea sandwich combination.
Ingredients

8 oz whipped cream cheese
½ cup finely chopped fresh dill
¼ cup prepared horseradish
Kosher salt
Freshly cracked black pepper
12 oz smoked salmon
4 oz salmon roe
6 slices rye bread
Directions
Begin by combining the cream cheese, dill, horseradish, and a generous pinch of salt and pepper in a small bowl. Next, flatten out the slices of rye to the same size as the milk bread. Use the circular cookie cutter to press out small circles, about 12-15 pieces. Spread the cream cheese mixture evenly on top of each circle. Finish each sandwich bite with a few slices of smoked salmon and a dollop of roe.
Related Articles
The Best Afternoon Tea In The World