The world really is your oyster this summer. As life gets back to normal, you can literally push boundaries again, and travel beyond the usual suspects. So we're doing our public service and putting Armenia on your radar. This stunning country has it all going on; history, culture, scenery, food and wine. It's also becoming a tech hub in the region, which makes it interesting from a business standpoint. In other words, you have both cerebral and purely hedonistic reasons to put Armenia on the list. This is your ultimate Armenia travel guide, so settle in. There's a lot to see.
Overview
To nutshell it, Armenia is a beautiful country that is filled with beautiful people.  It is ingrained in Armenian culture to eat, drink and be merry.  Armenians also have a unique generosity and especially love to host family and friends. And that also extends friends of friends; Armenians will quickly adopt you and go above and beyond to show off their country. And what a country it is; if you consider your self a world traveler, a trip to Armenia, Georgia and Azerbaijan is a lifetime experience.
One of the Oldest Civilizations on Earth
History buffs will have no shortage of monasteries and sights in this Armenia travel guide. Armenia is one of the oldest civilizations on earth,  where some of the first signs of life date back over 325,000 years. The fun Jeopardy Daily Double fact of the day is Armenia was the first country in the whole world to declare itself Christian. Even if you're not into the history channel, Armenia will open up a whole new realm of understanding of the region and its cultural significance. After a few days here, you'll have plenty of intellectual fodder to impress your friends at the next cocktail party.
A Little Italy, in Yerevan
The capital city of Yerevan is lively and full of people every night of the week, and has an energy similar to New York City.  Yerevan may not be a city of skyscrapers, but it has a unique grace in its architecture. Although Armenia was once part of the USSR, you won't find an overwhelming number of uniform and unimaginative high rises.  Rather, you'll find elegant Rennaissance buildings and colorful frescos. Russian-born Armenian Alexander Tamanian designed the city of Yerevan which feels more like neoclassical Italy than it does Russia. Not to miss in the Armenia travel guide is the Cascade staircase, one of the most recognizable landmarks of limestone steps. If you reach the top, you're rewarded with a prime view of Yerevan and majestic Mount Ararat on a clear day. Around the foot of the Cascade are the lively cafes and restaurants, that boom in the evening.
Armenia Gets its First Unicorn
We have a theory about why Armenians are generally very intelligent, and it stems from their extremely long and complex alphabet. To baseline read and write, you essentially need to have a high level of smarts. So it's no surprise that Armenia is quickly becoming a tech hub in the region. In 2021, Armenia had its first home-grown tech company, reach a $1 billion "unicorn" valuation. Their tech center, TUMO, is a hub for start-up companies, and provides a place for the younger generation to build coding skills. They're additionally building a new $110 million facility, the Dalan. And you know what happens with tech money? Nicer apartments, shopping and restaurants. This is reflected in the Yerevan experience, where almost half of the countries population lives. Where it was difficult to get good sushi in Yerevan due to Armenia's landlocked geography, now it gets flown in daily.

Where to Stay
The beauty of a trip to Armenia is you get to visit an emerging destination, without having to rough it. For our Armenia travel guide, the only place for your stay in Yerevan is The Hotel Alexander, located right in the center of town.

The Alexander is part of legacy Starwood and now Marriot's Luxury Collection. Not only does it have a rooftop bar with some killer views of Mount Ararat, but it's right in the middle of everything.  This means easy access to all of the best restaurants, nightlife, and main attractions of Yerevan. Of course they have a requisite spa, 24-hour fitness center, and indoor pool should you overindulge in the Armenian cuisine.
Where to Eat
A Restaurant Scene that Rivals New York
We know that it's a bold statement, but in a city of only one million people, Yerevan has a bustling restaurant scene that feels more like New York. You can work for miles in the city, hopping from one bar to restaurant, to another. We have the long list, that's the pocket guide of where to eat for your Armenia travel guide. Outside of Yerevan, you'll find caviar farms because as kids, most Armenians would get caviar sandwiches for lunch. And yes, they would complain about "another caviar sandwich". To complement the caviar farm experience, Armenia also has charming wineries where they'll bring out all the fresh bounty of the day as you wine taste. Think homemade cheeses, soups and meats that film a farmable to the brim. That's before you even experience the hospitality extended to you by the country's easy-on-the-eyes people. No it's not heaven, this is Armenia, and it pretty much has something for everyone.
A Pocket Armenia Travel Guide List of Where to Eat
The following is an Armenia travel guide pocket list of where to eat in Yerevan, from our locals Kristine and Lori. So you're getting the real deal, with any of these recommendations. We also weren't kidding when we said the Armenians are into food and enjoying themselves. This is one of the longer lists that you'll get in any major capital city, outside of New York, Paris and Madrid. As with the hotel situation, Armenia may be an emerging destination, but you won't rough it.
Trendy Restaurants and Bars
Bar Phoenix
Bird Cage
The Collective
Mamba Cafe & Gin Bar
Minas
Kong Cafe & Cocktail Room
A Few Favorites on Saryan Street
Saryan Street is the place to be, with an assortment of authentic street food and high-end eats all in a row. Like New York City, Yerevan is a place you can walk for miles. There's virtually no petty crime, where the joke among local Armenians is that such acts are below them. If an Armenian is going to commit a crime, it would be white collar. Their joke, not ours. The point is that you can walk at all hours of the day and night, and Yerevan is a safe city. We walked down quite a few dark alleys that we would never recommend in any other major city. In Yerevan though, you're fine. One of the major streets is Saryan, where everyday it seems a new cafe pops up. Here are a few of the locals' favorites.
Ktoor
Voskevaz
Say Cheese
Gouroo
Zanazan
Additional Restaurants for the List
From the locals perspective, this is the absolute must-try on this list. Fresh eats slightly out of the city, woodsy atmosphere. Notably, you pick your fish out of the water.  Also, make sure to get this "ser" and summer salad and the cheese platter.

Basically, prepare for the sugar rush from the best donuts in town.

Markedly high-end, modern takes on traditional cuisine.  Further, the giant Napoleans are a must-try for dessert.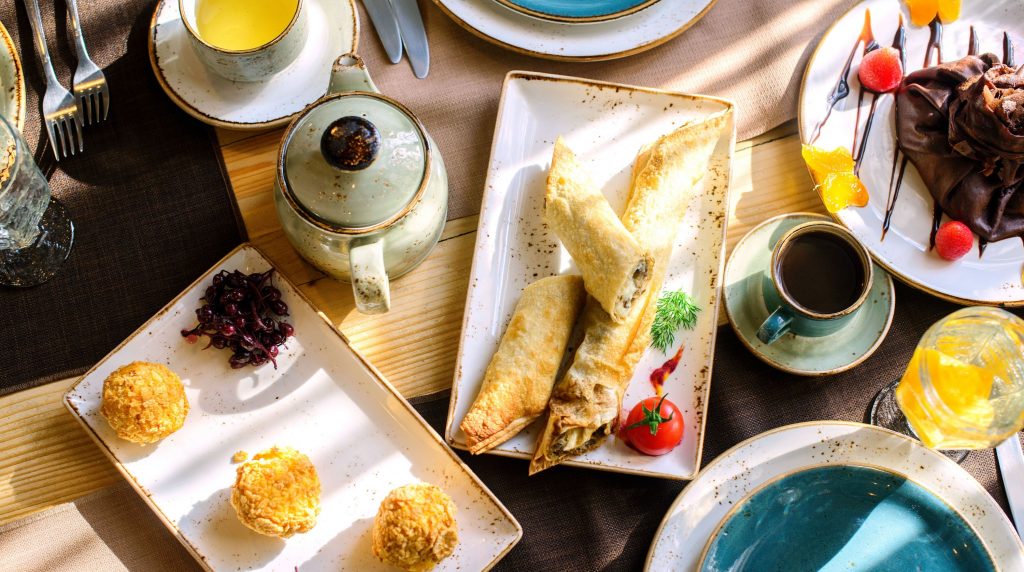 Quality eats paired with top-notch service and a unique atmosphere.

A highly rated restaurant that serves traditional specialties.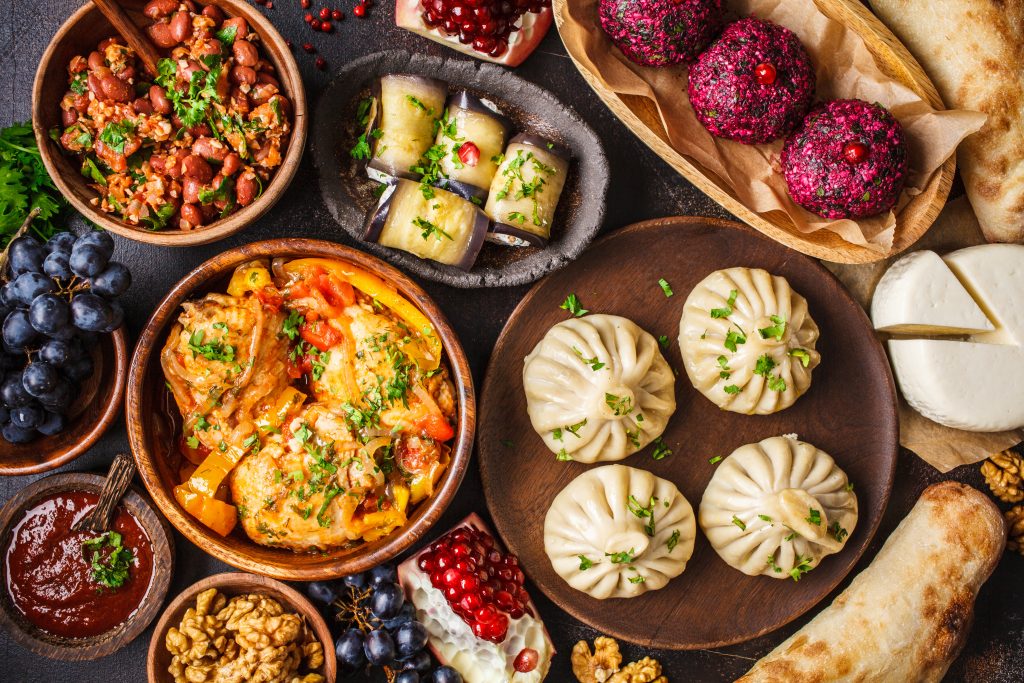 Close to The Alexander, Vostan offers an outdoor patio along with generous portions.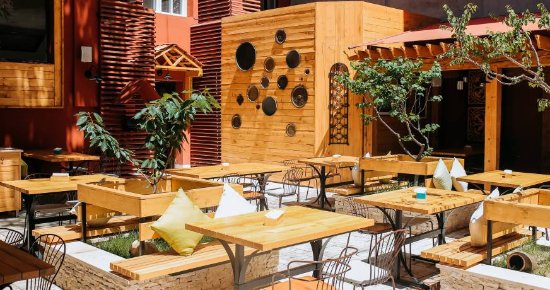 This wine bar offers an extensive selection of wines, as well as cheese and meat platters.

Where you'll find a highly rated and modern take on Italian cuisine.


Also known as the high-end restaurant with the freshest fish and best sushi in town.

Where the specialty is high-end fusion cuisine, with a selection of grilled items and sushi.

This gastrobar offers Peruvian Pan-Asian Fusion.
Your go-to for a high-end seafood joint, which is open from breakfast to late-night bites and drinks.

This wine bar offers European-style seafood dishes.

Where they serve up local specialties and an extensive wine menu.
Places to Visit in Yerevan
Historical Sites
Tsitsernakaberd
This memorial is to the victims of the Armenian genocide.

Museums and Education
National History and Art Museum
For the history junkies, this museum contains seven floors of Armenian artworks.
Parajanov Museum
This museum is a tribute to the works of Sergei Parajanov, who was a Soviet Armenian director and artist.
Opera House
This historical landmark is surrounded by open-air cafes, which typically stay open very late.
American University of Armenia
TUMO
This center for creative technologies offers free education for teens. This is the tech hub of Armenia and the region.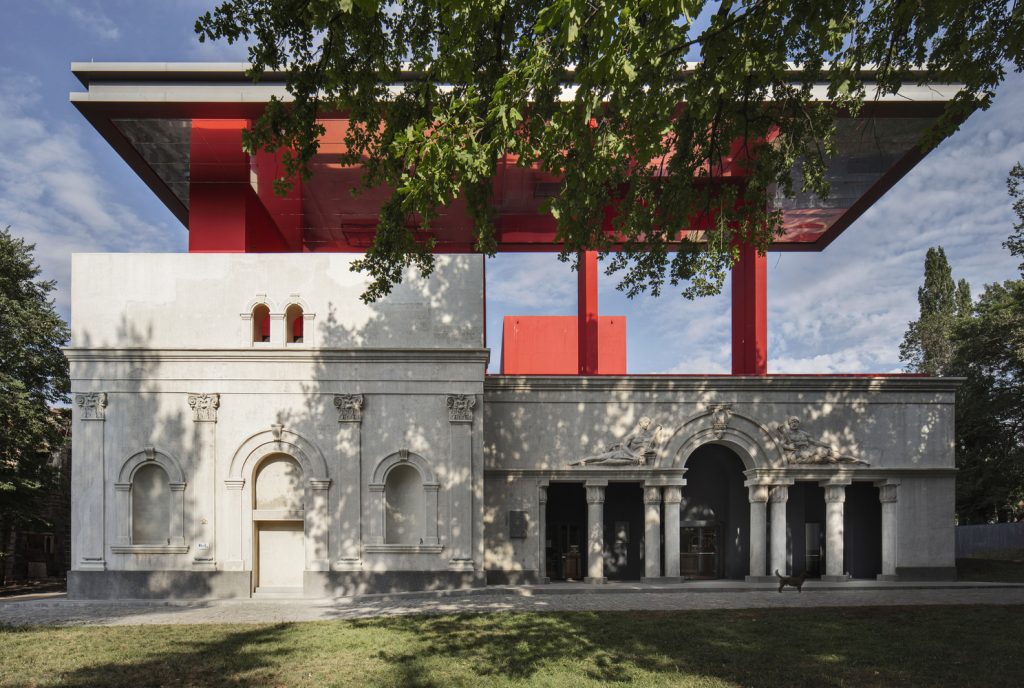 Matenadaran
This museum houses ancient manuscripts and also acts as a research institute.

Cafesjian Center for the Arts
Republic Square
Here you'll find museums, government buildings, restaurants, and hotels, including The Alexander. You'll also find this square is host to the area's festivals.
Shopping
Vernissage Market
This outdoor market sells local wares.
Hyusisayin Boghoda (or Blvd)
You'll find shops both above and underground as well as some restaurants. Across from it is the swan lake. This is Yerevan's equivalent to Rodeo Drive.
GUM Market at 35 Movses Khorenatsi Street
Yerevan's large-scale local food and farmer's market.
Parks
Swan Lake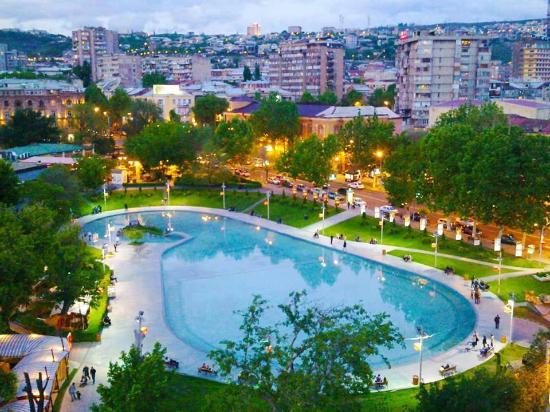 Lover's Park

Sites to Visit Near Yerevan
Geghard Monastery and Garni Temple
Both of these are a must-see during your travel to Armenia. Luckily, they're super close to each other. which means you can easily hit them both in one day.  Also, make sure to pick up some gata, walnut preserves, and soudjoukh, which are traditional favorites sold by the entrance.
Geghard Monastery
This UNESCO world heritage site is a medieval monastery.  It is mostly comprised of churches and tombs, constructed between the 4th to 13th centuries.  It is a stunning landmark surrounded by scenic cliffs.

Temple of Garni
Built during the middle of the 1st century CE, the Temple of Garni remarkably survived the destruction of pagan temples following Armenia's conversion to Christianity in the 4th century CE.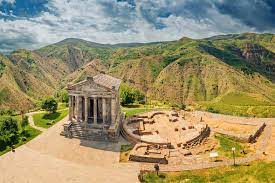 Ejmiatsin Cathedral
This cultural landmark is the center of the Armenian church.  It is the first cathedral constructed in Armenia, and quite possibly the oldest Christain cathedral in the world. Additionally, it is located in the picturesque Vagharshapat, the 4th largest city in Armenia.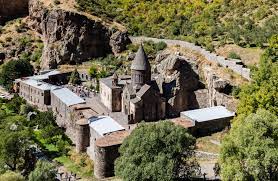 Khor Virap
This monastery, close to the border of Turkey, should be high up on your day trip list when planning to travel to Armenia. It has a stunning view of Mount Ararat.  And for the sommelier, it is surrounded by vineyards.

Sardarapat
This monument is a memorial to the World War I Battle of Sardarabad.

Amberd Fortress
For those who like to get a good hike while on vacation, Ambert Fortress is the day trip for you.  This fortress dates back to the middle ages, and its name translates to "fortress in the clouds."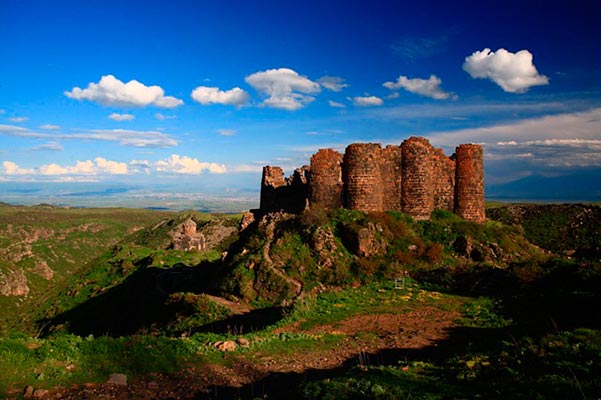 Places to Visit Further Outside Yerevan
Historical Sites and Cities
Goshavank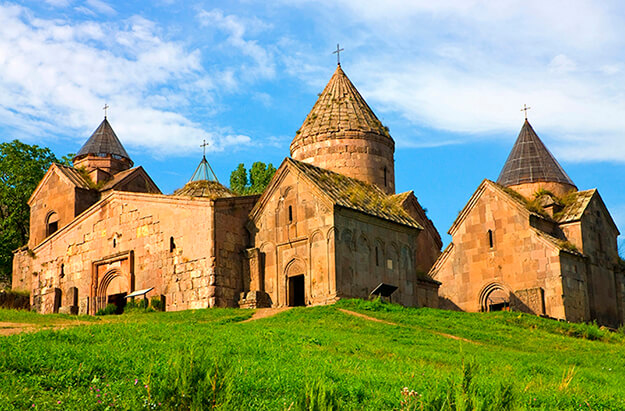 Haghartsin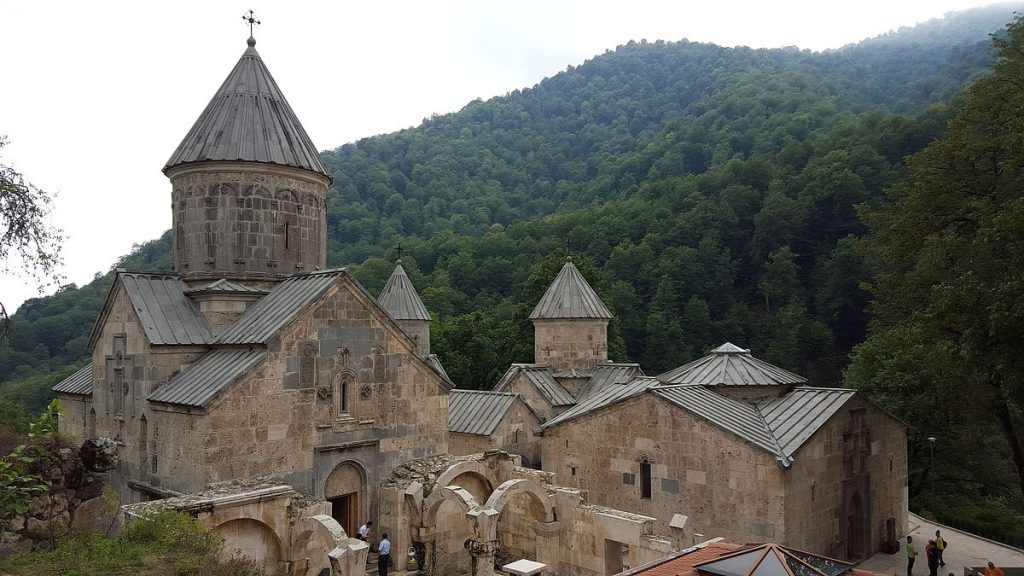 Gyumri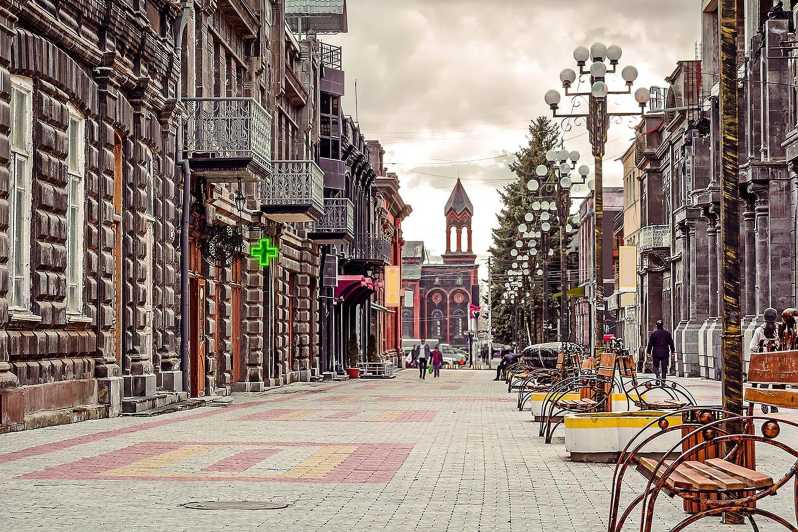 Adventure in Nature
Sevan Lake and Sevan Monastery
This lake is a must-see for those planning to travel to Armenia.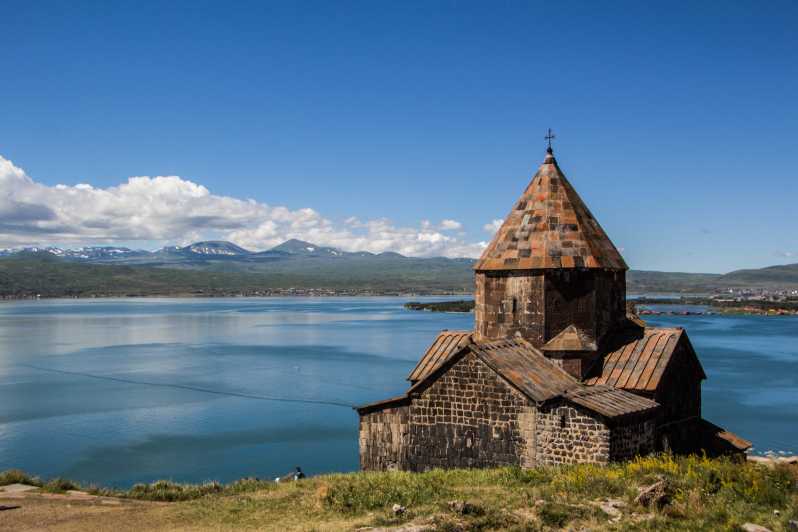 Lori Region
In this region of Armenia you will find the monasteries of Haghpat, Sanahin, and Akhtala.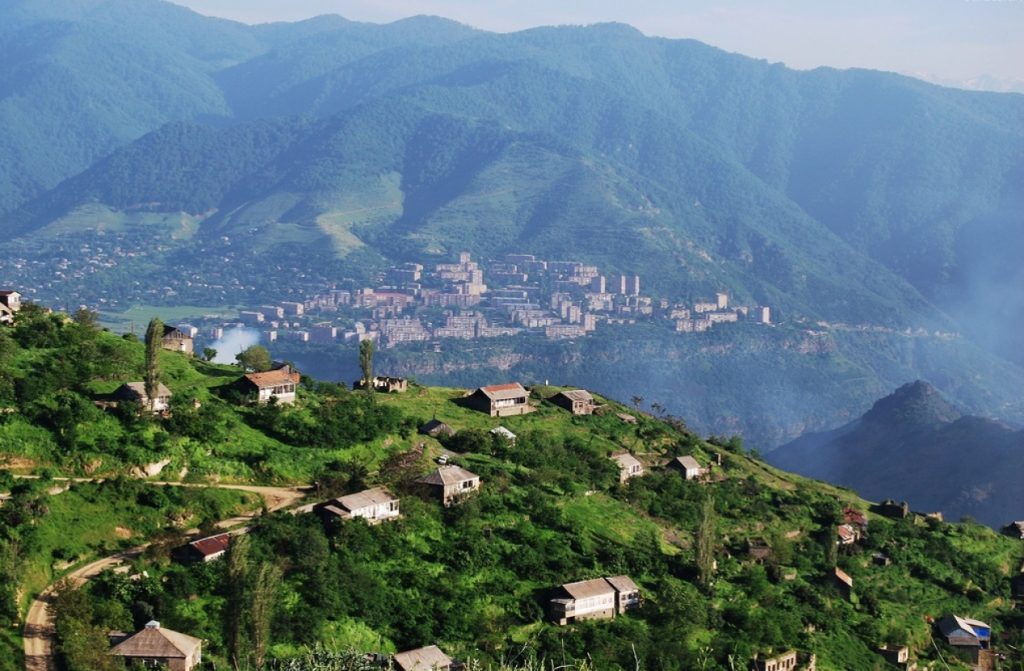 Dilijan
In Dilijan Old Town you'll discover super green lush forests. Parz Lich is on the way, and there you'll find the Parz Lich extreme park.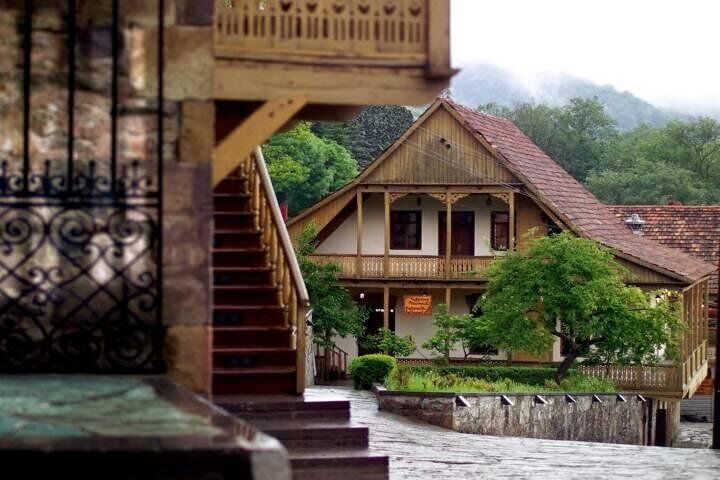 Lastiver
Here you'll find hikes that almost look like the swiss alps.  For a few days in nature, you can go horseback riding, fishing, or visit the Yell Extreme Park for ziplining.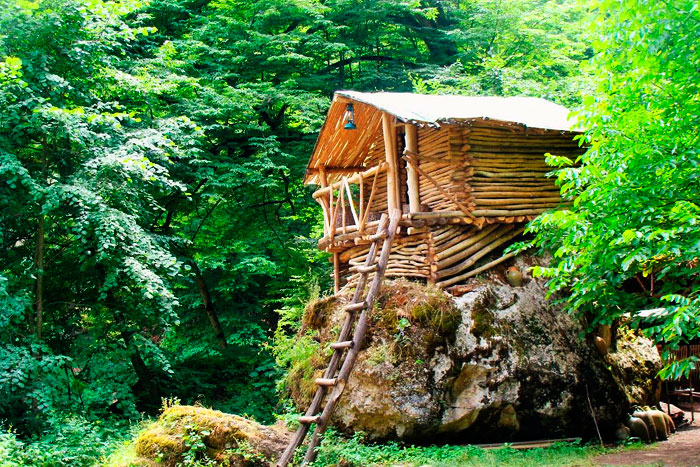 Places to Visit in Southern Armenia
Wings of Tatev
Southern Armenia is home to the world's largest aerial tramway.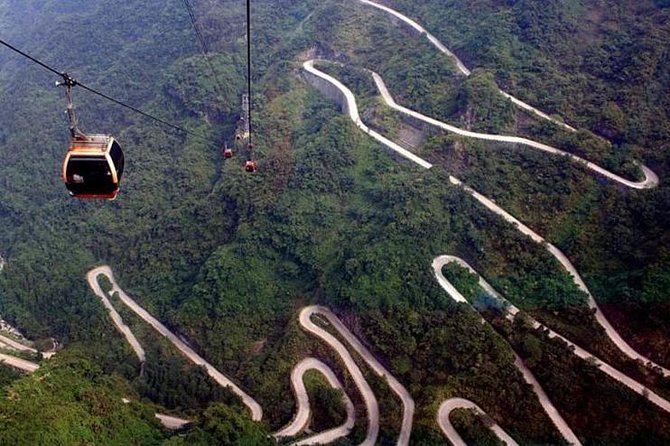 Khndzoresk Swinging Bridge
For the not-so-faint-of-heart, try the adrenaline rush across this 160-meter bridge.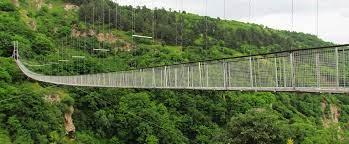 This 13th-century monastery is known for its red cliffs.

Jermuk
For nature lovers, this mountain-spa town is full of lush greens and waterfalls.

Tsaghkadzor

A popular health resort and spa town, where you'll find ski-resorts.

Nightlife
Rooftop Bars
Rooftop Official: For views of the rooftop bar at Dvin Hotel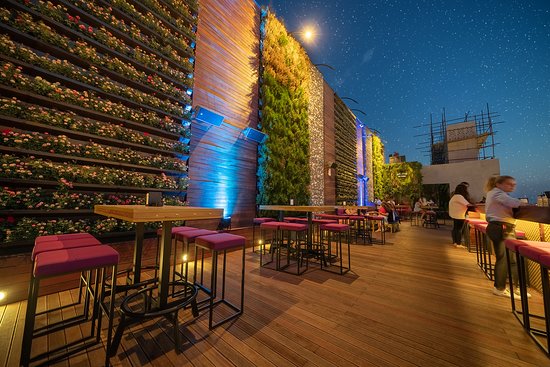 Cascade Royal: The spot for elegant after-dinner drinks and a view.
El Sky Bar: For those who like to party in luxury.
El Garden:  This is a great late-night hangout spot, and overall a cool place to see. Beware that it is slightly overpriced, but you don't care. You're on vacation.

Jazz Clubs
Yerevan is known for its jazz clubs, which means you'll want to hit at least one. Here are the best of the best in the city, to check out during your travel to Armenia.