The 22 Top Travel Destinations  for 2022
It's a pretty darned good way to start out the new year: feeling like the possibilities are endless. And by that we mean at work. With family. In life. Whatever you want, you can make happen. And if that is traveling the world, well, we have a list for that. Some places on this list are pure hedonism — because we all deserve some mind candy. Others are meant to broaden the horizons. Now is prime time — the globe is your oyster  — and we have the 22 travel destinations for 2022 to put on your list.

The Destination:  Paris, France
Why to go:
There's a reason the phrase "joie de vivre" is French, which translates to "joy of life".  This past year, the Parisians emerged more fashionable and as Emily in Paris would put it, tres chic than ever.  The luxury hotels, current restaurant and club scene puts Paris firmly back on top of places to go for pure joie de vivre behavior.  Our Paris list of the restaurants of the moment should be your bible to be in the mix.

Where to stay:
Paris has always had classic exquisite hotels like the Georges V and the Ritz, but now they're joined by newcomers Bulgari and Cheval Blanc.  There's a hotel for every luxury personality and locale, from the Mandarin Oriental on the Rue du St. Honore to the oh-so-French Plaza Athenee.  For the hotels alone, Paris is where to travel in 2022.

The Destination:  South of France
Why to go:
This part of the world is pretty much scientifically proven to make you a happier person.  Sunshine.  Gorgeous scenery.  Beautiful people.  Rose.  Also, if you're not up on your US Magazine subscription, then we're here to let you know that the South of France is where to be this summer.  It would be easier to list the celebs who were not in the South of France last year, than those that were.  This is a top destination to travel in 2022, as there are also a slew of new grand and boutique hotels on and off-grid in the region.
Where to stay:
First, let's start with St. Tropez, because any proper trip to the South of France should have a few days of fun that is the center of the party.  Before, the only real luxury game in St. Tropez town was the Byblos, which is stumbling distance from Les Caves du Roy. Now, if St. Tropez is your thing, Cheval Blanc has an oasis outpost, that's within 10 minutes walking distance to the Cafe de Paris.  To be closer to the Club 55,  La Reserve is a sublime serene.
Now if you want your moment of South of France zen, Lily of the Valley in La Croix-Valmer overlooks 3 miles of pristine beach.  It's the small, family-owned luxury hotel that you wish existed, and now actually does.  For those who are art and design lovers, the Villa La Costes is a destination-worthy hotel.  Both these hotels will get their own dedicated features this summer, but should be on your radar now.

The Destination:  Paros & Antiparos, Greece
Why to go:
Mykonos is always a good time, but this year those in the know are including the lesser known Greek isles to their summer travels.  Paros and Antiparos are surreally peaceful and authentic experiences, where there are more locals than tourists. A trip here may just become your definition of your happy place.  In Paros and Antiparos, you have the feeling that you have ventured somewhere totally unspoiled and authentic.  Even the simple grilled fish at the seaside just tastes better on these isles.

Where to stay:
Paros and Antiparos are bringing it in terms of chic design hotels.  On Paros, the Parilio is hands down the best place to stay.  On Antiparos, the Rooster made a splash when it opened last year, and may just make the list of best hotels in Greece.

The Destination:  Georgia & Armenia 
Why to go:
Georgia and Armenia are two destinations that will take you by surprise. For every motivation to travel, you'll find what you're looking for in these countries.  You're into history?  Well as one of the oldest civilizations on earth, you'll get a PhD equivalent in the historical churches, monasteries and archaeological sites. Armenia also has a restaurant scene to rival every major city in the U.S.
On Georgia, their food is renowned as some of the best in the world.  Georgia is also a stunner of a country; you go for the beautiful countryside, caviar farms, and fascinating wine region.  You also go for the people – this area of the world has some of the most warm and welcoming cultures. Whatever excuse you come up with, the point is, if you're a world traveler, Armenia and Georgia are top travel destinations for 2022.

Where to stay:
In the Armenian capital city of Yerevan, the Alexander is the best luxury hotel with a boutique luxury vibe even though it's part of the larger Starwood portfolio.  You can base yourself here for virtually all of your excursions throughout the trip.  Georgia's capital Tbilisi, has one of the coolest hotels, the Stamba, that's set in an old printing factory in the up-and-coming part of town.

The Destination:  Comporta, Portugal
Why to go:
Celebs, like Christian Louboutin, are buying up property here for its serene beaches, rice paddies, ocean views, peace and quiet.  This is as private as it gets to decompress and enjoy local culture.  Comporta is where the very chic from all over Europe decamp, and completely off the tourist circuit.   Did we also mention that it's really pretty?

Where to stay:
Sublime Comporta will be one of the more unique hotels in your repertoire. Each of the 46 rooms, there a unique feature are the bio pool suites, sort of like an over-the-water hut.  And yes, you can jump right in.
The Destination:  Ericerica, Portugal
Why to go:
If you're looking for the next big thing for travel insiders, Ericerica just may be it. Ericerica is Europe's first designated surfing reserve, and while it feels off-grid, it's 35 minutes outside of Lisbon.  Located on the coast of Portugal, Ericerica is pristine beaches, excellent surfing and small, authentic local towns. Think of it as the Hamptons of Portugal.  And yes, there's surfing, but there's also yoga, meals cooked on outdoor fire pits and plenty of place to chill out.
Where to stay:
As one of the up-and-coming destinations in Europe, it's only befitting that Ericerica would get its first five-star hotel.  And while Ericerica is a compelling, Immerso promises to make this part of the world a destination.  The hotel is set up open February 2022, and all signs point to this family-run hotel hitting a home run.
The Destination:  Madrid, Spain 
Why to go:
There has never been a better time to go to Madrid, which came out of seemingly nowhere as the hottest city destination in Europe.  In the past few years, the top hotel groups in the world have set up shop in town.  Madrid is a unique city within Spain because of its cosmopolitan chic, with a clear elegance.   And don't get us started on the food; the restaurants have both excellent cuisine and scene.  Also, if you think you're too old to be in a club, that just doesn't apply in Madrid.   This is where you want to be for a weekend of eating and indulging.

Where to stay:
Before, it was just the Ritz that was the only true luxury hotel game in town.  But even the Ritz has undergone major changes.  After a multi-year total gut renovation, the Ritz is maybe at its greatest glory as part of the Mandarin Oriental portfolio.  It's joined now though by the Four Seasons and Rosewood, which took over the old Villa Magna, and also gave it a full face lift.  There are also boutique hotels like the Urso and Unico, which won't break the bank.

The Destination:  Ibiza, Spain 
Why to go:
Yes, Ibiza is a party destination for the summer.  But the island is much more than a foam party or all-night bender.  The core of Ibiza is as a spiritual center of energy and alignment.  This means off-season it shines, in a whole different way.

Where to stay:
The Six Senses Ibiza is the first real luxury hotel on isle, and everyone wants a piece.  You'll find that in-season, it's near impossible to get in unless you book early.  It's located on the east side of the island, that's about 35 minutes away from Ibiza town and the action.  But they make their own scene, as the people watching is like beautiful people at Burning Man, but much nicer accommodations.  Restaurants are a major highlight – Bond Street and HaSalon are in residence during season.  The main restaurant highlights the best of farm to table ingredients that's all clean-eating.  After a short break this February to March, Six Senses is  going to stay open year-round.  So anytime will be a good time, to go to Ibiza.

The Destination:  Umbria, Italy
Why to go:
It's hard to find an undiscovered area of Italy, but Umbria is the path relatively less-traveled.  This is where the cuisine, part of the Slow Food movement, is some of the best in all of Italy.  Come here to eat, wander and totally get the meaning of Italy.  You are guaranteed a life is good moment in Umbria.

Where to stay:
Castello di Reschio  made a big splash last year when it opened in group of abandoned old farm houses and villas.   It's soon to be joined though by the likes of the Six Senses, which will be opening in 2023 or so.
The Destination: Corsica, France 
Why to go:
This is the part of France, that you didn't know you were missing.  It's more like its own country though, as an island off the south eastern coast France.  Here, life looks like it's stood still for the past half century, and it's completely unspoiled.  This island is rugged, with mountains, beaches and rustic villages.
Where to stay:
There isn't a Four Seasons here, and that's the beauty of Corsica.  The hotels are small, boutique and family run.  In the south by the picturesque town of Sartene, the Domaine de Murtoli has a stunning vineyard and grounds, and villas with 1-5 bedrooms for rent.  They recently opened up a hotel within the property, L'Hotel de la Ferme, which has charming and more updated rooms.

The Destination:  Egypt
Why to go:
This is a bucket list destination, no matter what year it is.  Egypt should almost make it to the Hall of Fame of where to travel on the annual list of hot destinations.  This year, the Oberoi's Zahra is completely refurbished, and even more plush.  Also the brand St. Regis opened in Cairo, providing a new luxury hotel opening.  If you want to go off-grid and unique, we have a hotel without electricity for you.

Where to stay:
For a cruise on the Nile, the Oberoi is the only and best game in town, full stop.  Their boats, the Philae and Zahra are the most luxurious vessels that cruise the Nile.  In Cairo, the Four Seasons has two locations, and the St. Regis may just be the hot place to stay right now.
In Sharm El Sheikh, the Four Seasons on the Red Sea does it again, and is the only luxury game in town.  That hotel we mentioned without electricity? Adrere Amellal – which is a whole new level of unique.

The Destination: Saudi Arabia
Why to go:
Once closed to the world, what was once unthinkable is now the reality:  Saudi is open for tourism.  And they really want you to come.  The country's historical sites are astounding; it's one of the most religiously significant area in the world. Archaeological sites are as fascinating and impressive as the evolving culture that is Saudi.  Don't be surprised if one day relatively soon we're doing our best bar guide to its capital Riyadh.

Where to stay:
The Four Seasons, in all its glory in the Kingdom Centre, is a 100-floor architectural feat in the heart of Riyadh.  If you're into luxury, this is the game in town.

The Destination:
Trancoso, Brazil
Why to go:
Brazil is trending high this year, and if you want unique and authentic, Trancoso is it.  The town is charming, rustic and barefoot luxury, but also teaming with African history.  Formerly a fishing village, it's now one of the most beautiful beach areas and eco-friendly destinations in South America.  There's a reason why celebrities like Anderson Cooper have homes in this neck of the woods.

Where to stay:
UXUA, full stop.  Unless of course, Anderson invites you to his house.  The service, the owner's passion for their craft, beautiful food and low-key luxury make UXUA the place to stay in Trancoso.  In fact, if there's not availability at UXUA for your dates in Trancoso, change your dates.

The Destination: Bolivia
Why to go:
Pre-pandemic, La Paz was one of the most up-and coming destinations, and with South America opening, they may just pick up where they left off. Boutique hotels, cool restaurants and cable cars that  traverse the city make La Paz that cool.  Also, the Salt Flats of Bolivia are one of those lifetime experiences, for the very well-traveled.  This is not just where to travel in 2022, it's where to travel at some point in your lifetime.

Where to stay:
Kachi Lodge made a buzz with their glass igloos in the Salt Flats, to bring a luxury experience to Bolivia.  Explora will also begin running their expeditions, and as the pioneer for sustainable luxury travel, you know it will be good.  In La Paz, the chic MET hotel will open this year with a focus on design and food.

The Destination: Atacama Desert, Chile
Why to go:
You missed South America this past two years.  And you want to see some of the most beautiful, unspoiled destinations in the world like the Atacama Desert.  Here, it feels like another planet (Mars in fact) at times, and has the distinction of the driest desert in the world.  This gives you stargazing that's unrivaled, stunning hikes and a connection with the earth that will change you inside.  The Atacama Desert is where to travel in 2022 if you want to have travel change you.

Where to stay:
The most beautiful and private place to stay in Awasi, where you have your own guide and truck for your trip.  So when, where and what is all up to you.  Tierra also has a beautiful lodge, that's modern and more interaction with other guests. For families, we're waiting for explora to reopen, which was one of the pioneers in sustainable travel in Chile.

The Destination: Mozambique
Why to go:
You've been there, done that. But you probably haven't been to Mozambique, one of the most unspoiled beach destinations in the world.  And Mozambique is a stunner, and where to travel in 2022 if you want to experience something unique.  Mozambique has culture, beauty and luxury hotels.  There are few places in the world that you'll feel more castaway and off-grid.

Where to stay:
Anantara and andBeyond create lifetime Mozambique experiences in top luxury, that's way above the standard Hawaii hotel.  There's also a boutique hotel, Azura on Benguerra Island that won't break your bank but will fill you with happiness.  You'll eat fish just taken out of the ocean, catch sunsets so indescribably stunning and connect with the locals.

The Destination: Kenya
Why to go:
You want to experience life, and Kenya is one of the hearts of Africa.  Safari is always a good idea, but we challenge you to venture further afield to the Kenyan coast.  In the town of Kilifi are cliff views of the Indian Ocean so stunning, you wonder if what you're experiencing is real.  This is a place for the adventurous – scuba diving, deep sea fishing, kite surfing, and sunsets that are unforgettable.

Where to stay:
We have to admit, Kenya is on the list because of Sirai Beach, which may just be the most beautiful hotel in the world.  And we know you'll travel for luxury hotels.  This one, set amongst trees that are hundreds of years old, is one you just have to put on your list to believe.

The Destination:  St. Barths
Why to go:
At least once in 2022, you need to let loose and dance on a table.  Or at least order 100 euro burrata.  Whatever you need to do to have fun, St. Barths has you covered.  Take a weekend at the beach, swim in the ocean and remind yourself why you work so hard.

Where to stay:
There's no one size fits all for everyone; St. Barths hotels have distinct personalities of their own.  In the Hall of Fame is Eden Rock, where you'll find the likes of Leo and the Hollywood set, not staying on their boats.  At Cheval Blanc's Isle de France you'll be in good company amongst your elegant Upper East Side neighbors.  And now, Rosewood has thrown their hats in the ring, with the recent reopening of the classic Le Guanahani.  There are so many other places though in between, as well as newer hotels like Le Barriere in St. Barths this year.  Lookout for our St. Barths hotel guide on Galavante this 2022.

The Destination: Panama
Why to go:
It's the opposite of St. Barths, and you like to diversify your Caribbean experiences.  Panama is unique in the Caribbean because it's not all beaches and cocktails.  (Though there's a lot of that available too).  You may know Panama for the Panama Canal, which is a important trade route that connects the Atlantic and Pacific Oceans.  It also divides North and South America, so Panama is a center of business, as well as vacation pleasure.  You'll get your beach time yes, but you'll also learn something along the way.

Where to stay:
In Panama City, it's the Waldorf.  When you venture further afield, Sweet Bocas, a private over-the-water villa, gives you the best eco-friendly luxury hotel experience.  Louis Bacon opened up his own private island Isla Secas, but it's a rather annoying logistical feat to get there.  When they make it easier and not the price of a ticket to Europe (around $2000 round trip/per person) then maybe we'll recommend it.
The Destination: Dominica 
Why to go:
One of the most pure, completely unspoiled islands in all of the Caribbean, and one that's off the radar.  Dominica promises to give you a different experience than a standard Caribbean resort with pretty views.  This is a place to see waterfalls, hike, explore and take in a more off-grid experience and culture.
Where to stay:
If you're staying in the main town, the Kempinski Cabrits Resort & Spa has beautiful rooms that won't break the bank.  However if you want to splurge, Secret Bay is set within a cliffside rainforest.  They are a "six star" private villa experience, where you get customized service, from start to finish.

The Destination: Guatemala 
Why to go:
Off-the-beaten-path in Central America, Guatemala is a sleeper hit.  With 19 volcanos on isle, the Mayans ruled their empire from Guatemala.  So it's full of culture, history and archaeological sites.  Water wise, Guatemala has both Pacific Ocean and Caribbean beaches, and between that, some of the most diverse plant and animal species this side of the equator.

Where to stay:
Well, you're not coming here for the most luxurious accommodations in the world, but our partner Landed can hook you up with decent spots to rest your head.  At least this isn't the expense that will break the bank.  The one relative exception is Casa Palopo, in the Lake Atitlan region, which is sometimes compared to Lake Como.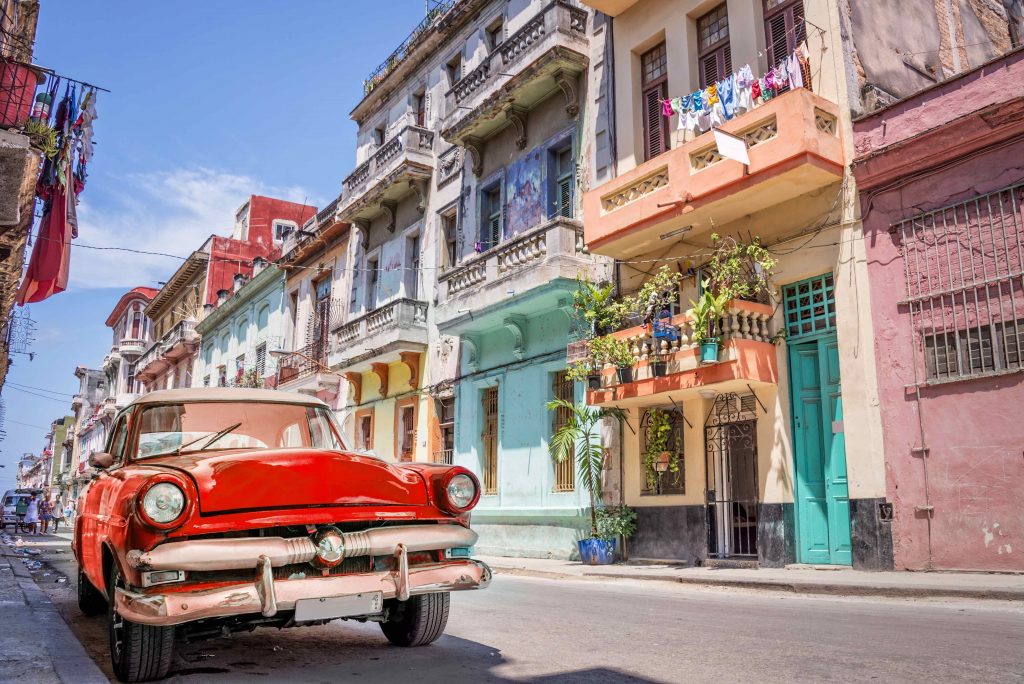 The Destination: Cuba
Why to go:
Cuba shut borders for most of the pandemic, and now they are wide open.  They're also touting their low incidents of COVID, but keep an eye out before booking travel to Cuba.  You never know what happens in the future though, so the time is now to visit Cuba.  Cuba is where to travel in 2022 for the culture, the music the warm hospitality of the people and the town that's frozen in time.  And of course, you need your ride in a classic automobile from the 1950s, top down through Havana.

Where to stay:
For Frette linens and Hermes bath products, Paseo 206 is a boutique hotel in the local neighborhood of Vedado.  Paseo 206 has a well-known Italian restaurant, where if you don't stay, you'll dine here either way.  Also in Vedado is La Reserva, with low-key, simple tiled rooms in a converted old mansion.  Loma del Angel is a private home right by the Revolutionary Museum in Old Havana. This is best for buyouts and groups.  Linens are crisp and they place a high degree of emphasis on service.