We have the hotel to add to your South of France circuit. Forget toile and flower-printed curtains (they have their time and place, of course). This is a modern architectural feat, in the heart of the countryside of Provence. Maybe that's what makes it so unexpected. Or maybe, it's just spectacular, from the art to the food to the views. Villa La Coste is one for the radar.
The Vineyard
If the name sounds familiar, it's probably because you've had the famed wine from Château La Coste. While the vineyard has been around for generations, it has adapted with the times and is now a biodynamic farm. Located in the South of France, the house, of course, makes an excellent rosé. The reds are beautiful everyday wines to stock in your cellar. Château La Coste is a destination in Provence for its wine and restaurants, regardless of whether you check into the 28-room boutique hotel.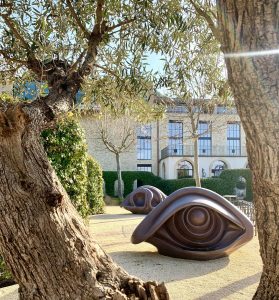 Art as the Foundation
Villa La Coste is still relatively undiscovered, which makes it even more of a gem. You come here to be in Provence among the beauty that inspired great Impressionists like Cézanne and Monet. Art is ingrained in the culture of Villa La Coste, albeit with a more modern aesthetic. The hotel has a permanent rotation of modern art that, yes, is for sale. There are also large-scale art installations around the property that add to the dramatic views.
The Hotel
The hotel's architecture is firmly contemporary, and unexpected given the traditional Provençal surroundings. Rooms are light and airy — right up the alley of anyone into design. If you're wondering where the beautifully chic Parisians vacation, Villa La Coste is it. Here, there are often more French in residence than international tourists. For this and many reasons, Villa La Coste is a hotel for the radar this summer.