Last time we ran a hotel on our radar (which was Villa La Coste), the same day, Kanye and Irina Shayk were spotted there on vacation. Mind kinda blown. This month, the hotel on our radar is in Umbria — the super-chill, non-scene part of Italy. Known for its white truffles come fall but not its luxury hotels. That is, until Castello di Reschio came on the scene. This hotel is one to put on your radar. Maybe you'll run into Kanye there, too.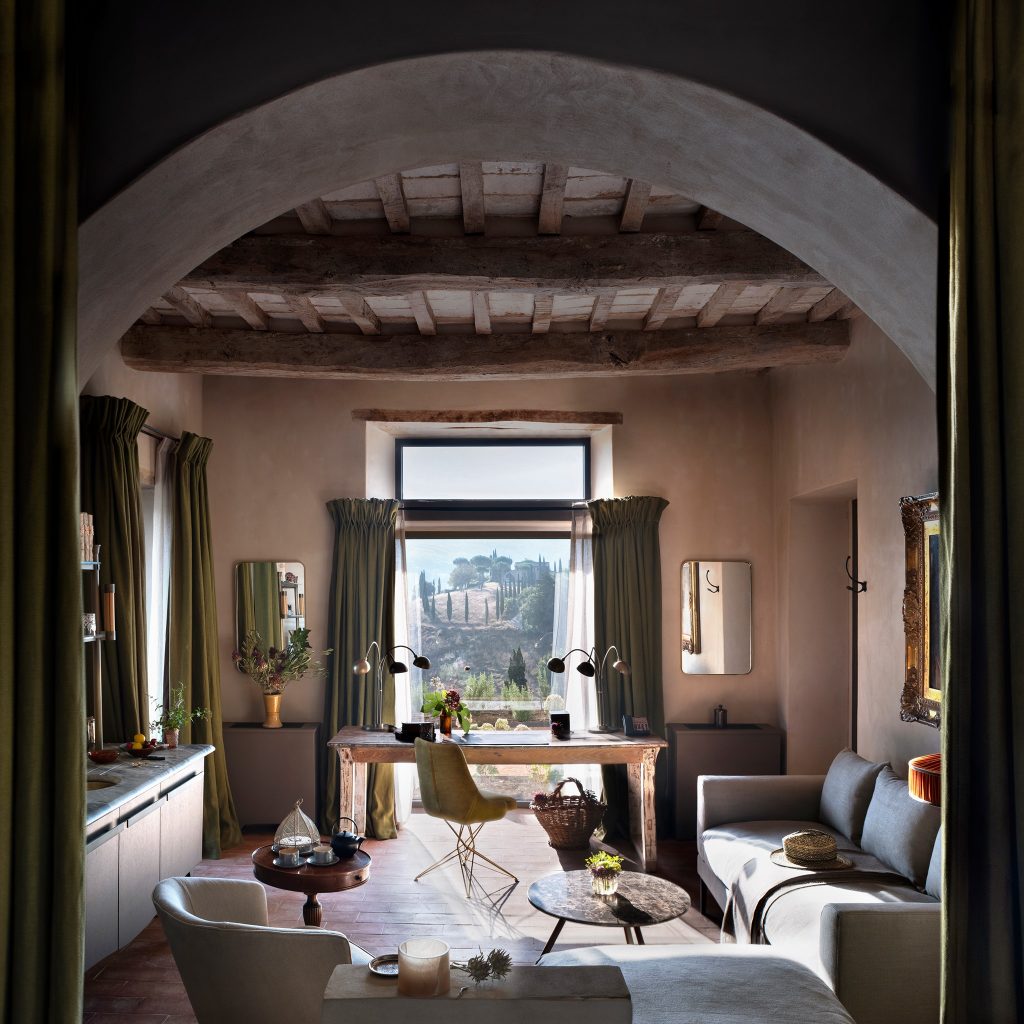 Finally, a Real Luxury Hotel in Umbria
Not that the boutique, family-run inns don't have their charm, but before Castello di Reschio, there wasn't a luxury hotel in Umbria. While Umbria may not roll off the tip of the tongue for luxury travel like the Amalfi, it has something no other region in Italy has: the white truffle from Alba, which is in season every fall. The irony is that white truffles are some of the most expensive and luxurious ingredients in the world. So not having a luxury hotel in Umbria was like having peanut butter with no jelly, or caviar with no blinis.
The Castello
This place is 1,000 years old. Seriously. And it was completely abandoned and forgotten in the Umbrian countryside. When the Count and Countess Bolza acquired the land in the '90s, they didn't even know the castle existed. Or the 52 farmhouses on the 1,500 hectares of land. Hence, Reschio was born as the family embarked on a two-decade-long passion project. The result is an authentic, stunning 36-room hotel and 20 private farmhouse villas available for rent. With all this land, it made sense, of course, to build stables there for the family's 40 Spanish horses. It's the luxury hotel Umbria deserves.
In a day where anyone with some bucks in their pocket can travel well in Italy, Reschio still remains an insider place to stay. This luxury hotel in Umbria is on our radar, and expect to see more coverage during white truffle season this fall.
FAQs
Q: Does the hotel have a pool? 
A: Reschio has a stunning outdoor pool with a poolside bar, Il Torrino, to keep guests hydrated and fed as they lounge.
Q: Where is the nearest airport?
A: The hotel is 37 km (23 miles) from San Francesco d'Assisi Airport.
Q: Where can one book a stay at Castello di Reschio? 
A: Interested parties can book a stay here.
Castello di Reschio Information
Address: Tabaccaia di Reschio, 06060 Lisciano Niccone PG, Italy
Phone number:   +39 075 844362
Map: