Earth Day is approaching, and it's time to take a beat and think about the health of our planet. Some of us recall 6-foot snow storms as kids but those days are long gone with global warming. While Earth Day should be celebrated every day, today we can honor our planet just a little more. And believe it or not, there are standout luxury hotels that are the most green when it comes to sustainability. We can go so far as to say that traveling to these spots is actually good for the environment and the local communities. Don't worry though, eco-friendly doesn't mean you need to rough it, so everyone, including our planet, wins.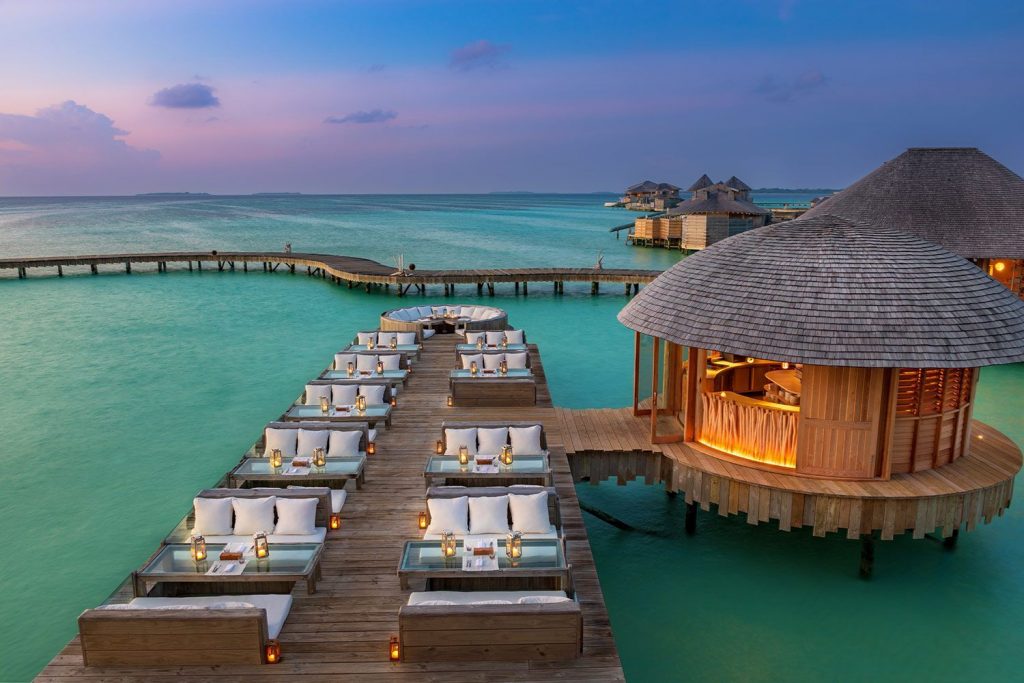 Soneva Fushi and Jani, Maldives
Soneva committed to sustainability decades ago, when it opened in 1995, long before eco-hotels became trendy. The Soneva Resorts are in the Hall of Fame for sustainability. Each of their hotels not only minimizes its impact on the environment but repurposes waste materials into the operations of the resort. A recycling station on the island converts materials into something useful. For example, their recycling program takes wine bottles that would otherwise be thrown out and makes them into wine glasses. They go a step further by even recycling those wine bottles into materials for their multi-million residences you can buy at their resorts.
The hotel also creates its own energy and fresh drinking water right on the island. All Soneva eco-hotels are equipped with Carbon Calculators that monitor the hotel's emissions in real-time and keep track of the carbon footprint.
Soneva Fushi
The first hotel opened under the Soneva brand, Soneva Fushi uses the premise of  "barefoot luxury;" This is both literal and figurative. First, when you arrive at the resort, they take your shoes. You literally walk around barefoot during your stay. Secondly, they embrace comfort and simple elegance that they achieve through almost fully sustainable resorts. Fushi has an ecosystem of lush, green jungles, and white sand beaches on its private island. Their organic garden supplies almost all of the produce that you eat at the exquisite restaurants at the resort.  Plastic use is almost negligible at all Soneva properties.
At Fushi, you can indulge in a rarefied fine-dining experience that reduces the load on mother earth. You get access to some of the world's finest Michelin-starred chefs that periodically visit and stay at Hotel Soneva. One of the most significant efforts by Soneva to avoid emissions is growing its own produce. Additionally, you can explore food options at eleven restaurants throughout the hotel area. Iconic culinary experiences from around the world are designed for guests along with a curated selection of some of the world's best wines.
Soneva Jani
This does not mean they skimp on luxury or fun at all. Their large villas often come with water slides, baths that are open to the Indian Ocean, and private pools. Jani also supports local communities in the Maldives by teaching them about sustainability and supporting them. And Soneva Jani is no exception. Food, water, electricity, waste produced, and everything in between is tracked. Along with bars and stores, there are also a diving school and a library. Enjoy the sunset and a refreshing beverage while unwinding in the sun or in a hammock.
Laucala Island Resort, Fiji
The Laucala private island resort immerses you in paradise's natural beauty. The use of locally grown produce and the rearing of livestock helps the hotel to adhere to the core concept of self-sufficiency and independence. It is well-known for this.
The resort grounds are home to 25 roomy bures (the Fijian word for a house), all constructed using local resources. The key aspects of these houses are the thatched roofs, handcrafted guest items, specifically designed interiors, a private pool, and both indoor and outdoor stone spas.
The resort's dining options are outstanding, ranging from some simple fare at the Pool Bar to opulent fine dining at the Plantation House. At the Rock Lounge or the Beach Bar, which has lighted Tiki torches along the sand, you may relax and chill after a heavy dinner.
You can also visit the Laucala Spa Center for the day or go island hopping around the lagoon. Go fishing, play some golf on the championship course David McLay Kidd designed, or even partake in a variety of water activities.

The Brando, French Polynesia
The Brando is a luxurious 35-villa private island resort close to Tahiti in French Polynesia that is only reachable by flying on the resort's private aircraft. Its philosophy of "laid back luxury" makes the most of the stunning surroundings; on the island, activities include snorkeling, cycling, bird watching, paddling, and diving, allowing visitors to fully immerse themselves in nature and enjoy the pristine picturesque island wildness.
The hotel is environment-friendly and carbon-neutral; its architecture is designed that way. The resort earned a Platinum LEED Certification, the highest level of recognition available. All its building materials are either locally sourced, renewable, or made primarily from recycled materials. Additionally, all of the homes are planned to fit in with the trees and not block the beach in any way.

Secret Bay, Dominica
Secret Bay is Dominica's most intimate, romantic, and soothing resort, with 12 eco-luxury villas nestled on the cliff area surrounded by two tiny beaches. They are smart, spacious, and thoughtfully constructed. The rooms are supplemented with a small restaurant, a one-room spa and yoga pavilion, and attentive staff.
Buildings at Secret Bay are fashioned from sustainably produced Guyanese hardwood, and the villas, which are named after local trees, have a library of Dominica-related publications, as well as island-made soaps, jams, and sauces. When you stay here, you will feel immersed in nature, with an emphasis on romance, relaxation, and healthy living.
Guests are given a smartphone to interact with the on-call villa attendants. They serve meals, organize activities, and assist you when you need help. Guests also enjoy free use of water sports equipment such as kayaks, paddleboards, and snorkeling equipment. Yoga lessons and treatments are available at the Bwa Mang Wellness Pavilion and the Gommier Spa.

Jetwing Surf, Sri Lanka
Jetwing Surf Hotel lies on the eastern side of the beautiful country of Sri Lanka. Bordering the coast with the Indian Ocean right in front of it, Jetwing Surf is located at Pottuvil Point, the place where nature and modern luxury meet in harmony. Additionally, the location of the hotel is worthy of note due to its proximity to the famous surfing destination – Arugam Bay.
At Jetwing Surf, guests are treated to three different and wholly original dining options: Rella, Pool Bar, and Signature Dining. At Rella, you will be treated to an open-air setting from where you can enjoy your carefully crafted menus. The Pool Bar specializes in snacks and drinks. It has a very relaxed atmosphere and is essential if you want to unwind after a long day. Signature Dining offers four different dining experiences at various locations around the hotel. You can enjoy your meal in four different settings from beaches to pools.
At the hotel, sustainability is key for its proper functioning. The hotel is fashioned in such a way that avoids disturbing local fauna. It illustrates how to live harmoniously with nature. To do this, Jetwing Surf takes its inspiration from its surroundings.
The resort enjoys an open atmosphere with minimal equipment. It does not need artificial illumination or ventilation thus removing the need for air-conditioning. Cadjan-covered walls, a steep roof pitch, as well as an iluk roof, prevent the capture of warm air in the living areas thus making the nights at Jetwing Surf pleasantly cool. Waste is collected in septic tanks for bio-treatments. Water is either soaked into the soil through the use of a soak-age pit or used in irrigating the surrounding areas.
Related Articles
Where to Travel in 2023
Five Solo Travel Destinations
Eco-Travel Ideas 
Eight Eco-Friendly Ideas