Mom certainly took it on the chin this pandemic year.  She added in home schooler, day care worker and short-order cook to her many job titles.  So it's time to celebrate her.  Don't forget the gifts, and if you're an A+ daughter or son, that lifetime trip.  At minimum though, a meal is in order, and brunch in NYC is always a good idea.  These are a few spots where you may have a shot at a reservation, if you haven't already made plans for Mom.  Restaurants with good eats, nice atmosphere, excellent service and no attitude made our cut.  The point is to spend time, enjoy and celebrate your favorite lady over mimosas.

Wallse
There is nothing that says I love you like a Wiener schnitzel.  Ok, maybe that's now how the saying goes, but the Austrian food at Wallse is special occasion worthy. With 3 and 4 course menus for Mother's Day, you also will not be rushed out of the joint.  Whether you're indoor or outdoor dining, the experience at Wallse will shine.  And you will show Mom just how much you appreciate her.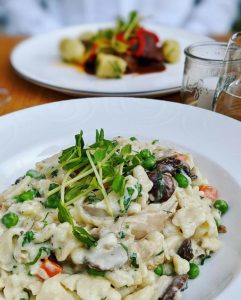 The Food:  3 and 4 course menus at $95 and $125.  A special salmon strudel and their famed spaetzle, a traditional German quark pasta with spring peas and wild scallions are the standouts.
Ilili
The Lebanese are all about family and hospitality, which means a winning experience.  All items are meant to be shared, and Ilili has longevity, because they know how to make all the guests feel special.  There will be no attitude and nothing but love for Mom on her special day.
The Food:  This is one of those times, you wish Mom had a dozen kids.  That's about how many people it would take to try all the dishes on the menu.  Traditional Lebanese meze from hummus, baba ghanouj, labneh and more items than this article is long, can start your feast.  Just make sure to save enough room for Ilili's signature candy bar at the end.
Bar Boulud  
This is your neighborhood stand-by, even when you don't live in the neighborhood.  If you're shut out of Carbone (it happens to the best of us)  this is your spot.  Ample outdoor seating, polished service and good eats – Bar Boulud will do you a solid.  We would say that since they combined the menu with sister restaurant Boulud Sud, the food here is even better.  It's a great option for outdoor brunch in NYC.
The Food:  Speaking of which, if you're coming for brunch, they have a special 3-course prix fixe for $68/person.  Their potato leek soup, which reminds you how good soup is, and the smoked salmon tartine can start the party.  Other additions are their famed charcuterie board or the mezes from the original Boulud Sud.  For dinner, don't miss the gnudi, which is a standout on the menu.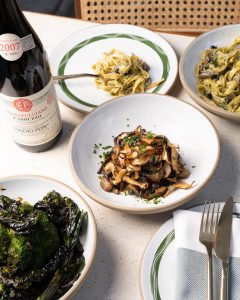 Lola Taverna 
If they didn't serve any food here at all, you should just take Mom to sit under the flowered trellises.  Lola took what was a bare bones corner deli and made it into one of the prettiest outdoor places to eat brunch in NYC.  There is always a stream of equally pretty people, so Mom will fit right in.
The Food:  It's all Greek to me.  Literally.  You'll find traditional Greek taverna menu items where the specialty here is the meat.  Lamb chops for dinner, meat kebabs for lunch, but vegetables anytime.  Spanakopita is made into a spring roll, and their saganaki fondue is a must.