You need these cookies in your life. And it's not just because they are darned pretty. Which they are, as you can see. This week, we begin our food series on talented bakers and chefs we've discovered on Instagram. Get ready to spend a lot of time on this baker's feed; she's also a photographer. What can we say? We're defenseless against pretty cookies.
The Baker
Heather Templeton is the creator, baker, and photographer behind Heather's Home Bakery.
This venture began out of necessity when Heather's oldest son was about to turn 1. She wasn't a baker at the time, but she made her son a homemade cake-smash, and her hobby as a baker was born. The natural talent did run though in the family; her parents baked and knew their way around a kitchen. Food photography on the other hand, is a more recent endeavor, and you guessed it, she's good at this, too. Heather shoots with a Canon 6D, and mostly a 24-70mm 2.8 L series zoom lens. So not only can you get baking tips from her, like how to make these pretty cookies, but she'll talk photography too. This is her recipe from her website, heathershomebakery.com.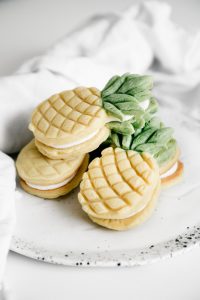 INGREDIENTS
For the Pretty Cookies:
1 cup salted butter, softened
1 cup granulated sugar
2 tsp pure vanilla extract
1 large egg + 1 large egg yolk
2 tsp baking powder
3 cups all-purpose flour
For the Buttercream Filling:
1 stick, 1/2 cup, salted butter, softened
1 1/2 cups powdered sugar
2 tbsp heavy cream
1 tsp pineapple flavoring
DIRECTIONS
Making the Dough
Preheat oven to 350° F.
We know, macarons are always in vogue. These pretty cookies with their unique shape, though, should make your host gift rotation. To begin, cream butter, sugar, egg and yolk, plus extract until smooth, about 30 seconds. Add flour and baking powder and mix well. Dough should be soft but not sticky. This dough was colored with all-natural food color by Watkins. Divide the dough into 3 parts; 2 being yellow and 1 being green. Use one drop of the yellow to color the "pineapple" parts, and two drops of the green to get a slightly deeper green for the "pineapple tops."
That's How the Pretty Cookie Is Cut Out
Do not chill dough ~ roll out in one big or several smaller batches, to about 1/2-inch thick. You can cut out cookies in whatever shapes you desire, but when shaped like pineapples, they make a unique gift. Roll each out onto a floured surface, and using a pizza cutter, even out one side of each before placing the edges together. Gently roll them a bit to ensure they are connected, and then cut out the pineapple shapes. Repeat this process after separating the dough. Roll each out again and ensure that you break off and discard any pieces of yellow and green that don't separate.

The Buttercream Filling
Place all buttercream filling ingredients in a small bowl and combine with a hand mixer or standing mixer for about 30-45 seconds. Frosting should be smooth and lump-free. Spread or pipe frosting onto cookies. Sandwich with a second cookie. Bake for 6-8 minutes. Allow cookies to cool completely before frosting. You can place them in the freezer to speed up this process.
Store in an airtight container at room temperature for up to four days.
Enjoy.