Christine Drinan, Founder
When it comes to go-to dishes, this is one of ours. This crab enchilada recipe evokes comfort food, where the right dish will make you just want to drink the mole. We take it next-level and add overflowing king crab. Fair warning: this is a diet buster, but it's well worth it for a splurge.

A Go-To Recipe
There are very few recipes that I repeat for dinner parties with the same guests, but this is a favorite for people I love. But there's more effort to the crab enchilada recipe then meets the eye. The secret is to get fresh king crab that you have to de-shell, which means using some elbow grease. Prep the king crab yourself; don't cut corners and buy just regular crab meat. Also, there is a lot of dicing because, in addition to the enchiladas, you should make fresh guacamole to serve on the side.
This is a totally original crab enchilada recipe that was inspired by my King Crab Dip. My King Crab Dip makes its appearance once a year at Thanksgiving. The cream cheese and sour cream are just too decadent for every day (unless you're saying to heck with the diet). While there are delicious almond-based substitutes for dairy, this is one recipe where I would suggest going all in and splurging for the night. When you combine king crab with enchiladas, it ramps it up completely and deliciously.
Serves 6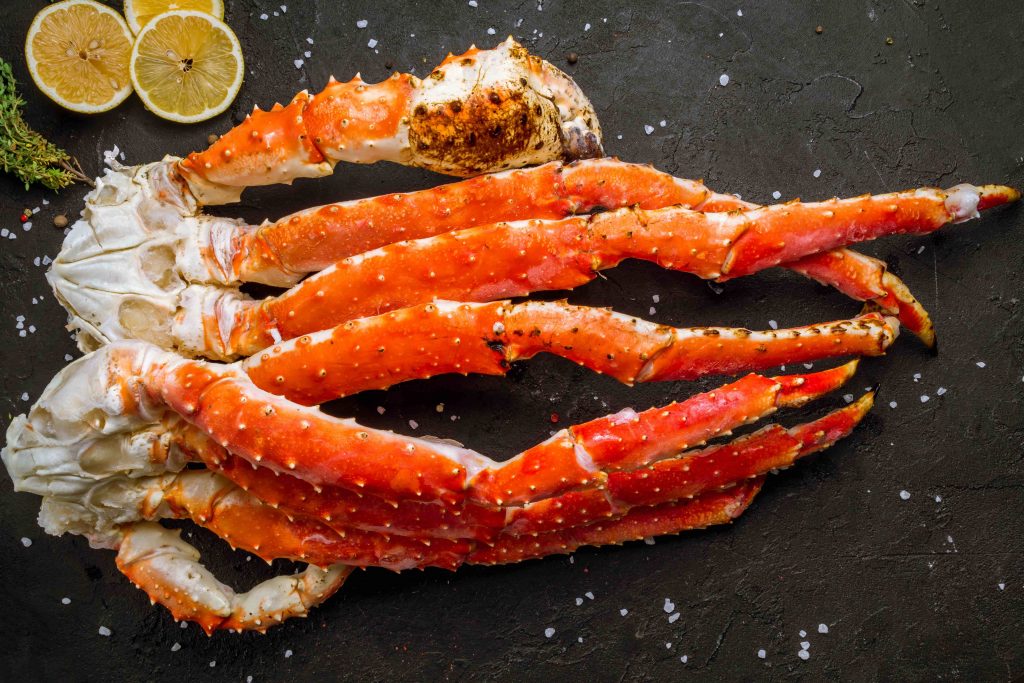 Ingredients
2 pounds king crab, de-shelled
8 chickpea or almond flour tortillas
10 ounces cream cheese
10 ounces Monterey Jack cheese, shredded
16 ounces red enchilada sauce*
1 jalapeño, finely diced
1 ½ large shallots, finely chopped
½ Meyer lemon
½ cup cilantro, finely chopped including the stems
4 ounces sour cream
Olive oil
*You can be a hero and make your own enchilada sauce, or buy it pre-made from Frontera Grill. (For the record, we're not heroes.) My philosophy is, if one of the best Mexican restaurants in the world is going to sell their enchilada sauce, I'll happily buy it. You'll need two pouches of Frontera's sauce for this recipe.

Directions
Preheat oven to 375 degrees Fahrenheit.
Heat a heavy-bottomed skillet for about two minutes, then add two tablespoons of olive oil. Swirl the oil to evenly coat the pan, and after an additional two minutes, add the shallots over medium heat. Sauté for about three minutes but do not brown. Add the diced jalapeño and continue to stir for one minute more. Blend in the cream cheese until the mixture is easy to stir, and then gently add the king crab. Turn down heat to medium-low and continue to gently fold for two to three minutes more. Squeeze in juice from the lemon and sprinkle in the cilantro until evenly mixed throughout. Take the filling off the heat, and stir in about four ounces of the Monterey Jack cheese, plus about ½ cup of the enchilada sauce.
Assemble the Enchiladas
Lightly oil a baking dish, and place about ½ cup of enchilada sauce as a base in the pan. Microwave the tortillas for about 45 seconds so they don't fall apart during assembly. Place about three heaping spoonfuls of the mixture into each tortilla and roll, placing each enchilada in the baking dish. Repeat until all of the tortillas and the enchilada filling are used up. Pour over the remaining enchilada sauce, sprinkle with remaining Monterey Jack cheese, and dot in sour cream throughout. Cover and bake for about 35 minutes. Broil for 3 minutes to brown the top.
Serve with fresh guacamole and garnish with cilantro.