What is sweet yet sour, and goes on everything from cakes to fish? Yes, something actually transcends dishes ranging from a tart to a branzino. This magical ingredient, only here for a few more weeks, is rhubarb. In fact, we have two rhubarb recipe inspirations for your home-cooked spring meals.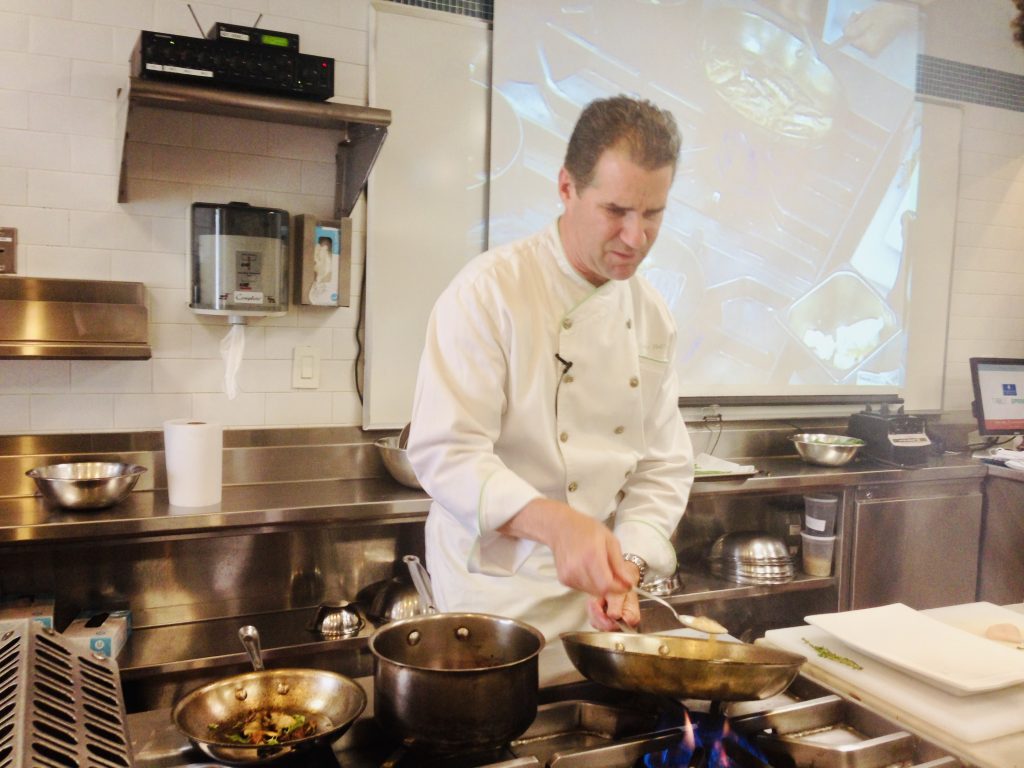 A Throwback to the French Culinary Institute
I'm an avid cook, but I've participated in only one real cooking-school experience. Don't get me wrong; I've been to the best cooking schools in the world, but not to participate as a regular attendee. Normally I'm filming, and it's the chef putting in the real elbow grease. However, way back in 2014, I was invited to the French Culinary Institute in New York City, for its marquee cooking extravaganza with the best chefs in NYC. The likes of Daniel Boulud and Francois Payard came in for a long weekend of action-packed cooking classes. And these weren't just low-stress exercises; you would be put on the brigade to create Michelin-level food and pastries. It was here that I learned the versatility of rhubarb from chef Kerry Heffernan.
If His Name Sounds Familiar
The first and only time I've eaten at Eleven Madison Park was when Kerry Heffernan was at the helm. The food reminded me that New York City has some of the finest restaurants in the world. Back then, it wasn't for sport, trend or Instagram photos that you would go to Eleven Madison. It was about the occasion to celebrate something big. A bonus, a promotion, a new job, or an engagement. Whatever the occasion, it was a milestone. So it only makes sense that chef Heffernan would take the rhubarb and go off-piste with his recipe for striped-bass crudo with rhubarb and orange zest. I still dream of this simple rhubarb recipe, so perfect for summer. No oven for this one, just a dish that's about assembly and the unexpected combination of flavors. This is the first course to impress your friends, but hurry because rhubarb season is here. And it's fleeting.
Serves 4 as an appetizer
Ingredients
1/2 lb sea bass
1 stalk rhubarb, thinly sliced
2 small oranges, blood and/or regular, supremed
Orange rind
3/4 cup thinly sliced fennel
Microgreens to garnish
Olive oil
Maldon sea salt to taste
Directions
Note that I made this recipe eight years ago, so I dug into the attic of my mind to recreate it. Like all my recipes, make them your own if there's an ingredient that you feel fits your flavor profile. But whatever you do, make the dish beautiful; with the colors of the ingredients in this rhubarb recipe, it's hard to go wrong. And yes, it is as simple as putting a few things artfully on a plate.
The secret to this rhubarb recipe isn't the rhubarb; it's the fish. Make friends with your neighborhood fish monger so that he or she will set you up with the freshest fish possible. You're not cooking this dish, so anytime raw fish is involved, it has to be fresh. In fact, if the sea bass isn't looking so hot today, sub a branzino or even a halibut. You want the fish so fresh it's almost still moving. Ready? Filet your sea bass into thin, sashimi-like pieces, and now you're ready to assemble.
Plate + Make Pretty
On your serving plate, thinly slice your stalk of rhubarb into almost transparent slices.You shouldn't see or buy rhubarb with the green leaves still attached, but if you do, immediately discard them. Those things will give you a food-poisoning-like stomachache that you won't soon forget. Believe me, you only want the stalk: the edible part of the rhubarb.
Place the sashimi filets in a circular pattern with about one-inch gaps in between, and sprinkle with Maldon sea salt to taste. Next, top with small mounds of the sliced rhubarb, and garnish with micro-greens. In the one-inch gaps, place a small slice of the supremed orange, with a delicate mound of shaved fennel. Like the rhubarb, the fennel should be sliced so thin that it's translucent. With a microplane, zest about 1/4 peel of the orange on top of the sea bass. Drizzle with olive oil and enjoy.
Kelly Janke's Perfect Galette
The French Culinary Institute's annual chefs' weekend was quite the event. In addition to meeting Kerry and getting the inspiration for a rhubarb sea bass carpaccio, I also met Kelly Janke. That was way back when Kelly was just starting out, but soon she would find her way to the daytime cooking show The Chew. Chef Mario Batali crowned her the "Donut Queen", as her creations were the draw of the Green Room. (The Green Room is where everyone from the crew to A-list celebrities gather before their appearances.) Now if an A-lister is willing to go off their diet for a donut, you know it's tasty. Kelly is one of the most talented pastry chefs I've met in all my travels. When I'm not on a diet, I spend a lot of time on Kelly's Instagram checking out her pastry creations.

De-Mystifying Crust
Baking can be intimidating for me. "I'm a cooker, not a baker," I used to say. It's still true, but Kelly's galette tutorial gave me more confidence in my baking skills. A galette is more forgiving than a traditional pie crust. With a galette, you roll out the dough and by simply taking a knife to even out the edges. you fold it over the filling. It's not meant to be perfect, but yet it bakes up beautifully. What I also like about Kelly's rhubarb recipe is that it doesn't take away from the natural tartness of the rhubarb. Rhubarb is often in jams, mixed with other fruit and loaded with sugar. I personally like to let the rhubarb shine, and just add a little sugar to round it out. But this rhubarb recipe isn't for me to present as an expert. Check out Kelly's "Perfect Galette" tutorial. It also works long after rhubarb season, with every fruit that's in season: apple, cherry, blueberry and so on.