You know a destination is noteworthy when good hotels start popping up left and right. Not to say that Charleston wasn't always a good standby trip — because you've got to love you some shrimp and grits and fried green tomatoes. But now there's another reason to check out Charleston: the semi-recent opening of the Loutrel.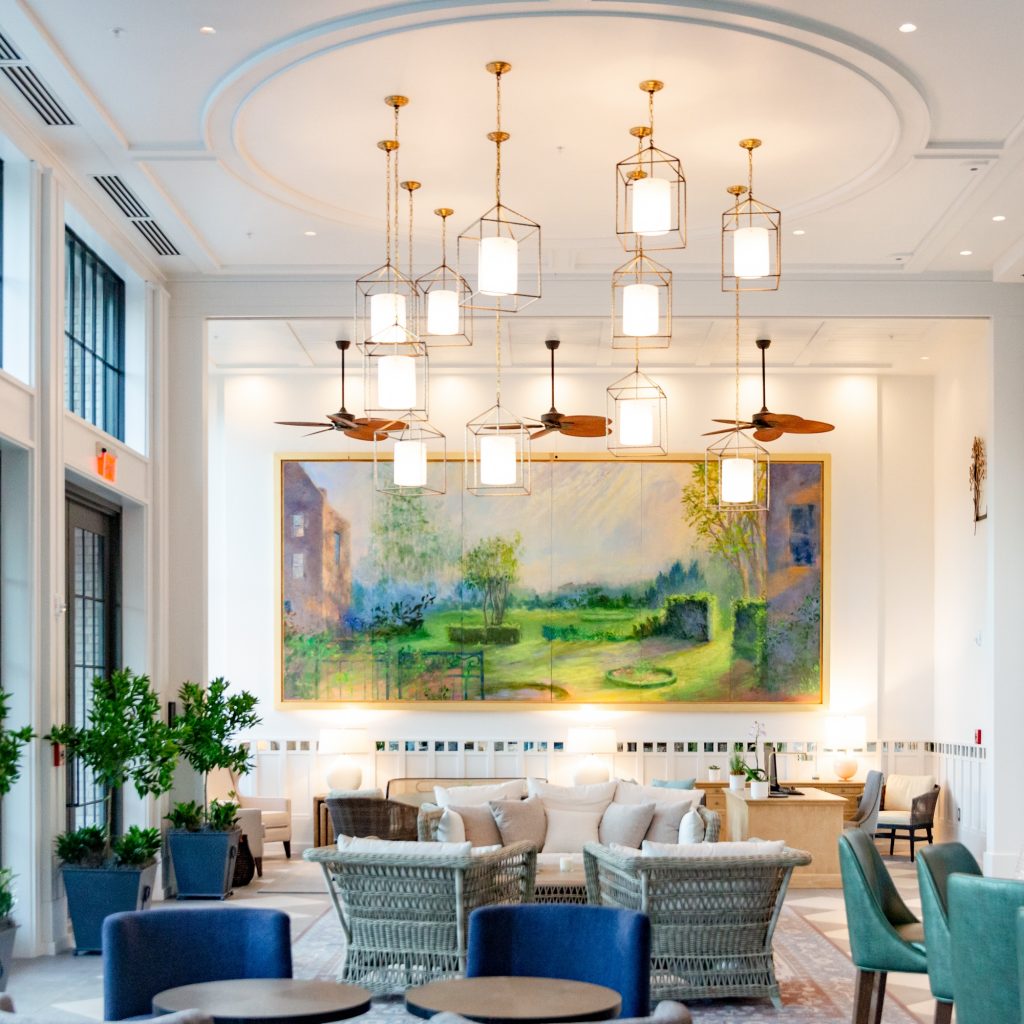 The Overview
Us northerners don't make it to the South enough. Charleston is refined and has enough award-winning establishments to make it onto any avid traveler's list. A new hotel in particular, the Loutrel, is graceful and extravagant enough to be a destination in its own right. Located in the heart of historic Charleston, it's just steps from the steeples, colonial mansions, and trendy boutiques that define the city.
Upon checking in you'll want to find yourself immediately on the rooftop — one aspect of the hotel that makes it so worth the reservation. With a glass of basil-cucumber-infused water in hand (or a signature cocktail), you'll want to fully survey where you've landed. Right at the tree line, the expansive terrace is the perfect vantage point to view the French Quarter or catch a sunset.
There's also a garden theme that can't be ignored. In fact, it's part of the essence of the hotel, which is named after Charleston's landscaping legend Loutrel Briggs, who designed over a hundred of the city's renowned public and private gardens. In his honor, the lobby boasts natural lighting and subtropical greenery, and there are botanically inspired touches throughout the premises.
We like the environment because the hotel marries Art Deco with Southern charm. The vibe welcomes sweet tea and European breakfast, and a porch swing, and live botanicals. It's a new version of the Holy City that brings globally-inspired aesthetics to the warm and hospitable South.

Rooms
The hotel's 50 rooms and suites are comfortable, quiet, spacious, and decorated with muted, sophisticated color palettes and details. They also have floor-to-ceiling windows. However, not all rooms have the best views. We recommend the Southern-facing, upper-floor suites for that, which have skyline vistas. But save for an evening bath in one of the suite's deep tubs, you'll probably spend more time on the rooftop or out strolling around the city.

Food and Drink
The Loutrel doesn't have a full-scale restaurant. But no matter, its cocktails and light fare are thoughtfully curated. So much so that the hotel is known for perfecting "Charleston's finest hour," aka the perfect happy hour. The Veranda Lounge serves botanical craft cocktails with a Charleston twist. You can also order creative small plates and salads, along with inventive charcuterie and flatbread boards.
The only thing that could make the scene more perfect is a bar on the rooftop terrace. But guests can grab a drink from the well-stocked Veranda Lounge, or a coffee and farm-fresh cheeses and meats in the lobby to bring up — ensuring the rooftop keeps the vibe of "oasis." Additionally, there's a clubroom and four event spaces that make private happy hours and intimate dining accessible and easy.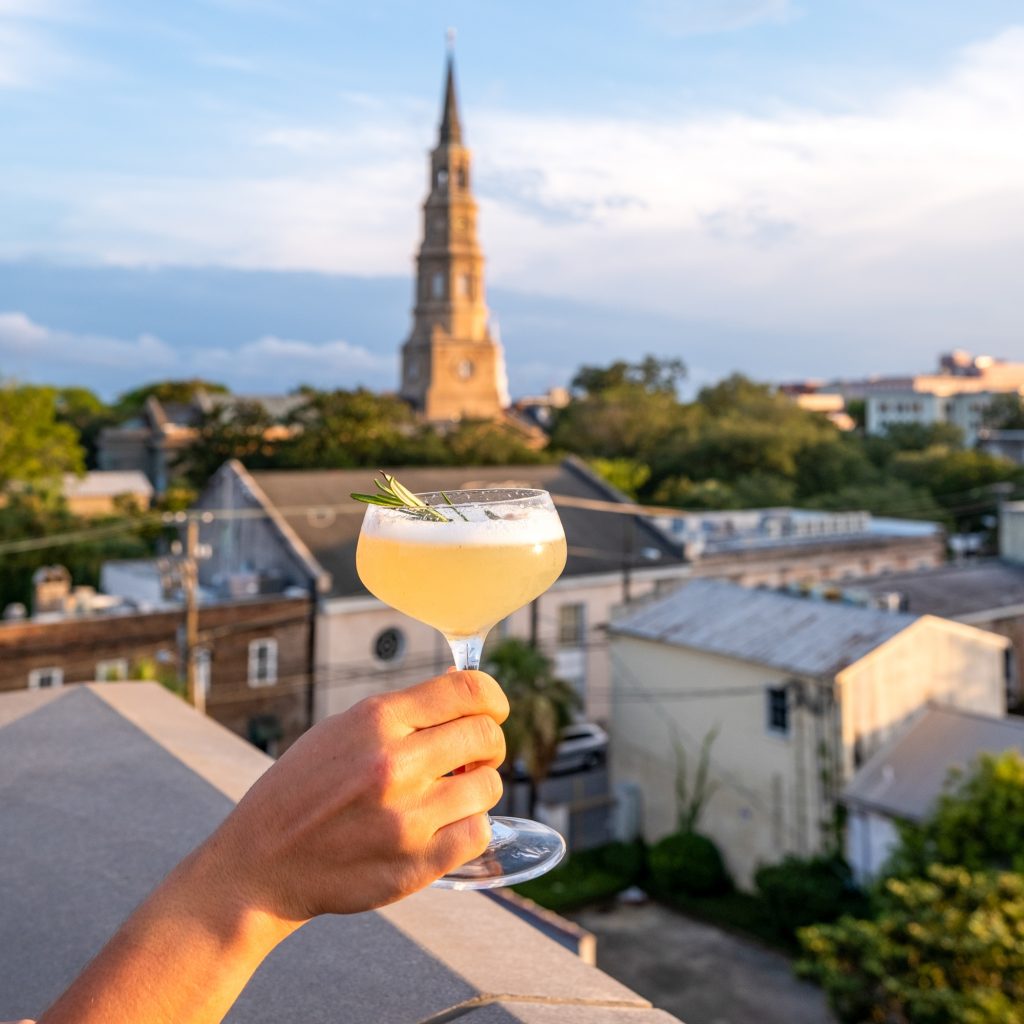 Hitting the Highlights
When you stay at the Loutrel, it's easy to forget you have the whole city to dive into. Instead think of it as your home base, and you won't miss a beat of Charleston proper.
For hard-hitting history, visit the Old Slave Mart Museum. It's often staffed by people who trace their history to the enslaved people of Charleston. The museum is a prime place to gain important information about our country's uncomfortable past.
South Carolina doesn't rave much about its beaches, but it should. Folly Beach is just a 30-minute drive from Charleston — and worth the trip. Six miles of coast provide beachfronts where you can surf, discover aquatic life, and just relax in the sun. Besides the beach, there are cool shops, restaurants, and a pier.
While the Loutrel can give you an introduction to Charleston's culinary history, you just need to get out there and dine. FIG, an acronym for Food Is Good, takes the pretentiousness out of fine dining. Although, you'd better book in advance if you want a reservation. FIG highlights local Lowcountry ingredients and culture to create simple yet undeniably delicious food.
For a dose of Southern charm, Rodney Scott's BBQ is where it's at. Everyone who knows BBQ knows Rodney Scott. Rodney's been BBQing since he was 11 and is now a James Beard Award-winning chef. He's been called the greatest barbecue master on the East Coast.
FAQs:
Q: What time is check-in and check-out?
A: Check-in is at 3 p.m. and check-out is at 11 a.m.
Q: Does the Loutrel serve breakfast?
A: Yes, the Veranda Lounge serves a complimentary European-style breakfast, with eggs, cured beef, fresh fruit, house granola, and pastries.
Q: Is there a fitness facility on the property?
A: The Loutrel has a 24-hour fitness studio with Peloton and Precor gym equipment.
The Loutrel information:
Address: 61 State St., Charleston, South Carolina, 29401
Phone: (843) 872-9600
Related: What to do in Charleston