Most of us will never take travel for granted again, and we're planning to hit it when we're vaccinated. We have five spots that you can visit now for post-vaccine travel, to ease gently back into the world.  These post-vaccine travel destinations are also perfect for over the summer, when you're more confident to take this show international. Or you can wait for a fall getaway, when you'll need a break from work, or a real blowout holiday vacation as a grand finale to 2021. Essentially, put these destination on your list, for whenever you're ready to get back in the world, with some post-vaccine travel.  Because we know, you're always planning the next trip.
With the recent news from the CDC that vaccinated passengers have the green light to travel, we know you're ready to hit all the places you've missed. However, we suggest you save Europe for when they work out the reopening kinks. Instead, these destinations have accepted travelers in for months, and their Covid-19 protocols are down pat. They are the optimal spots now, for post-vaccine travel.  With their lower country infection rates, you can venture out from your resort and really explore. And that's even without a vaccine card — with a simple negative test.  For these post vaccine travel spots, you won't have to do the long quarantine either.  That means you'll get to see the world.
Costa Palmas, Los Cabos
We know; you're done with the cold weather and mask-wearing.  It's time to head out to the East Cape on the Sea of Cortez in Mexico. Here, you'll find the incredible Four Seasons Resort Los Cabos in an unexpectedly calm corner of the world. After arriving at the Los Cabos International Airport, you'll take a surprising turn away from the bustling corridor.
Instead, you'll take the road less traveled and venture to toward the more laid-back, but no less sunny, East Cape region.   This part of Mexico has sweeping desert landscapes and the soaring Sierra de la Laguna mountains. Although most resorts are located on the Pacific side, the Sea of Cortez has some of the most swimmable waters in Mexico.  And hands down, Costa Palmas is one of the nicest places to stay.  All of these factors make Costa Palmas the optimal spot to get your post-vaccine travel on.
The Four Seasons' luxury seaside rooms offer infinity pools and hot tubs, as well as access to members-only organic farms.  There's also a Robert Trent Jones II golf course. Other pursuits include orseback riding, kite surfing and hiking, to stretch your legs a bit.  The food is top notch as well, in any of the newly opened restaurants.  Soon, there will be a new Aman hotel, set to open in 2023.  

Isla Secas, Panama
Where did COVID never touch the pristine shores of this archipelago of stunning islands?  That would be Islas Secas, which is owned by billionaire Louis Bacon. Here it's all about conservation; all but one-quarter of the archipelago is totally undeveloped.  On isle, the nine-casita eco-lodge is environmentally low impact and entirely solar powered.  In addition, all water is recycled at an onsite plant, and food scraps are used as fertilizer.  The island was built as fully sustainable; all buildings are made from reclaimed wood.  At Isla Secas, they practice what they preach.
The experience at Isla Secas is about the getaway and an appreciation of the natural beauty of the island. While there is Wi-Fi,  it's about getting back to basics.  Islas Secas is about rich, personal engagements with the surrounding marine ecosystem and local cuisine.  In lieu of X-Box, instead you'll find the  old school games of Apples to Apples and Twister.  It's perfect for families and groups of friends for diving, snorkeling and whale watching. All while spending time with your nearest and dearest on your own private beach.
Soneva Fushi, Maldives
In line with trips for the family, Soneva Fushi is the perfect place to travel now. The water slides and a round-the-clock chocolate and cheese rooms are reason enough to hop on a plane. It's more than that though; there are few  Robinson Crusoe-style places that are luxury and sustainable at the same time.
This is the place where you just let the kids run wild.  They have a robust program that will enrich their knowledge and productivity. The lego room alone is over 1200 square feet.  You get your own "Mr. Friday", who is your butler, and will essentially make your lifetime vacation come true.    When you come to Soneva Fushi, you come for the sunrise and the sunset, and activities like wakeboarding and waterskiing.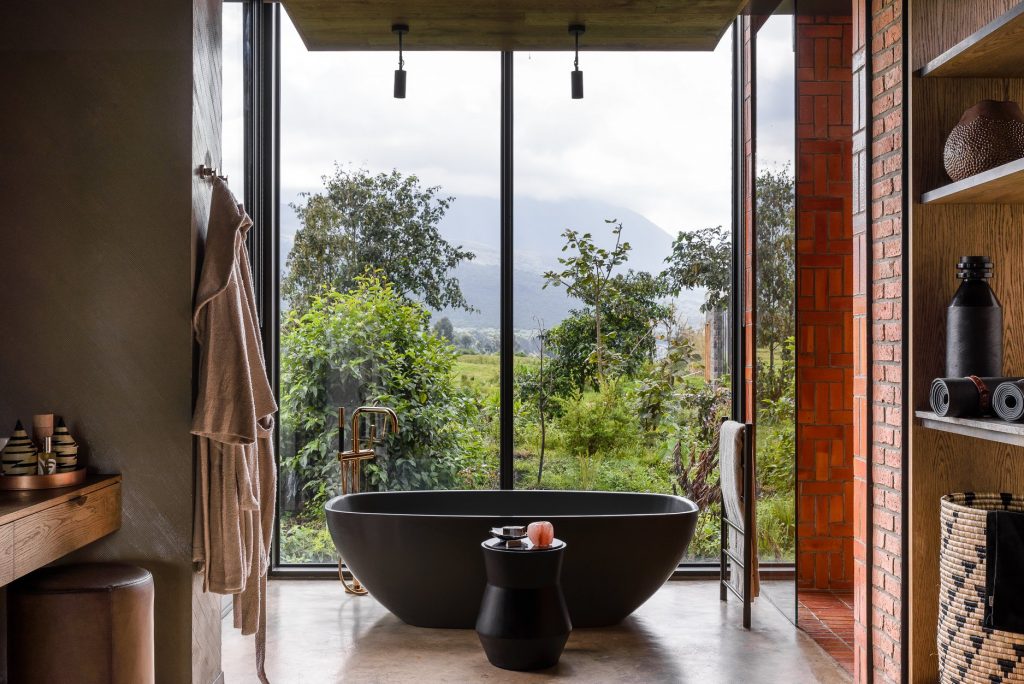 Singita Kwitonda, Rwanda
After spending the past few months cooped up at home, it's probably time to go on a real adventure. Nowhere offers adventure better than Singita Kwitonda. Rwanda probably doesn't jump out as an obvious choice, but the country has  allowed visitors for several months and has a seamless Covid-19 system. Not to mention, when you're that remote — out in the national park — you're in one of the most Covid-safe places.
Kwitonda Lodge is a whole different kind of experience. Singita is devoted to gorilla conservation. Your whole stay revolves around the unbelievable creatures, and you can have one-on-one encounters with them. The incredible national park next door, which has volcanoes and lush greenery, offers scenery that is soul cleansing. The lodge is low-impact and built to be gentle with nature, ensuring no resource goes to waste or isn't repurposed. The eight rooms are furnished with imigongo artwork and feature floor-to-ceiling windows with curved, bamboo-crested ceilings and heated soaking tubs.
Farm-to-table food is local, mostly plant-based and served by a private chef. Daily activities include wilderness hikes and gardening lessons tailored to you and your crew.

COMO Parrot Cay, Turks and Caicos
Parrot Cay is truly the "I deserve this" trip you need for the end of a grueling pandemic. The remote private island, which is favored by the likes of Christie Brinkley, Keith Richards and Donna Karan, is the place to get away from it all. Of course, because you're in Turks and Caicos, the white sand beaches are as pristine as you could imagine and the water is crystal clear for miles. Parrot Cay has a Balinese vibe that is centered around wellness and healing, which is perfect post-pandemic. The expansive grounds are perfect for couples or families looking to hide away for a while.
The organic, locally grown food can be made as healthy as you like, or you can just indulge in the conch fritters. (They are highly recommended).  Don't worry; the spa and gym keep you on your workout and wellness regimen.  Maybe, just maybe, this is Christy Brinkley's secret.