It's been a great autumn at home, and it felt good to get back to school and to your routine. But after charging hard the first few weeks at work, you're ready to travel again. Or maybe you have that business trip to London and want to tack on a few days. We have the perfect spot for you, Villa Stephanie. It combines wellness, relaxation, natural beauty, and wine. And it's in, of all places, Germany.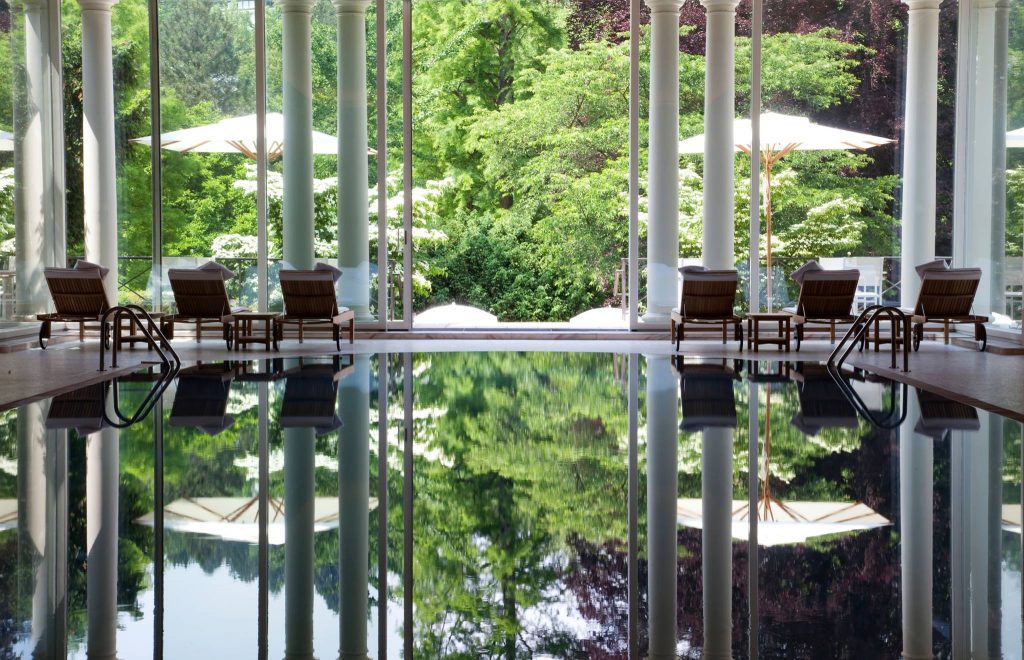 The Overview
Villa Stephanie is a 15-room residential spa located in the German town of Baden-Baden, nestled in the foothills the Black Forest. Villa Stephanie is part of another spa property, the Brenners Park-Hotel & Spa, run by Oetker Collection Masterpiece Hotels. The transformation of Villa Stephanie into an elegant sanctuary was a natural move, since it's house in a beaux-arts-style building that used to be a rehabilitation clinic. Villa Stephanie makes sure to deliver on a personal and rejuvenating experience. Since Baden-Baden is famous for being a spa town, you know relaxation is taken seriously here. The surrounded gardens and lush parkland also help make Villa Stephanie well worth a weekend side trip. 

Rooms
Villa Stephanie has three types of rooms, many of them overlooking the banks of the river Oosbach. You can choose from the Superior Stephanie rooms, which have balconies and feature Loro Piana fabrics and cozy window seats designed by Poltrona Frau. The Deluxe Stephanie rooms are larger in size and include balconies that overlook the gardens. There's also the Stephanie Spa Suite, which has corner windows and includes a private steam and sauna. All these rooms have direct access to Villa Stephanie's spa and fitness facilities. And here's a perk if you really want to unplug. All rooms come with a "digital detox" switch, allowing you to completely disconnect from Wi-Fi and electronics at the touch of a button. They don't mess around in Baden-Baden.

Dining
Villa Stephanie has its own kitchen that focuses on healthy, nutritional meals. But there are many other dining options at the Brenners Park-Hotel & Spa, as well. One restaurant that's won countless awards, Fritz & Felix, serves dishes from around the world. Chef Farid Fazel creates signature meals that are cooked on a Galician charcoal grill. There's also a robust cocktail and wine list that complements the restaurants roaring-'20s atmosphere.
You can also dine at the Wintergarten Restaurant, another award-winning eatery. It serves gourmet dishes influenced by the Baden and French regions. Similarly, the Rive Gauche Brasserie offers French classics on a decked-out glass terrace. 

Spa and Wellness
The main event at Villa Stephanie is the spa, which is 53,000 square feet and spans five floors. There's a huge sauna, an indoor swimming pool, a steam room, a plunge pool, and treatment rooms that overlook the park and gardens. The fitness center and gym is also impressive with top-of-the-line equipment and personal trainers. Additionally, Villa Stephanie offers integrative holistic medicine, physiotherapy, nutritional consultations, and even dentistry. Thankfully, The Salon offers the opportunity to socialize, eat, or read in between your full-body makeovers.