The right table setting can transform even simple take-out into a Michelin-starred experience. And ditching the plastic delivery containers and setting a civilized table takes less effort than you might think. Perhaps until now, you were the kind of person who didn't pay attention to setting the perfect table. But if you're interested in leveling up from plastic plates, or if fine dining runs in your DNA, this is the guide for you. You may even look forward to meals at home now. We can guarantee your guests will be impressed, no matter what you serve.

Back to the Bones (China that is)
A basic table setting is what most of us would use for a weeknight dinner. After all, you don't need to have a dinner party to set the table. The number of plates and utensils depends on how many courses you plan to serve.  A good rule of thumb is to have a plate for each course. If you're eating your salad on the side, then you can place your salad plate to the left of your main dish. Also, don't be afraid to break out your Wentworth China and Royal Doulton. Every occasion you share a meal is special. Here is an illustration of a table setting that shows you where everything goes. Remember that you are supposed to eat from the outside dishes first and work your way inward. If you don't have a particular course or beverage, remove the plate, utensils, and glasses accordingly.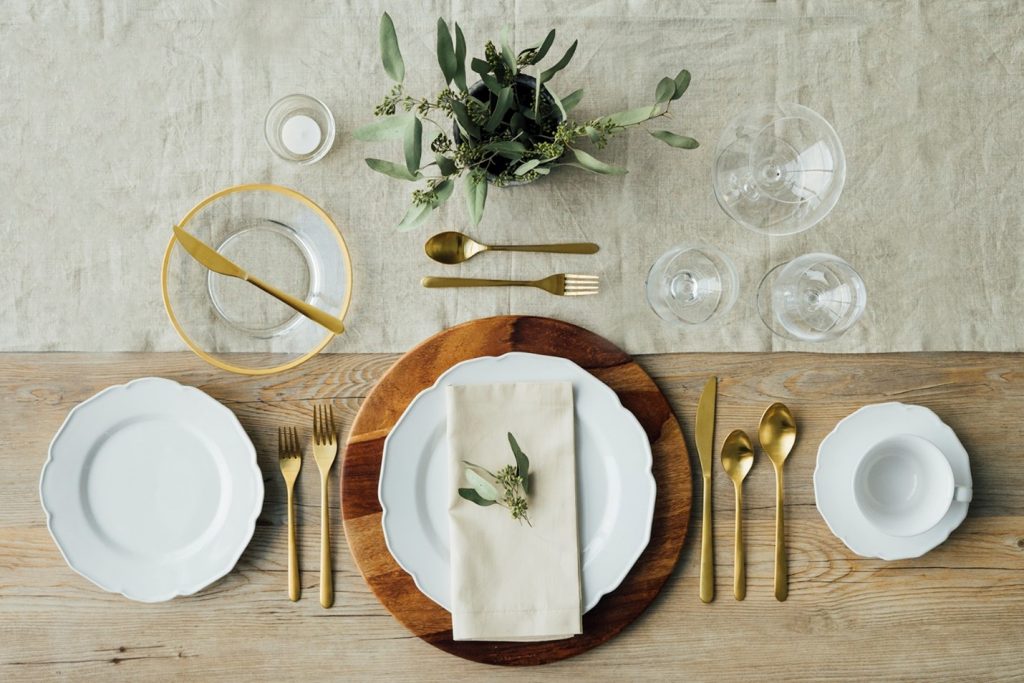 Place Setting is Art
One of the biggest additions to this setting is the use of a charger plate. It is a presentation plate; a plate for decoration. You don't eat from the charger plate. Instead, it anchors your place setting for the meal. Also, for an everyday meal, you don't have to perfectly match your China. This lends a more whimsical element to mix and match during the week. Just make sure the China patterns complement each other. It's also fun to alternate China patterns by place settings. You don't need to have the same China for your everyday meal.
Seasonal Place Settings
Besides mixing up your China for an everyday meal, you can make your place settings seasonal. Adding an elaborately folded napkin with a traditional napkin ring is a good idea. Napkin rings are like jewelry for tables. Alternatively, you can also wrap your napkin with seasonal material to add a pop of color. There is also much fun to be had with tablecloths, runners, and flowers, to add color and texture to your table.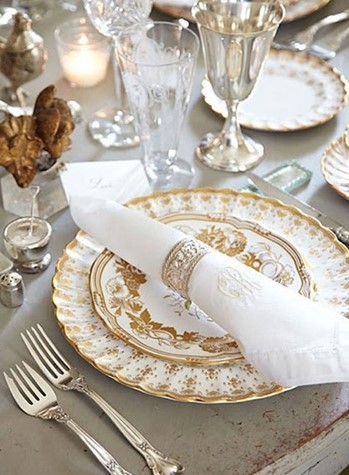 The Formal Table
To set a formal table, at a minimum depending on your menu, you'll need the following:
Tablecloth, or runner
Charger plates
Dinner plates
Soup bowls
Salad plates
Bread plates
Napkins
Salad forks
Dinner forks
Knives
Soup spoons
Butter knives
Dessert spoons
Water glasses
Red wine glasses
White wine glasses.
Once you have all the elements for your formal table, here's a step-by-step guide for setting the perfect table:
Cover the table with a tablecloth or placemat (a tablecloth is preferred).
Set a charger (a.k.a. server plate) at each seat. Place a salad plate and soup bowl in the center of each setting.
Place the bread plate to the left of the charger, and place the butter knife on the plate with the handle facing right for easy reach.
Put a cloth napkin to the right of the charger.
To the left of the charger, place the salad fork and the dinner fork, from left to right.
On the right of the charger, place the dinner knife, salad knife, and soup spoon, from left to right.
Place the water glass above the knives. Wine is set from right to the left in the order used. White wine is for the first course on the outside, the red wine is next for your entrée.
The dessert utensils go above the charger, the fork handle to the left, and the spoon handle to the right.
When the main course is served, the charger should be traded out for the dinner plate.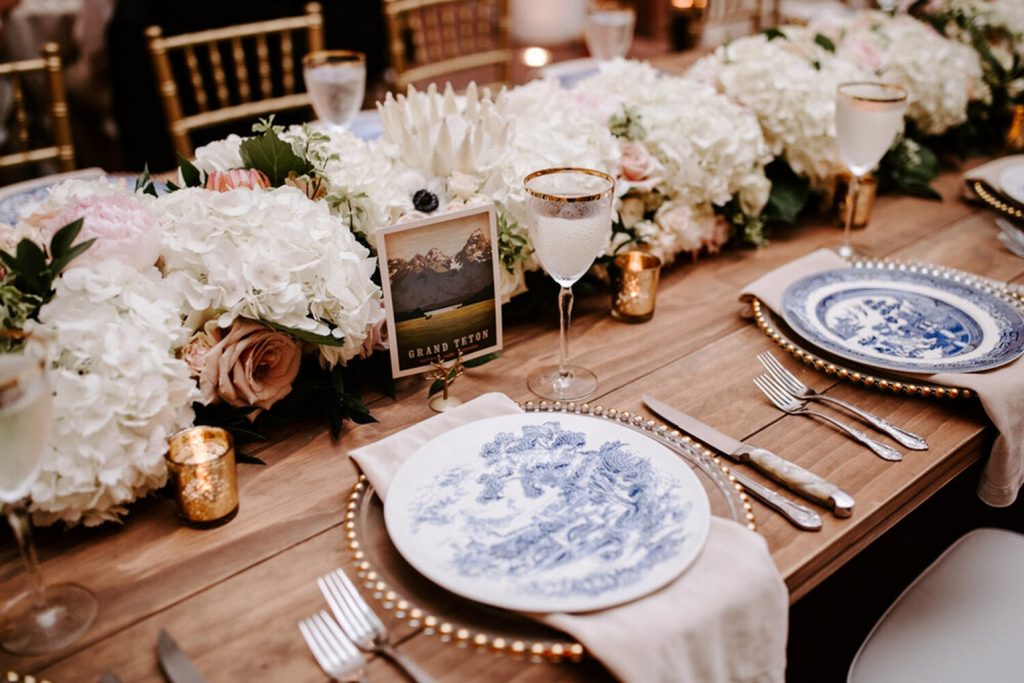 Place Setting Etiquette
After each course, the associated plate or bowl is cleared to make room for the next, which takes the position of the previous plate or bowl. Post-dinner, dessert, and coffee can be served separately in the appropriate serveware. In case you add dessert cutlery, make sure it is always above the plate.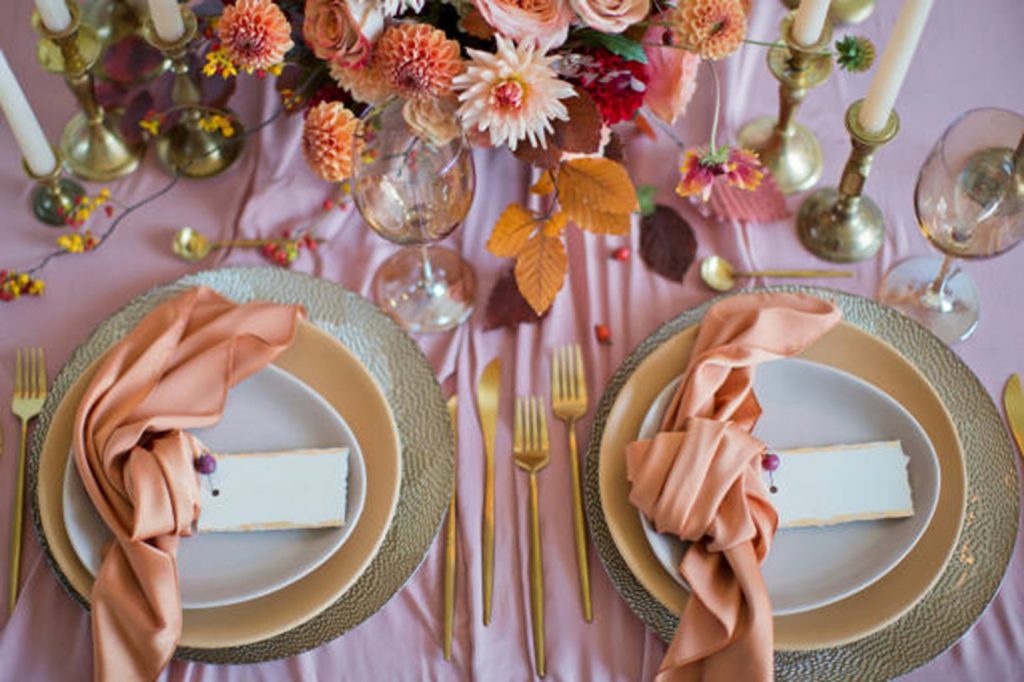 A Bonus on Etiquette
At a formal dinner party, wait to begin eating until everyone is seated and served. The host always takes the first bite, then everyone else follows suit. You'll want to use the proper utensils to eat (remember to start from the outside and work your way inward), and cut your food into bite-sized pieces. Also, ask your neighbor to pass an item on the table rather than reaching across their plate to get it.
If you're attending a formal dinner party, or just stopping by for drinks with friends, remember to bring a thoughtful and appropriate gift for your hostess. This will make sure that you start off on good terms with them every time. But most important of all with these foundational guidelines for setting a table, it's important to remember to just breathe. After all, the opportunity to share food with old and new friends is meant to be fun.
Related Articles
Setting the Table with Pretty Dishes