The Swedes sure know how to make a smorgasbord, which is their next-level version of the buffet. We've created this menu at home, inspired by the first smorgasbord that I went to as a six year old in the suburbs of Chicago. I still remember with awe what seemed like food for as far as the eye could see. And yes, there are meatballs, and several types of potatoes, which are still a favorite splurge in my diet.
The key to a successful smorgasbord is the variety.  You don't have to do all traditional Swedish dishes, which would include cold selections like pate, gravlax, salads, cheese, and herring, which is admittedly an acquired taste.  Hot dishes include the famed meatballs, where we're including our recipe below, and potatoes, which are a staple of Swedish cooking.  Our smorgasbord is equal parts preparation and equal parts presentation, where we take time to lay out a selection of dishes that keeps our friends and family grazing all day into evening, just like we like our parties to flow. Another tip is to organize the buffet from traditional breakfast dishes like croissants, yogurt and granola, then hot dishes like pancakes and a frittata, and then main dishes like the meatballs, mashed potatoes, lingonberry sauce and other warm entrees.  I end the buffet with a cheese selection, because I often opt for savory over sweet, and pair it with desserts.  So as you can see, there's a reason why my brunches almost always turn into dinner.  By then there are no leftovers, and there were times where we had to dig into leftover Thai food.  But that's' when the fun begins.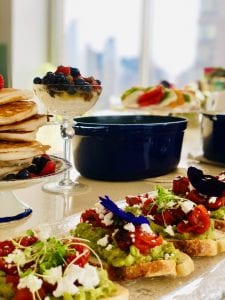 This is my suggested menu for a homemade smorgasbord, and our recipe for the famed Swedish meatballs.  You can also check out our mashed potato demo on our cooking show on Galavante here.
A Galavante Smorgasbord
 To Start
A Selection of Pastries
Kouign Amann, Pain au Chocolat, Almond Croissant
& Traditional Mini Croissants
Yogurt and Granola Parfaits
Fresh Berries Garnished with Mint
Homemade Hen of the Woods & Tarragon Egg White Frittata
Smoked Salmon Benedict on Model Bakery English Muffins
Selection of Open Faced Sandwiches
Avocado Toast with Roasted Tomatoes & Edible Flowers
Smoked Salmon on Brown Bread & Butter
Gluten-Free Buttermilk Pancakes with
Homemade Vanilla Whipped Cream & Nutella
Baby Mixed Greens with Fresh Herbs
Traditional Swedish Meatballs with Lingonberry Sauce
Yukon Gold Mashed Potatoes
Cheese Plate with Truffle Brie, Pyrenees Brebis & Roquefort
Tete de Moines Presented with a Girolle
Honey, Compotes and Roasted Nuts
Selection of Mini-Desserts
Traditional Swedish Meatballs
Serves 6-8
Ingredients
2 pounds high quality fresh ground sirloin from your local butcher
¾ cup finely chopped white onion
1 cup gluten-free breadcrumbs
1 egg
1 tablespoon Dijon mustard
¾ cup whole milk or alternatively oat milk if you want to keep it dairy light
3 tablespoons finely chopped parsley
Olive oil and/or butter at preference
Fleur de sel and pepper to taste
1 ½ cups beef, chicken or vegetable broth
½  cup gluten free flour
½ cup half and half
4 ounces sour cream
Directions
In a large deep cast iron Dutch oven or skillet, heat olive oil at medium flame and sauté the white onion for 3-4 minutes until translucent.  Remove from heat.
In a large bowl, beat the egg, and add in about 1 ½ tablespoons of fleur de sel and pepper to taste.  Whisk in the milk and Dijon mustard.  With your hands, fold in the ground sirloin until the liquid is absorbed, then add in the breadcrumbs.  Last, fold in the onion until evenly distributed in the meatball mix.  Roll the meatballs into about 11/2 inch circles.  With 2 pounds you'll have anywhere from 40-48 meatballs.
In your skillet, in 4 batches so the meatballs don't steam, cook the meatballs in olive oil over medium to medium high heat, until browned on all sides, about 6-7 minutes.  Scrape the brown bits to the side; you'll need this for the gravy.  Continue to cook your meatballs in batches until all are cooked and set aside.
In the same pan or Dutch oven, do not wash and deglaze the pan with the broth.  Whisk in the gluten free flour and half and half and bring to a boil.  Reduce heat and cook on low until the sauce thick enough to coat the back of a spoon.  Remove from heat and whisk in the sour cream.  Add the meatballs to the sauce and keep warm in the oven at 250 until ready to serve hot with mashed potatoes and lingonberry sauce on the side.  Garnish with the parsley.