Legend has it that the first pisco sour was created around 1903 in Lima, after which it became mainstream, albeit with a few updates like simple syrup and bitters, at the Morris Bar in the center of town. Even Chileans, who like to say Chile is the birthplace of this famed drink, admit (quietly) that the pisco sour is Peruvian in origin. That's not to say, though, that both countries don't make a darned good version of the cocktail. There's a reason it's been around for over 100 years, and in our recipe book, pisco never goes out of style. This pisco sour recipe will be your crowd-pleasing cocktail. It takes a little more effort with the egg white, but it's worth it.
Thank You Explora 
I have to thank/blame Explora, the ecolodges in South America, for introducing me to the pisco sour.  I arrived at their lodge in Easter Island, and as we were debriefing with our guide Christian, they offered me my first sip, and cocktails have never been the same since.  It was that unique taste of sour, fresh lemon, a touch of sweet and bitter, where all my senses of taste were awakened.
After my Easter Island adventure, I landed in Lima. This is where I had the chance to have the original pisco sour at the Morris Bar. The bar is in a non-descript hotel in the center of town.  It was not nearly the tourist affair you would imagine though. There were just so few tourists in Lima at the time, before the culinary scene really exploded.  I'm officially hooked, and this is one pisco sour recipe that's on the rotation if I have you over for dinner.
Serves 4
The Pisco Sour Recipe
6 ounces Pisco (Peruvian brandy)
4 ounces fresh squeezed lime juice
3 ounces simple syrup (recipe below)
3 tablespoons egg whites
Dash of Angostura bitters
Handful of crushed ice
Directions
Making a cocktail for me is like baking – you have to be precise.  So equip yourself with a proper jigger, which is the measuring tool for cocktails. Also have  a shaker on hand to make the perfect pisco sour.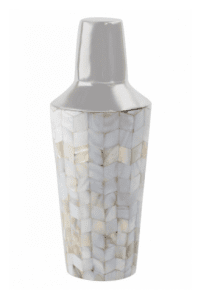 First make the simple syrup:
Boil ½ sugar and ½ cup water until the sugar is fully dissolved.  Let stand for at least 15 minutes to fully cool.
Time to Cocktail 
In a cocktail shaker, add the egg white, pisco and lime juice, and shake vigorously for at least a minute.  Add in the simple syrup and shake for another minute.  Add in the ice and shake for another minute, and strain into champagne coups.  Top with a dash of Angostura bitters and serve immediately.