All this talk of skiing makes us hungry for something that sticks to the bones. Something that dishes out warm comfort in a bowl. And we have to say, the Slovenians may just do that best. Besides having some of the best off-the-grid skiing in Europe, Slovenia is one of the most exciting up-and-coming culinary destinations. The foundation of this greatness is a traditional Slovenian barley soup. It's a staple.
Inspired by a Trip to Slovenia
Back in 2019, before the concept of a pandemic seemed so far-fetched, I had my study abroad reunion with classmates in Vienna. As part of our pilgrimage back, we tacked on a few days in the neighboring country of Slovenia. This detour ended up as one of the most surprising and extraordinary trips, kind of like my original time in Vienna. Slovenia is a culinary treasure trove, of some of the best restaurants and food in the world. And by that, I mean food that you can eat every single day. Slovenians take simple ingredients, and make it into a gourmet meal. You can tell when food is made with passion and love.

Something as simple as the bread, which has a special place in Slovenian culture, becomes a new experience. I still dream of the focaccia at Kruh in Vino, a countryside restaurant in the wine region of Barda.  The bread inspired our own recipe for pizzettes on Galavante. In fact, the pizzettes make a perfect starter or as a side on the table to the Slovenian barley soup.

A Trip to the Mountains
With all the fine dining and special restaurants in Slovenia, a friend told me his favorite food experience was up in the mountains of Vogel. Here, at the top of the mountain is a typical ski resort restaurant. You know the type; those upscale cafeterias, where you stop for lunch on ski days.

It's here that they have the best Slovenian barley soup. The soup is made with the traditional ham, beans, barley and hearty vegetables. It may not look like much, but wow it delivers. This Slovenian barley soup is a bowl of perfection, and brings you to the best memories of your childhood. Those days when you would make a snowman and come inside from the freezing cold into the warmth. This is the soup that would be perfect for that moment.
Serves 4-6
Ingredients
2-3 medium multi-colored carrots, peeled and chopped
3 stalks celery, chopped
1 yellow onion, finely chopped
1 1/2 cups white beans, soaked overnight
2 cups barley or farro
1 1/2 tablespoons vegetable bouillon
2 tablespoons rosemary, finely minced
2 tablespoons thyme, finely chopped
3 tablespoons finely chopped parsley
6 cups chicken broth
Picual olive oil
Maldon sea salt to taste
1/2 cup ham or bacon, optional

Directions
In a Dutch oven, coat the bottom with a thin layer of olive oil and heat over medium flame. Add in the finely chopped onion and sauté for about 2 minutes.  Do not brown. Next, add the celery and carrots, and Maldon sea salt to taste. I like to add about a tablespoon. Stir constantly for about 4-5 more minutes, until the mixture is softened but still firm. Add in the ham or bacon, and sauté for an additional 2-3 minutes.
It's now time to add the barley, beans, vegetable bouillon, rosemary, thyme and chicken stock. Crank up the heat to medium high and bring to a low boil, then reduce the heat to medium low. Simmer for about 45-50 minutes, until the barley and beans are soft.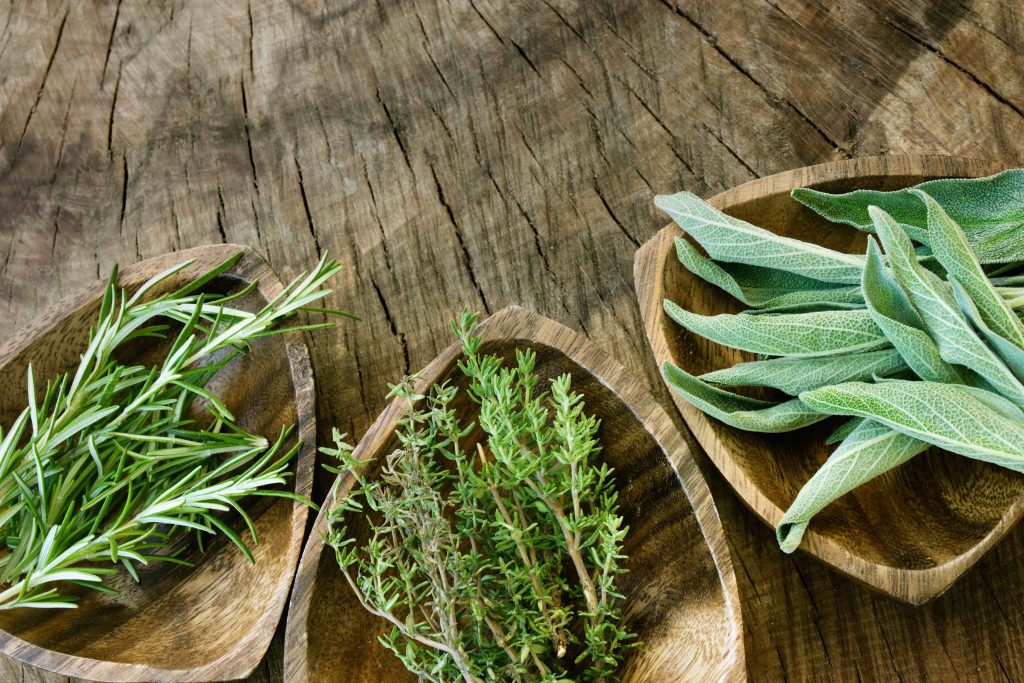 Take about 1 1/2 cups of the soup and puree in a blender for 20-30 seconds. Add the pureed mixture to the soup in the Dutch oven and stir well. Season with additional Maldon sea salt to taste. Stir in the finely chopped parsley. Drizzle with additional olive oil.
In large bowls, ladle in the soup and garnish with more parsley, olive oil and a touch of Maldon sea salt. Serve hot.