We're hitting the first major holiday of the season, and it's going to be different. You may not have a huge family gathering, lest you have a Rose Garden-esque superspreader event. However, you gotta eat, and on Thanksgiving, you shouldn't eat alone. These NYC restaurants for Thanksgiving dinner are better than the home cooked meal. This year, for sure, is one you won't forget.

Pass the Gravy 
It's almost Thanksgiving and you know what that means. Turkey, Stuffing, and grandma's famous pie.  Except this year, we are in a pandemic, so maybe not. With all that's going on, you may not travel home for family, or even Blackberry Farm, for a quintessential Americana Thanksgiving. And you may not even really want to cook for just the immediate family or friends. But it is Thanksgiving, after all. Even though it might not be what it once was, you still want to do something special. Maybe you can't have auntie's special mashed potatoes, but if anyone can compare it's these award winning chefs. These are the top NYC restaurants for Thanksgiving dinner.
The Restaurant:  The Jean-Georges Empire
Do tuna ribbons with avocado and ginger and Maine Lobster sound good to you? If so, Jean-George brings his award winning Thanksgiving favorites to his eponymous, Jean-Georges. Jean-Georges will offer options like traditional turkey, and crusted sea-bass, along with other traditional French inspired cuisine.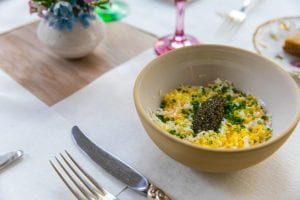 It's not just the flagship restaurant though, as his other spots around the city are also open for Thanksgiving dinner. Any of Jean-Georges' NYC restaurants for Thanksgiving will get you a special meal. The Mercer Kitchen, Nougatine, Perry Street, JoJo Restaurant, The Inn at Pound Ridge, and The Fulton will each feature their own prix fixe menus.  You can sit socially distanced with your pod, or can get curbside takeout and delivery if you want to stay at home. 

The Restaurant:  Wayan
We thought it would be good to keep it all in the family, or at least partially all, though Wayan and Jean-Georges could not be more distinct.  The son of the eponymous Jean-Georges, Cedric Vongerichten has made his famed Southeast Asian inspired restaurant one of the coolest NYC restaurants for Thanksgiving.  Wayan is prime to hit up for this festive season, for those families or friends wanting to step a little outside the box. The centerpiece will be the Indonesian organic Turkey.  The other unique sides include brussels sprouts with morning glory terasi, perkedel stuffing and mashed potatoes. Then of course you need spiced cranberry sauce and long pepper gravy.

The prix fixe menu is perfect for the family of 6-8 that wants to cozy up at home and eat family style Indonesian fare.  Optional cocktails and pies can be added on for dessert. If you and your fam want to stay home but still go on an untraditional taste adventure, Wayan has your back this Thanksgiving.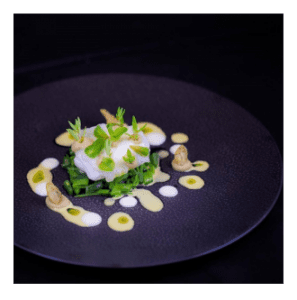 The Restaurant:  DANIEL
Brain child of Michelin starred chef, Daniel Boulud, DANIEL is about as classically French as they come. This season, if you're in NYC or the Hamptons, you can bring the elegance you're after to your home for you and immediate. Starters include Pumpkin Velouté and artisanal cheese while accompanying your turkey will be favorites like cranberry sauce and sage gravy as well as brussels and cornbread. If looking for something reminiscent of what Thanksgiving should be, Boulud has every component down to the classic pecan, pumpkin and apple pies. Unlike Wayan, or the complex menu at Jean-Georges, DANIEL brings you grandma's cooking on steroids and will be a complete crowd pleaser.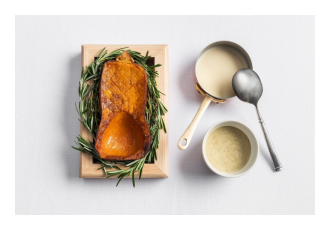 Formerly rated the #1 restaurant in the world, Eleven Madison Park is probably your dream to visit. But this season, while everyone is still at home, they're doing something extra special. Going out can be nice and take-out has its perks, but especially on Thanksgiving, nothing is quite like cooking from home. Eleven Madison Park combines the best of both worlds. The three Michelin starred restaurant will have meal kits available which include delectable ready-made sides and pie.  You, too, will take part in the prep by cooking your own turkey with special directions from Chef. Consider this a collaboration between you and Chef Daniel Humm. And the best part is that when you order they will donate ten meals to New Yorkers in need.