It's certainly not the end of the world, but advisably a good time to lay low and stay at home during the pandemic.  The early adopters made their moves in February and the beginning of March, ready to hunker down and practice social distancing with their nearest and dearest.
New York, which is the current epicenter of the US outbreak, is like a ghost town, where many have retreated to their summer homes in the Hamptons, Millbrook and Rhode Island to wait this out.
If you've decided to ride this out in your abode, with the weather getting better, it may be time for a change of scenery, whether it's for a few days, a few weeks or the next month or two.  In a perfect world, here are our optimal top spots to stay at home:
Soneva Fushi Maldives 
Why we like it:  We always said if there was Armageddon in this world, our first place we would head would be Soneva Jani in the Maldives.  On an average day, Soneva is almost 100% sustainable and removed from the rest of the world, which is why people love it so much.  It's known as "barefoot billionaire luxury" for a reason.  With the largest free-standing villa in Southeast Asia, a massive 30,000 square foot+ kids club, a cheese and charcuterie room and all you can eat ice cream and chocolate, it doesn't get  much better than this to hide out until the pandemic passes.  They are still open for business, and the well-heeled have been taking in their private jets to the Maldives and a private Soneva plane to get to paradise, in the middle of the India Ocean.
The price for luxury:  Anywhere from around $2k nightly for a room, to $14k nightly for the larger villas.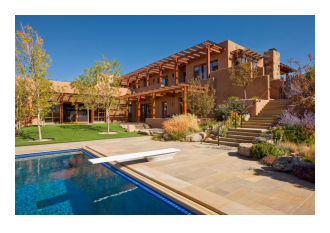 Santa Fe, New Mexico 
Why we like it: Fresh air, mountains, low population density and still within the US, it's the spot that most people haven't figured out is the perfect place to rent a house and chill off-grid for a few months.  The extraordinary views and painted skies are reason enough alone to visit this unique destination. Located in an Alpine Desert, at an elevation of 7500 feet, the stars, sunsets, and light are the inspiration you need to write the next great American novel. Santa Fe is known as "The City Different" due to the Navaho culture that surrounds the area. In Santa Fe, it's about  beautiful mountain ranges, wild horses, dirt roads, where it doesn't get much purer to hide away from the rest of the world.
Off grid, doesn't mean off-luxury, especially since you are able to rent a stunning home for your pandemic hide away.  We love two showstopper houses, Monte Verde Villa, which is a 6 bedroom, 23,000 square foot home complete with swimming pool, personal art galleries and lots of space for you and your nearest and dearest.  We also like Rancho Allegra, which is its own compound, and we would go as far as to say, its own town, on 177 acres of ranch with its own stables.  Monte Verde will set you back about $10k/night, and Rancho Allegra about double that.
Le Bijou Switzerland 
Why we like it:  Clean, fresh air is the theme, while still being in an urban setting throughout Zurich, Geneva, Lucerne and Basel.  What makes Switzerland especially appealing is that you have access to excellent food from takeout restaurants and food markets for nights at home, while being able to get outdoors in a quick car ride to the countryside or mountains.  Add in Le Bijou, a network of serviced apartments with hotel-like amenities, and their chic, design-focused abodes are a good option for singles and couples to ride out the stay at home orders.
For those longer days you chose to take off, you can drive for hours, find a remote spot for a picnic then be home in time for dinner.  The scenery of Switzerland is stunning no matter where you drive, and with Le Bijou's network throughout Switzerland of serviced apartments, you can make it your own adventure and explore the country, as long as you are healthy of course.  The national parks are closed and they are strongly recommending you only leave the house for essentials and exercise, but plenty of ways to soak in the classic Swiss beauty.
Napa Valley
Why we like it: It is always a good time for Napa, especially during the pandemic because of its proximity and access to some of the best vineyards in the United States, many of which are still delivering in the area.  While you won't be doing wine tastings in person, it doesn't preclude you from bringing in a variety pack to your beautifully full-serviced, private home.  A number of our favorite caterers – a shout out to Laurel's Catering – are cooking up gourmet, made to order meals for drop off for those chilling at their fat estates in Napa.  As expected with a luxury destination, the homes, especially the Vine & Rose, which is one of our favorites throughout the year, are just the spot you would want to shelter in place, poolside.  Napa as a destination fits our bill, because the key is getting out into open spaces that are sparsely populated with easy access to takeout restaurants, markets and if needed, are an easy ride to medical facilities.  Hotel business is down 80% or more, which means that it really is just locals and those from San Fran who have decamped to the area.  Beautiful vistas, long solitary bike rides and plenty of room to sprawl out add to the attractive factor of Napa.  Personally they had us at Model Bakery, which is still shipping their famous English muffins and will be back open for takeout at their Oxbow location soon.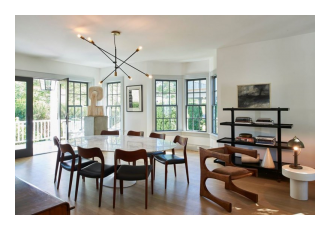 Valley Rock Inn
Why we like it:  We're saving this one for last hoping most of you won't read this far, as since we stayed in NYC, this is our escape plan.  We're almost hesitant to share this gem of a place, but we are all in this together. It's not in the Hamptons, where 40% of our apartment building has decamped for the next few months, but rather about an hour away in the Hudson Valley across the George Washington Bridge.  Valley Rock is offering four historic homes from the 1800s  that have been completely refurbished into Frette sheet and designer enclaves that make you feel like you're in a cozy, remote getaway in nature.  Luxurious nature, of course.  They amped up the interiors in each of the traditional homes with contemporary, clean furniture that inspires you to curl up on the couch or front porch, and just read a book.  In normal times, they have boot camp-like fitness retreats, but there are plenty of biking and running trails, and places just to connect with the outdoors. Approximately 70,000 acres of national park, set at the foot of the Ramapo Mountains, to be exact.  Farm fresh ingredients are readily available, and this may just be the spot we write our next cookbook.  April is almost completely full, so send a Hail Mary for May and June, but after we've booked our spot.
Pricing is relatively reasonable starting at $495/nightly and scales up depending on the number of bedrooms you use in the house.
Related Articles
Hit the Road Jack – Top East Coast Road Trips