Sometimes you need a trip to the desert. And not just any desert, but one where celebs like the Kardashians stay, and where all the old Hollywood stars used to escape the hustle and bustle of LA. Palm Springs has become a mecca of celeb spots, mid-century architecture, and a central piece of SoCal history. Here are the top luxury hotels in Palm Springs and the top restaurants to check out this year.
Top Places to Stay

The Parker
One of the first luxury accommodations in Palm Springs is the Parker. The Parker just makes you happy, as it's decorated with bright pastels — and just enough kitsch to make it interesting. But that doesn't mean it's not fully decked out with luxury amenities. You got multiple pools, a yacht club, tennis courts, croquet, and six different dining options. The Parker is a full-service hotel that has enough character and quirk for a perfect weekend getaway in the desert.

Hermann Bungalows
One of the buzziest luxury hotels in Palm Springs is Hermann Bungalows. The philosophy of Hermann Bungalows is "desert chic lifestyle." This theme runs through the design of the 24 bungalows, which include rooms with private patios as well as pool and garden views. For alfresco meals by the pool, SO-PA has you covered, and with a communal dining area so you can make the most of the social scene.

Casa Tierra
In the neighboring Palm Desert, you'll find Bobby Berk's new design escape. This isn't one of the traditional luxury hotels in Palm Springs; rather, it's a standalone villa. But it does bring a boutique hotel feel to this for-rent option. The sprawling pad is 5,000 square ft. It features a Spanish-inspired design, multiple buildings, and outdoor areas to relax and enjoy the best of the desert landscape. All of the fun and rest is right at your fingertips, with amenities like a bocce court, yoga studio, and theater room.

Ritz-Carlton, Rancho Mirage
Located right above Coachella, Rancho Mirage is one of the best luxury hotels in Palm Springs if you're planning to attend the iconic festival. Its proximity doesn't mean you have to sacrifice privacy, as it's relatively secluded. Plus, you know that when it's a Ritz, you can count on luxury with a capital L. But this hotel also pays homage to Palm Spring's glamorous history via its aesthetics. The Rancho Mirage has two restaurants, and a bar by the pool.

Sensei Porcupine Creek
Located near Palm Springs in the Santa Rosa Mountains, Sensei Porcupine Creek is a luxury wellness retreat. The focus here is on finding your balance and prioritizing well-being. You'll be able to enjoy spa gardens, private golf and tennis, and the exclusive Nobu restaurant. Fittingly, Sensei also has some seriously impressive spa amenities and services.

Top Restaurants and Bars
Once you've figured out which of the luxury hotels in Palm Springs is your vibe, it's time to check out the restaurant scene. Here are a few of the notable classic spots to check out when you're not at Coachella.
Tailor Shop
For a cocktail bar in Palm Springs that's sure to impress, add Tailor Shop to your itinerary. With a bespoke speakeasy vibe, this is a unique experience that will transport you to another era.  You can reserve the space to host a soirée if you're celebrating something special.

Boozehounds
In Palm Springs, Boozehounds is a classic place to grab a bite. Oh, and this place is dog friendly. So dog friendly, in fact, that there is a menu especially for your furry friend. Boozehounds serves SoCal favorites with a touch of Japanese fusion (for humans). The daily happy hour is from 2–5 pm.

Colony Club
Hosted at the Colony Palms Hotel, this New American cuisine restaurant is a must-try. Opt for a poolside alfresco meal, or enjoy a more upscale art-deco environment indoors. The Colony Club can accommodate large groups of up to 14 in its private dining area, which is now available to reserve. Don't skip the excellent brunch.

A Nod to Coachella
If you're visiting Palm Springs, chances are that it has something to do with Coachella.  This year, Coachella takes place from Friday, April 14 to Sunday, April 23. Headliners include Bad Bunny, Frank Ocean, Blackpink, Gorillaz, Calvin Harris, and many more top-notch acts.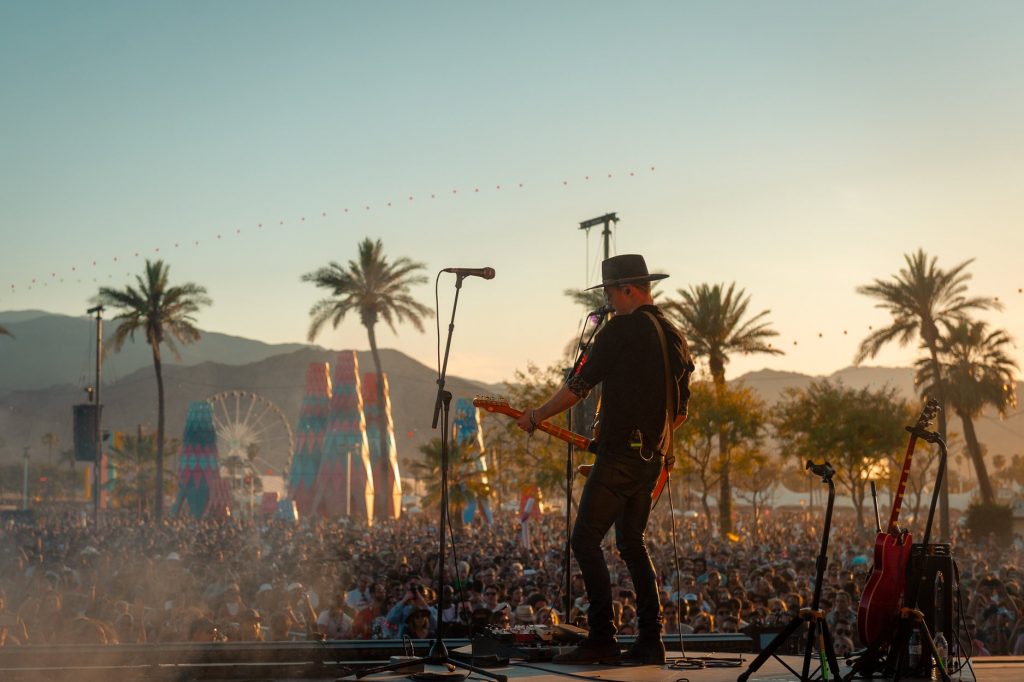 Related Articles
Where to Travel on MLK Weekend 
New Hotels on the Radar 
432 Hermosa: Leo's Palm Springs Home