What do celebs do with some of that extra change in their couch cushions? Own a hotel, of course.  Celebs like Leo, Hugh and Olivia can now add hotelier to their list of impressive accomplishments.   (DiCaprio, Jackman and Newton-John, in case you're not on a first-name basis with them). These aren't any ordinary celebrity-owned hotels, though. As passion-driven projects, these spots focus on wellness and sustainability. Think manatee conservation centers and zero carbon footprint. On the extreme makeover side, one hotel has no caffeine or alcohol.
Does it make sense to have a celebrity-owned hotels?  The answer is absolutely yes. Celebrities have a lot on their plates, so of course they know what it really takes to relax and getaway.  Also, these celebs are passionate about their projects and build spaces that reflect their values.  No matter which celebrity-owned hotel you choose though, expect to recharge away from the hustle and bustle.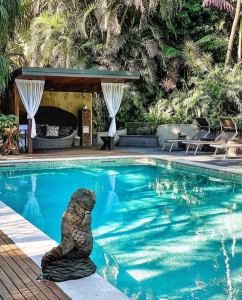 Olivia Newton-John

The Celebrity-Owned Hotel: Gaia Retreat & Spa
Gaia Retreat & Spa is a whole experience. Located in the "healing heart" of Byron Bay in Australia, Gaia is a holistic wellness retreat and spa.  And of course, the rooms are gorgeous five-star accommodations.   Gaia is a "barefoot meets Armani" vibe concept.  This isn't just a place for yoga and massages though.  This celebrity-owned hotel is a complete lifestyle overhaul.
Olivia doesn't mess around when it comes to natural health. Holistic remedies and ancient healing practices have helped to cure her ailments since she was diagnosed with cancer. Luckily now, she's in remission.  And treatments aside, the villas are modern and chic with private pools and terraces and views of the Byron area wildlife.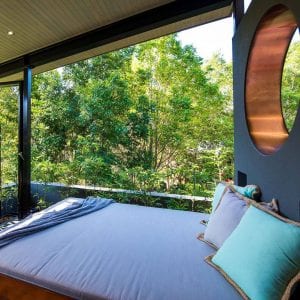 Hugh Jackman
Great minds think alike. Hugh Jackman's Gwinganna Lifestyle retreat in Queensland is, like Gaia Retreat, is a place to relax and reconnect. Hugh Jackman pulled out all the stops for his celebrity-owned hotel.  The resort is completely eco-friendly and sustainable, and designed with specialized meditation houses that are completely Zen. Different program options cater to every wellness need, and the coast meets forest landscape is stunning.
The resort bans everything that could get in the way of true well-being.  This includes alcohol to caffeine.  All cuisine is organic and minimally intervened with to ensure that one's body is treated like a temple. Accommodations with private pools and lounging spaces do not disappoint.  This is really the place to truly let it all go.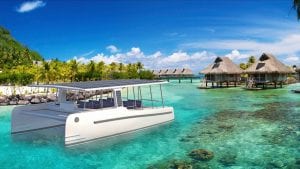 Leonardo DiCaprio

The Celebrity-Owned Hotel: Blackadore Caye
It's a longtime coming, but this ecotourist destination will be worth the wait.  Opening hopefully within the next year, Blackadore Caye, an island off Belize will open its doors. Leo bought the property in 2015, as he is passionate about the environment and fighting climate change.  In fact, his resort's mission is to reverse climate change.
Blackadore Caye is a 104-acre luxury resort complete with fully regenerative power.  There's even a manatee conservation center with an indigenous plant nursery.  The villas are designed as luxury floating Maldives-style suites, so people can relax and enjoy a completely sustainable five-star experience. For those in the market for a home, the villas will cost between $5 million and $15 million.  Of course they will be decked out with technology to have a net-zero carbon footprint.