Life's a beach. OK, not always, but it could be. And summer is right around the corner. These three companies are doing really cool stuff — yes, that's a technical term — in sustainable sunscreen and beach attire. Because the time is now, to save our oceans and save our earth. While looking stylish, of course with these sustainable fashion brands.
If you have not yet seen the Netflix documentary, Seaspiracy, you are in for an eye-opener on the impact of climate change on our oceans. Because of the impact of humankind, marine life faces threats of overfishing, coral reef destruction and chemical imbalances. The good news is that there are simple ways to consume more responsibly that will help protect our coastline and the essential oceans. These three sustainable fashion brands are leading the charge in creating ocean-friendly options.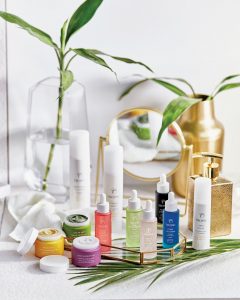 Chemicals often found in sunscreen, such as oxybenzone, can come off in the ocean when swimming. While you should always wear sunscreen, the wrong sunscreen can be detrimental to the ocean.  Think disruption of corals' reproductive cycles, bleaching and death.  It's as serious as it sounds.
One of the best sustainable fashion brands, Tropic Sunscreen, makes sun-protective, waterproof, vegan and cruelty-free products.  Tropic Sunscreen does not contain nanoparticle-producing chemicals like oxybenzone or other coral-harming ingredients. Tropic's formulas are some of the lightest, so you don't feel a thick lotion while trying to enjoy the sun. In addition to sun care, Tropic has hair care, skincare.  The skincare includes award-winning age-defying serums and makeup that are all equally as eco-friendly.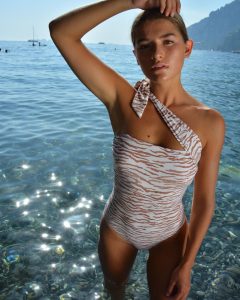 Imagine a world where there is more plastic in the ocean than there are fish. Unfortunately, we're approaching that reality far too quickly. If you remember in Seaspiracy, fishing nets are some of the worst culprits, killing millions of marine animals every year. Paper London is one of the sustainable fashion brands taking action.  They repurpose plastic fishing nets into cool swimwear. Brilliant, right?
The solid swimsuit designs are created with ECONYL, a 100% regenerated nylon fiber made from fishing nets and plastic found floating in the ocean. And the textured swimwear is crafted from REPREVE yarn, which is made from 100% recycled plastic water bottles.
Every part of the Paper brand is sustainable.  From the use of dead stock material to discounts for sending back your swimsuit when you're done wearing it. Not to mention, these suits, which feature frills and braids to surfer stripes and sexy deep Vs, are some of the hottest you'll find around.
Everyone needs a perfect tote they can take to the beach to throw everything in. You don't want to bring your purse or a nice leather bag when sand or water are in the mix. And instead of bringing an old plastic bag you know you're going to throw away, bring one of Anya Hindmarch's plastic bags. Anya Hindmarch is a long-time designer, you may not think of as one of the sustainable fashion brands.  However, in 2007, Hindmarch started her campaign to raise awareness about single-use plastics with her "I'm Not a Plastic Bag" totes.  Thousands of people lined up to purchase these coveted bags. Recently, she launched her "I Am a Plastic Bag" collection, made from recycled plastic bottles.
The bags can be completely customized and are made to feel like canvas. Each is made from 32 half-liter bottles and is coated with recycled windscreens. With the bespoke design features, this will be the tote you take with you from now on.
So go green with your beach gear, and take it to the next level, with sustainable travel. Check out our article on the most eco-friendly destinations in the world on Galavante.