The existence of this salad is proof that healthy can both look beautiful and taste damned good. This is the salad you place on the buffet for a weekend brunch or a weekday pick-me-up. It looks complicated, but it's nothing more than assembly, especially when you buy the lobster pre-cooked from Eataly. Our Lobster Cobb Salad, a dish anyone can make, is an elevated gourmet creation for any day of the week. What's best is that it looks great on a table, for very little effort.
Normally cobb salads have blue cheese, bacon and a heavy dressing.  Our rendition brings in black olives, which replace the salt and the richness of the cheese and bacon.  Alternatively in addition to the black olives or to go back more towards the original, you can do a light sprinkling of blue cheese or use a hard goat cheese, which is a little easier on the stomach.  If you have to do bacon, you can sub a vegan bacon, or roast shitake mushrooms until they are crispy and will mimic the texture, crunch and saltiness of a traditional bacon.  The beauty of our cobb is as long as you plate it on a large serving platter that can show off all the ingredients, it's your canvas to paint.
Serves 4-6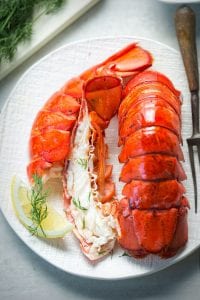 Ingredients
5 heads of butter lettuce
2 pounds of steamed lobster meat, out of shell
6 hardboiled eggs
3 avocados
2 cucumbers diced
½ pint grape tomatoes, halved
2 cups black olives with pits
Microgreens to garnish
Cilantro, to garnish
Optional:  shitake mushrooms or vegan bacon
Hard goat cheese or ½ cup blue cheese, crumbled
For the dressing:
1 ½ Meyer lemons
1 cup extra virgin olive oil
Fleur du sel, to taste
Directions
Once you have your ingredients organized, this is all about assembly and presentation.  In a large serving platter, preferably long that can run across the center of your table or buffet, take each individual leaf of butter lettuce and stack 3-4 whole leaves high, next to each other down the line on the serving platter, leaving some space in between to evenly place the cooked lobster.  If you live near an Eataly, it's a small fortune but they do a beautiful job on cooked lobster meat in their seafood department, which is our go-to when we're not able to get whole live lobsters.  On each nest of butter lettuce, add the cucumber and garnish with a few of the grape tomatoes.  On one long end of the platter, beautifully arrange a line of avocado, the length of the salad.  On the opposite side, do the same long line with the black olives.  Sprinkle a little fleur du sel over the salad.
For the dressing, squeeze the lemon into a bowl, and in a slow drizzle, whisk in the olive oil until emulsified.  Add in a dash of fleur du sel to taste.
Serve the salad chilled.