You never forget your first lobster roll. Ours was 20 years ago in New York City at Mary's Fish Camp (which is still one of the best), and we put on 20 pounds alone from repeated visits. We would do it all over again because some things in life are worth it. These are the best lobster rolls in the world.
Mary's Fish Camp 
How it's served up:  
This version looks like it's rich with mayo, but at that first bite, it's surprisingly light.  The Mary's version is a cold lobster with chunks of tail and claw, in an impossibly light homemade mayonnaise.  It's garnished with chives on a lightly buttered and toasted bun.   Even those averse to mayo, somehow like this secret mayo recipe version.  
Why we like it:  
We had to include the version that got us addicted to the best lobster rolls in the first place.  If you want to taste the coast without taking the trip all the way out to Maine, head to Mary's Fish Camp in the West Village. This is as charming as it gets to transport you to the shore, even if you're trading seaside for streetside.  The pandemic silver lining is they now have outdoor seating, but there's almost always still a wait.  The lobster roll  experience is enhance with their crispy mandolin french fries.  The fries are actually a highlight, piled high on the plate and best with a few shakes of malted vinegar.  
White Barn Inn, Maine

How it's served up:  
Lobster.  Truffle. Caviar.  Enough said.  
Why we like it: 
One of the best lobster rolls in the US, set in one of the most beautiful places to stay in Maine?  The White Barn Inn ticks all the culinary and experience boxes. Ever creative, their gourmet take on the lobster roll brings three of the most luxurious ingredients together.  This makes the best lobster rolls list because it's the definition of decadence with Siberian caviar and truffle, along with healthy chunks of lobster.  As you would expect with a version this fancy, you're not in a shack though eating off paper plates. Instead, you're in a beautiful barn overlooking a grand garden.  For those traditionalists, their classic version of the lobster roll is chilled with a light mayo and topped with fresh sorrel and herbs.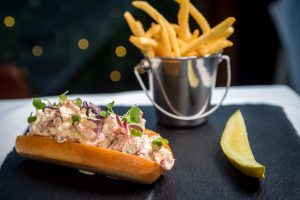 Eventide Boston
How it's served up:
Bostonians are serious about the best lobster rolls.  The Eventide version is served with a delicious signature brown butter sauce in a steamed bun with chives and fresh dill.  That steamed bun is then lightly griddled in butter to add just a little more savory to the dish.  
Why we like it: 
Eventide is a James Beard award-winning restaurant with an elevated chic shack atmosphere.  Every best lobster rolls list needs a chic shack option.  In this rendition, it's the steamed bun that does it for us.   There are also warm and cold lobster options, all of which are refined versions.  You can tell, that the chef behind these rolls has some serious culinary skills.  
Bite Into Maine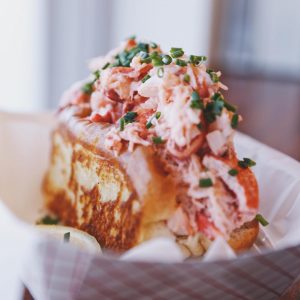 How it's served up:
Gosh help us, but Bite Into Maine has six versions, of Maine lobster only rolls overflowing with claw meat.  So technically all six make the best lobster rolls list.  You can go traditionalist with a chilled homemade mayo and fresh chive, which is always a good idea.  On the warm front, the classic Connecticut-style lobster is drizzled with just the right amount of butter.  There's also a warm picnic style version with coleslaw, celery salt and butter, just to spice it up.  Speaking of spice, you can also choose a smoky chipotle mayo version, a zingy wasabi mayo or a yellow Indian curry.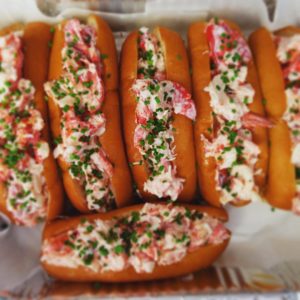 Why we like it:  
Food trucks are fun, especially when they serve up an impossible amount of lobster.  We love lobster rolls that are made only with claws.  The claw meat is arguably the best part of the lobster, though we know that could be fighting words.  Bite Into Maine also makes the best lobster rolls list because this may just be the most generous roll.  Each unabashedly buttered brioche bun is overflowing with more lobster meat than any other version.
Cru in Nantucket
How it's served up:  
Cru's
lobster rolls have lots of knuckle meat and finely diced onion, herbs and chives, with just enough lemon mayo.  This also makes the list of  best lobster rolls because of the bug fluffy, toasted brioche buttered bun.  They are not shy with the butter, which is what makes the lobster roll so decadent.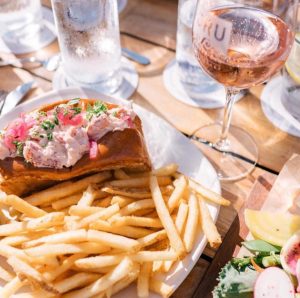 Why we like it:
Lobster rolls with a side of people watching on Nantucket?  Yes, it's summer.  Sometimes it's nice to have table service, especially when that table overlooks the water.  Also, lobster rolls pair very nicely with dozens of fresh oysters, which is another speciality of Cru.
Broad Street Oyster Company, Malibu, California

How it's served up:  
The lobster rolls are served at
Broad Street Oyster Company
either warm with butter or chilled with mayo, so the answer is order one of each.  This lobster roll represents everything good about Malibu and the never ending summer.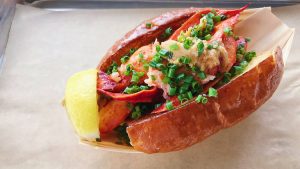 Why we like it:  
The West Coast gets Maine lobster too, and we can't leave out our LA folks.  We really love the warm beauties, which have butter, butter and chive.  If we didn't make it clear, every part of the brioche bread is buttered.  Also this is another version with claw meat, and like the Bite Into Maine version, makes one of the best rolls.
The Bonus:  Hinoki & The Bird – Los Angeles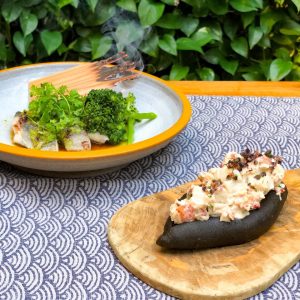 How it's served up:  
The bun is colored with Japanese charcoal powder, and the bind is a green curry aioli and thai basil. This is a two bite deal – just a taster of lobster roll.
Why we like it:  
Hinoki & the Bird's rendition
is the Japanese and French version, of the Americana lobster roll.  Unique just begins to describe it.  This is on the best lobster rolls list because it's totally out of the box.  It may not be the most life-changing lobster roll in the traditional sense, but it's one that every connoisseur should try once.  Hinoki  & the Bird is just something special in general.  The food is elevated and inventive comfort, that takes you outside of the typical flavor profiles.
You too, can make your own best lobster rolls at home.  Check out
our recipe by Brian DiMarco,
which is both healthy and just enough decadence.  Message us at
[email protected]
to also get your favorite lobster roll on the list.