Nothing says summer like the smell of barbecuing. This Memorial Day, it's time to come out of the gates strong and set the tone for post-pandemic life. We have four of the best grill tips for mastering the BBQ this year. As an added bonus, we also have the ultimate summer menu for your holiday weekend. Stuffed zucchini blossoms with fresh burrata and grilled shrimp anyone?  Sounds like the perfect pair to the best grill tips to us.
Lead Photo Credit:  Destination Haus 

4 Best Grill Tips
Start with a clean grill.
Any round up of best grill tips, always starts with this one. It's best to actually clean the grill right after you cook your food.  The food will also be a lot easier to scrape when the grill is slightly still warm.  Williams Sonoma has a great steam cleaner or you can by a regular grill brush to get all the residue off your grates.  Not only will a clean grill produce better food, but no one wants food bits from last week meal on tonight's dinner.

Preheat your grill.
Temperature is everything in grilling. Crank all your burners up on high heat with the lid closed for 10-15 minutes. Then create zones based on temperature on your grill.  When it comes time to put the food on the grill, group items by the temperature they need to be cooked.  This gives you a shot at timing your dishes so they come out all at the same time.
Start at room temperature.
Meats, fish and grill items should be at room temperature before you place the food on the grill.  Also, season with rubs,l salt and pepper before grilling.  If you're going to baste on sauce, then add the BBQ, honey, pesto or other concoctions at the very end.  Otherwise the sauce will burn, and not in that good BBQ grill smokey way.  More tips below though on how to get that perfect smoke taste.
On temperature, it's hard to tell when meats are cooked on a grill, so invest in a good thermometer like this one.
Lid on, Lid Off.
The key to the art of getting that smoky BBQ taste in your food is low temperature, and the right amount of time with your grill lid closed.  That's not to say though that you should always keep a lid on it.  You get the perfect grill marks on your food when your lid is up.  So if you're grilling a thick steak, start with the lid up to sear in all the juices of the meat, then keep it low heat and slow cooking for the remainder of the process.
One size does not fit all, either.  The timing of the lid on and up also dependings on what you're cooking.  Salmon and vegetables cook up faster than a thick steak, so time things out and as mentioned earlier, set up temperature zones on your grill.  Stick with these best grill tips, and your title will be Grill Master in no time.
A Summer BBQ Menu
Antipasti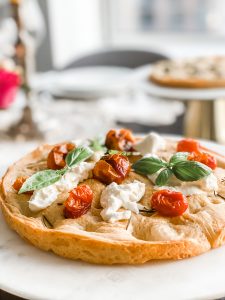 Homemade Foccacia with
Fresh Burrata and Roasted Tomatoes
Charcuterie, Cheese and Infused Olive Oil Dipping Sauces
Mezze with Crudite
Amuse Bouche
Stuffed Zucchini Flowers with Grilled Shrimp, Burrata & Basil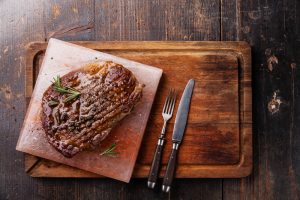 The Main Event
Grilled Skirt Steak with Chimichurri Sauce
BBQ Salmon on Mesquite Wood Plank 
On the Side
Austrian Potato Salad
Cucumber Salad
Baby Gem Lettuce with Truffle Parmesan
Grilled Farmers Market Vegetables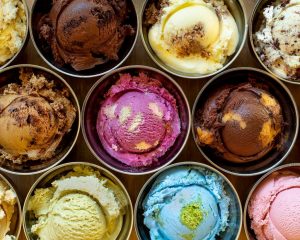 The Perfect Ending
Ice Cream Sundae Bar
Recipes
Serves 6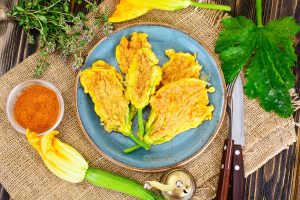 Stuffed Zucchini Flowers with Grilled Shrimp, Burrata & Basil
Ingredients 
18-20 large zucchini flowers
2 balls fresh burrata
18-20 medium grilled shrimp
2 eggs
1 cup flour
Fleur de sel
In a bowl, beat the 2 eggs and set aside.  On a plate, spread the flour evenly and sprinkle with fleur du sel evenly to taste.
Our recipe uses the entire zucchini blossom – stems, pistils and all.  Set up an assembly line, which will be the hardest part of the recipe.  As with a lot of cooking we do at Galavante, the key to success is organization.  The order of the ingredients should be as follows:
Zucchini blossoms
Burrata
Grilled shrimp
Egg
Flour
Directions
Make sure to follow the best grill tips above when you cook your shrimp.  Heat a non-stick large skillet with just enough olive oil to lightly coat the pan over medium high heat.  Working quickly,  stuff your zucchini blossoms with a small spoon of burrata and then the shrimp.  Dip the stuffed blossom lightly in the egg and cover in flour.  Immediately place the stuffed blossom in the pan.  Quickly repeat, and cook the blossoms, less than a minute and a half on the first side, just until golden brown. Flip and cook another minute until golden brown.  Place on a plate and keep warm until all the blossoms are cooked.  If you can't cook all the blossoms in one batch, make sure that your pan is totally clean with new oil, before you fry the remaining zucchini blossoms.  Arrange 3 blossoms per plate and serve immediately as an amuse bouche with rose or champagne.
Austrian Potato Salad
Ingredients 
3 lbs organic yellow potatoes
Baleine sea salt for boiling potatoes
3/4 cup white wine vinegar
1/2 cup water
1/2 cup high quality olive oil, plus additional to sauté the shallots
2 shallots, finely chopped
1 1/2 tablespoons to 2 tablespoons of white sugar, to taste
Fresh dill, to taste
Fleur de sel, to taste
Directions
You won't need the best grill tips for this recipe.  This is cooked on the stove and you can make ahead.  Peel the potatoes and immediately place in a large stockpot filled with cold, salty water.  The amount of salt should make the water "taste like the sea".  If you do this right, you won't need to add any additional salt to the cooked potatoes.  Additionally the water should fully submerge the potatoes.  Bring the water to a rolling boil and continue to cook over medium high heat until potatoes are soft, about 12-15 minutes.  Drain the potatoes well and cut into halves and quarters.
While the potatoes boil, mix the vinegar, water and sugar in a small saucepan, until fully dissolved.  Let cool.  Add the olive oil and the sea salt and set aside.
In a skillet, heat enough olive oil over medium heat to coat the pan.  Add the finely diced shallots and cook until translucent, but do not brown.  Set onions aside until potatoes are cooked.
In a large bowl, mix the potatoes and vinegar mixture together.  Gently fold in the onions and dill.  Let stand for one hour.  Serve the salad at room temperature.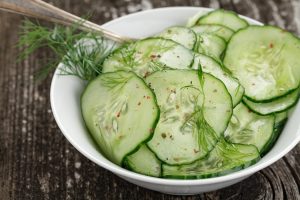 Cucumber Salad
Ingredients
3 Persian cucumbers
1/2 cup white wine vinegar
1/4 cup water
1 1/2 tablespoons sugar
2 tablespoons finely chopped dill
Fleur de sel to taste
White pepper to taste
Score and thinly slice the cucumbers.  Place in a bowl and set aside for an hour.  In the same small saucepan you used for the for the potato salad dressing, combine the vinegar, water and sugar until well-dissolved over medium heat.  Let cool and set aside.
About 30 minutes before guests arrive, gently mix the cucumbers with the vinegar dressing.  Chill until ready to serve.
Ice Cream Sundae Bar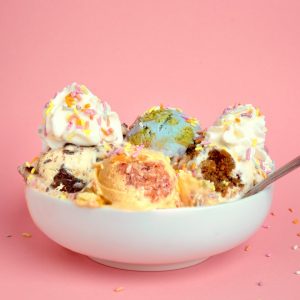 Ingredients
4 or more different types of your favorite ice cream
Finely crushed pistachios
Toasted sliced almonds with sea salt
Amarena cherries (you can buy at Eataly)
Chocolate spread, preferably by Venchi
Homemade whipped cream
Sprinkles
Crushed cookies (your favorite)
Directions
The fun part about a proper ice cream sundae bar, is to offer as many options as possible.  We like Van Leeuven which also offers vegan options.  Also we like to make the sundae bar look pretty.  Spoon the ice cream and all the ingredients into separate serving bowl.  Encourage guests to gather around the ingredients and make their own creations.  No matter how good the dinner is, because we know you followed the best grill tips, somehow the sundaes are always the star.