This is a PSA that Valentine's Day is coming up and you have just enough time to start planning. This past year, more than others, has probably tested your love, so why not celebrate with a magical date night at home? At Galavante right now, we're saying, go big and go home. Make your loved one's favorite recipe and be sure to stock up on Champagne. And of course, get something special for dessert. Who doesn't love a box of chocolates on V Day?   We have the ultimate list of the best chocolate from around the world.
Chocolate is a Universal Gesture 
A tin of truffles can be the difference between any other date night and a night to remember. Or, maybe you're celebrating Galentine's Day and just looking for an "I appreciate you" gift. Whatever the case may be, it's fair to say that everyone has a sweet tooth, at least occasionally. But we don't want you picking up one of those heart-shaped boxes from the grocery store again. Instead, here are some Galavante-approved ways to seal the deal.
In 2002, Kee Ling Tong left the corporate world to pursue her dream of opening her own chocolate shop in New York City. Now, almost two decades later, her passion project has been featured frequently in magazines and on TV shows.  She is recognized internationally as one of the best chocolate in New York. If you've ever tasted one of her creme brûlée bonbons, you'll understand why.
While the simple packaging of Tong's confections might look simple, her flavors and artisanal approach are anything but subdued. For the thrill seekers, there are balsamic, black sesame, or blood orange truffles. She also has familiar favorites too, like white chocolate green tea bonbons and mousse truffles. Handcrafted of ingredients such as yuzu sourced from Japan.
Cost: 16 truffles for just under $50
There may not be anything so luxurious as a box of La Maison du Chocolat truffles. Think handmade Parisian truffles crafted from the finest ingredients by the finest chocolatiers in the world. More than 40 years ago, owner Robert Linxe created La Maison as the first designer chocolate house. It has since dazzled not just Parisians but chocolate lovers the whole world over. This is the best chocolate that conveys luxury.
Like Sade, This is no ordinary (truffle) love
The truffles at La Maison are not ordinary — they are treated with unique tempering and flavoring processes and meant to be savored. Subtle flavors like almond praline in milk and dark chocolate seem simple yet are nuanced.  The La Maison calling card is to carefully balanced notes to create a calculated and precise profile. La Maison du Chocolat pays homage to confectionary artistry. They seek inspiration from sources such as blue hour, the fleeting period of twilight when the sky is deep blue. For Valentine's Day or any special occasion, a beautifully wrapped box of La Maison chocolates makes a statement.
Cost: 16 truffles for $55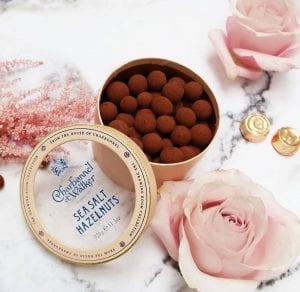 Few chocolatiers can say they have served the queen and her like for more than a century, though that's the case for Charbonnel et Walker, perhaps the most iconic couverture chocolate firm in the world. In addition to the queen, Charbonnel et Walker has served Princess Diana and countless other members of British royalty and aristocracy, as well as celebrities. Founded in 1875, Charbonnel et Walker was one of the first chocolatiers in Britain, and to this day, it remains in its original location on Bond Street and as one of the best places to find luxurious artisanal chocolates in the world.
It Goes With Tea 
For a taste of history, try the original dark chocolate bar. It is said to be the perfect sweet treat for the friend who drops by for tea. But there is something to cater to any occasion and palate.  Unique variations include the pink Marc de Champagne truffles and  milk chocolates shaped into high heels. There are also caramel praline truffles, all of which come in the brand's trademark boxes tied with satin ribbon. Of course when in London, it's a must to stop by the original store, but the chocolatier also ships to you anywhere in the world.
Cost: Varies, 18-piece truffle collection for $38.50
Almost as sweet as its candy is the story of how Sugarfina came to be the multimillion-dollar business it is today. On their third date, Josh Resnick took his now wife, Rosie O'Neill, to see Willy Wonka and the Chocolate Factory. After the movie, the two were compelled to ask, "But where is the candy store for grown-ups?" and, "Why can't candy be modern and presented in a beautiful way?" Hence, Sugarfina was born. Today, it is one of the most-recognized luxury candy companies in the United States. We've all seen the iconic clear cubes filled with Sugarfina candy, that are a luxury treat.
Champagne (Bear) Dreams 
Sugarfina is known for its champagne bears, but there are options for pretty much any and every candy lover.  They have everything popping candy chocolate "Sparkle Pops" to spiced rum and cola "Cuba Libre" gummies imported from Germany.  They also have creative renditions, like  "Aphrodite Strawberry" which are candied Greek strawberries dipped in the best chocolate with a sugar shell.
Sugarfina pushes the boundaries and makes it clear that candy isn't just for kids. Gummy long-stem roses can stand in for the real ones this Valentine's Day. Anytime of your, you can design-your-own bento box ensures that you give a gift you know your special someone will actually love. Not too decadent but elevated, and dare we say sexy, a box of sweets from Sugarfina is never the wrong idea.
Cost: Four-piece bento box for $36