For some, it's a consolation; for others, it's congratulatory.  But for everyone, it's a dream goody bag worth more than some people make in their lifetimes. The stars and the hardworking producers, directors and designers behind scenes get rewarded so well it might not even matter whether they actually win it or not. Because of course, when you win big, you're going to celebrate.  When you don't, well, the famed Oscars' swag bag softens the blow.
The Oscars Swag – How About $225,000 Worth of Goodies?
We know, this year's Oscars is a little different.  We miss Wolfgang Puck's truffle chicken pot pie too. But this year, in line with pandemic times, hot off the presses, the Oscars swag bag is more in the $60,000 range.  But let's reminisce about pre-pandemic times, where yes, the bag was really worth $225,000.  It isn't just fancy chocolate that these stars walk away with. (That would be really good chocolate at $225,000).  The Oscars swag bags are lavish, that some nominees opt not to accept some or even the entire gift.
Sailrock Resort, Turks & Caicos
Though they offer a range of products, from Milano cookies to nip the hunger to helicopter rides.  Last year's haul also featured a $30 hydrogen-infused water pouch, $75 amethyst bath bombs, a romantic getaway in a converted Spanish lighthouse, a specialized intermittent fasting meal plan and a full-body rejuvenation treatment from a renowned endocrinologist.  Last year's bag also featured a two-week cruise trip, CBD sweets, a personal training session and up to $25,000 in plastic surgery treatments. There is a reason why celebs look so good; it is hard work.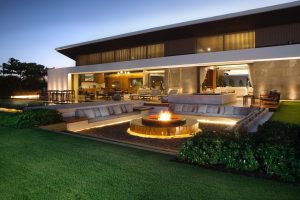 Casa de Campo
This week, in line with times of the pandemic, the bag is reportedly more in the $60,000 range.  But don't break out your violin quite yet.  The items include 4 nights at Sailrock Resort in Turks and Caicos, and 3 nights at Casa de Campo in the Dominican Republic.  Travel seems to be the theme this year; there's also 2 nights at the Raiwasa Resort in Fiji.  All in all, though appropriately reduced this year, that's a pretty sweet travel schedule.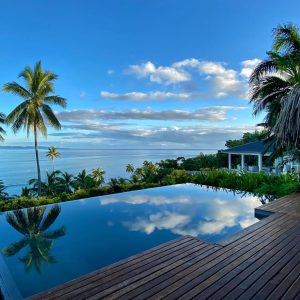 Rawaisa Private Resort, Fiji
The Inside Scoop
The marketing company Distinctive Assets, is behind the operation, to decide what is gifted to the stars. They don't skimp on anything.  Lash Fary, founder of Distinctive Assets whose nickname is "Sultan of Swag," started distributing the bags 18 years ago. They've has since developed a reputation for his unimaginably expensive gift suites. Now also catering to the Tony Awards and the AMAs, Fary has found himself responsible for giving the richest and most famous the royal treatment.
Companies pay upwards of $4,000 just to have their offerings included in the bags, and up to $50,000 to be featured as a sponsor. It's make or break for brands, because a celebrity endorsement can launch them to a new level.
But First, Fill Out Your 1099
It's a bit of a damper, but these lavish gift bags, do come at a cost.  They are taxable, so stars receive a 1099, like the rest of us.  So yes, they pay taxes on that swag bag, whether it's worth $225,000 or this year's reportedly more pared down $60,000 Oscars swag bag.  It's goes to show, nothing in life is really free.
Top Secret Oscars Swag
Although the Oscars' swag bags will be top secret until the night of the show, if they're anything like their predecessors, then they will be arranged in individual suitcases that were packed over the course of a week.  We'll wait and see what the lucky cohort will receive this year when the swag will be out of the bag,  but we have no doubt it will be your holiday wishlist.