We have to say, there are some gyms that need you to suspend disbelief; they're that good. One of our picks more than rivals a top-end Equinox, right on the coast of Turkey. There's another that has the longest pool in all of the Middle East, where the philosophy is go big or go home. So if you're into fitness, these hotels are for you.
Six Senses Kaplankaya
First on the list, and perhaps best on the list (though these top hotel gyms are a competitive lot) is the Six Senses Kaplankaya. The gym at Six Senses Kaplankaya should be on your bucket list, especially if you're a fitness junkie. The complex has a whopping 107,000 square feet of health and wellness facilities that cover pretty much all the bases. There's a full-size basketball court,  racquet-sports courts, spin, pilates, and yoga studios, and waterfront venues for TRX training. Additionally, there's a gymnastics room, a meditation room, and multiple opportunities to get active out on the beach and in the water. 

Facilities
The spa has unique treatment options that hit all the international and holistic angles. Because a top hotel gym has to have have a hammam, a Finnish spa, a crystal steam room, and experiential rain showers, which are just as the name suggests. The Six Senses also has multiple pools, from sports to hydrotherapy to Watsu. Yes, we had to look a few of these up as well. A mud chamber and mask bar ensure that each event is met with the appropriate and individualized product experience. And the wellness packages help steer you towards the options that make sense for you. But if we had to recommend one experience, we'd tell you not to miss the igloo, which fights inflammation at sub-zero temperatures. 
Honorable Mentions
It's hard not to feel motivated to train when the gym is genuinely beautiful. Art and entertainment collide in the lobby, which looks more like a gallery than a gym. And regardless of what wellness adventure suits your vibe, there's plenty of space for it. A top hotel gym should make you feel as relaxed as you're working out as when you're in bed or lounging in the sun. Six Senses understood the assignment.

Chedi Oman
The Chedi Oman gym is 16,000 square feet, and may be the classiest top hotel gym you've ever seen. Unlike other upscale gyms that equate simplicity with luxury, the gym at Chedi Oman is so well designed, it could be another club lounge. The interiors use leather and wood, and they're so beautiful it's hard to believe they're designed to sweat. But if you're a gym junkie, you won't be able to resist messing around with the top-of-the-line equipment like the Pilates Reformer.
Facilities
The Chedi Oman spa is a don't-miss. It is one of the biggest in the country with the widest array of treatment options you'll find in the Middle East, where spa treatments are cultural activities. The staff do everything from Ayurveda to restorative baths, with facials and body polishes in between. There's a big team of professionals ready to personal-train, lead group aerobics classes, and of course provide treatment. 
Honorable Mentions
The pool(s). The Chedi's Long Pool, at 103 meters, is the longest in the Middle East, which in a place that goes big or goes home, you know is impressive. The pools are outdoor, but kept at the perfect temperature for relaxation, or an extremely good lap workout. The Long Pool and the Chedi infinity pool also have beach views that can't be beat. Only one pool, the Serai, welcomes families, which means that the others are blissful retreats. 

Soho House Chicago
Soho House has always attracted the genetically blessed, but the secret is that it's not all genes. It takes hard work to look that good, so when you're staying in-house, the Soho House gyms get you professional workouts. The gym at Soho House Chicago rivals any place where you might need a really thorough sweat session, with a full-size boxing ring. Ever wanted to punch a model? Done. Elites train like and with the best in an old-school style ring surrounded by ropes and leather details.
Facilities
Besides the boxing ring, Soho House Chicago also has a rooftop pool, steam rooms, saunas, and all of the conventional equipment you could dream of. Over 17,000 square feet of gym space ensures that there's adequate room for group classes, one-on-one PT sessions, and, of course, only the baddest fights.
Honorable Mentions
Most of the other top gyms have spas, and Soho House does as well. But the hotel/members club also has a 30-seat cinema and three bars (one rooftop, one mezze, and one for DJ sets). The Soho House brand is known for building curated social communities. They conjure the vibe by creating spaces dedicated to getting to know people in really fun ways. Because why not follow up kickboxing with a bite to eat and a night on the dance floor. The latter, is of course, a workout as well.
Aman New York
Aman New York is the most exclusive club in New York City, and you know that only makes New Yorkers want a membership even more. But it's not all hype.  The wellness centers live up to the expectations of an Aman hotel. This top hotel gym is an oasis that you won't believe exists in the heart of Midtown. The Aman team has created one of the most technologically advanced and yet aesthetically-pleasing Aman designs in their wellness space. Members have access to all kinds of fitness options, from weight and resistance training to pilates, plus (our favorite) post-workout cryotherapy. Cryotherapy is the one-stop solution to inflammation, and can even reduce migraine symptoms by numbing painful nerves in just a few minutes. Top hotel gyms leave you feeling better when you leave than when you came, and you just may be a better person after a workout at Aman.
Facilities
How is it to have a 213-feet-long pool and a 25,000-square-feet three-story spa at your disposal? The biggest wellness facilities in the city are backed by medicine. Harvard-trained physicians designed treatments based on leading developments in medical research, and on your body, specifically. This is the type of place where you can top off your massage with an IV drip cocktail of Vitamin life juice. Or you can stick to the gym, where you can intensify your step workout on a $17,000 step machine, outfitted with infrared elements to make you sweat.
Honorable Mentions
You have to be an Aman Club member or a hotel guest to partake in regular gym sessions, and currently that includes the mind-blowing spa. If and when the spa does open to the public, splurge and book one of the specialty suites or hammams. The focus is integrative, and you can book for a day with meditation and treatment specialists as well. Prescriptions will include bespoke sessions with everything from healthy and personalized meals to treatments that involve mindfulness routines.
Equinox Hotel New York
Equinox was first and foremost established as a gym, so you best believe the Equinox hotel has one of the top hotel gyms in the world. Now they've expended into hotels, and for fitness fanatics, there's no better place to stay. Because Equinox knows gyms, the staff have thought of details that are unique. From their indoor saltwater lap pool to their outdoor rooftop pool (with views of Hudson Yards) to their Soul Cycle studio, everything is the best it can be.
Facilities
We wouldn't miss the Aprés Equinox experience. The heated outdoor pool is flanked by barrel saunas which offer steamy views of the nearby architecture. It's like aprés ski, but in Manhattan. Of course, we also recommend the world-renowned classes that range from Pilates to HIIT to yoga.
Honorable Mentions
Rooms are designed to maximize recovery. The beds are soft but firm, and the rooms can block out all noise and light. Because anyone who knows about health knows that sleep is a key component. Coupled with impeccable attention to keeping guests at peak performance is the unique commitment to cleanliness, which is important in our post-pandemic world. Masks and sanitizers aren't typically sexy. But the discrete antibacterial processes at Equinox make cleaning feel natural. Yes it's a new concept; a clean gym. Equinox has also revamped its in-room dining and mini bar to include almost anything anyone needs, from spa products to vitamins.

Park Hyatt Tokyo
Rarely will you go to a gym for the view — but you might at the Park Hyatt Tokyo. It's not a shocker why Sofia Coppola saw so much potential here for her film Lost in Translation. This urban oasis not only boasts views of the city, but also glimpses of distant Mt. Fuji on a clear day. Cardio machines placed along the windows will have you feeling like you are running in the clouds, almost literally.
Facilities
Given the mind-blowing view, any of the offerings are instantly world-class. But the Park Hyatt Tokyo ups the anti with features like poolside refreshments, body sonic flooring (we're assuming this is good for you), and good night sleep stretch classes. The lap pool with underwater speakers is also pretty cool. When we said top hotel gyms, we didn't necessarily mean literally, but this one literally does top the list.

Honorable Mentions
Working out is easy when your senses are totally distorted. Park Hyatt Tokyo suspends disbelief with trampoline exercise classes and sky-high spa offerings. While this hotel is the most classic on the list, it will always be predictably 5-star and visually awe-inspiring.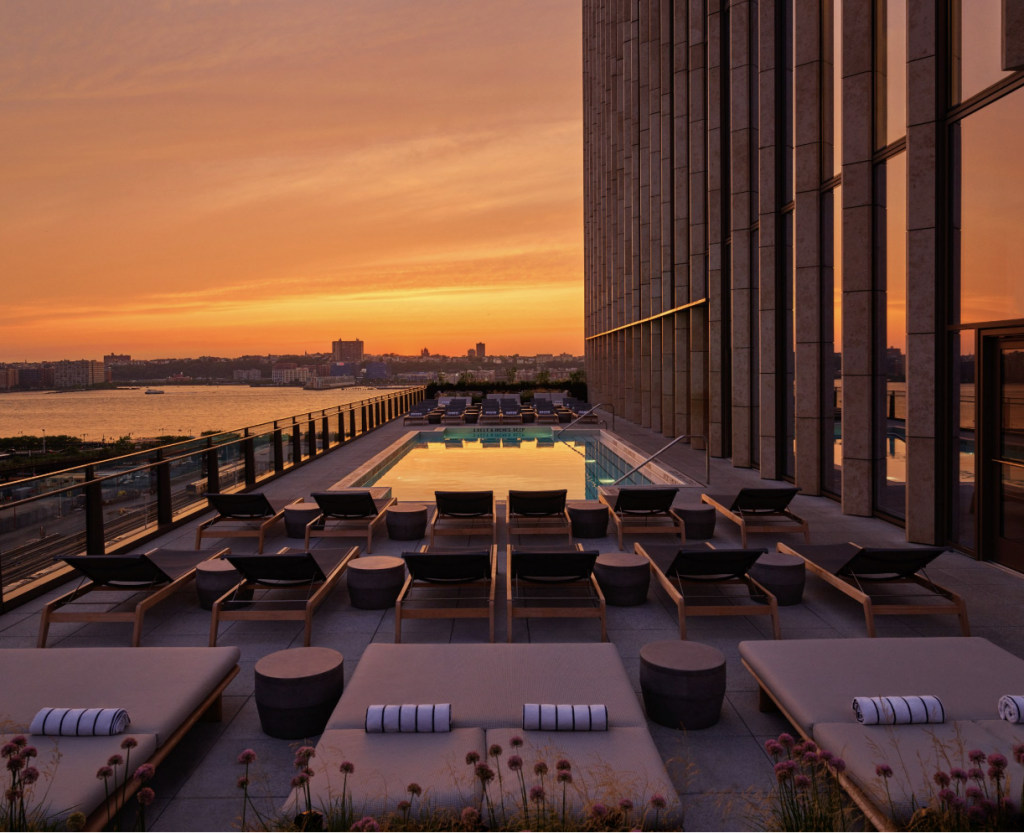 Related Articles
Top Spas in the World 
Where to Get Your Wellness On 
SHA – A Luxury Wellness Retreat