You asked, and we're delivering. You're at a stage in life when you have some extra change among the couch cushions. And you like beautiful things. It's time to start buying art. Some of you have so much change that you have an investment bucket for art. Whether you're new to the art scene or a seasoned collector, art consultant Karen Boyer has you covered.
Karen Boyer is the founder of Elements in Play Fine Art Advisory. A highly regarded art advisor, she assists both connoisseurs and novices develop and refine their tastes, while expanding their personal art collections. Her clients range from individuals to hotels, corporations and real estate developers.
As a former hedge-fund executive and lawyer who studied art history at the Sorbonne, Karen has a lot in common with her clients. She is comfortable working with high net-worth buyers and sellers, ensuring the discretion and high standards they expect.
Karen Boyer has been featured and interviewed in The New York Times, Bloomberg, Barron's, Artnet News, Private Asset Management and Worth. Read her top tips here.

Interview with Karen Boyer, Art Buyer
Galavante: So you're a recovering attorney. How did you get into the art business?
Karen: Well, I had a very early arts education since my mother is an artist. I subsequently studied art history in college at UC Berkeley. After college, I continued my studies at the Sorbonne in Paris. I ended up working in the hedge fund business after school, but art is my passion. I started collecting art shortly after joining my first fund. My acquisition was at the first Art Basel in Miami Beach in 2002. After that, it was a slippery slope. I bought more art and spent all of my free time looking at art. I traveled around the world to various art fairs and exhibitions with museum groups and collector friends. I became so passionate about art that I left finance to work in a gallery. I left 11 years ago to start my own advisory business.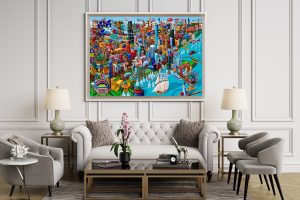 Artist Vuk Vukovic 
Galavante: What a cool story. Does your work specialize in any specific genre?
Karen: I specialize in post war and contemporary art. Most of my clients have an interest in blending scholarship and investment in their art collections. I have a robust network, so I help my clients discover artists and artworks that they wouldn't know about or couldn't obtain otherwise. I divide my time for working on these pieces between Miami and Manhattan. My work in the art market though stretches internationally.
Galavante: What goes into working with people to buy and collect art, for the beginners and the more experienced buyers?
Karen: I work with clients at all different levels of collecting. I have worked with people who have never bought art before or never in any sort of meaningful way. I help educate them about the art market. Often, I help them figure out what they like. Then I help identify pieces that fit their tastes and budgets. Once a work is chosen for acquisition, I negotiate the deals, arrange the shipping and installation. I also help with insurance, lighting and anything else my clients need pertaining to their art.
In addition, I work with clients who already have collections. They either no longer have the time to look for more art on their own, or they want help focusing their collections in certain areas. For instance, the trend now is to add more African American artists or overlooked and undervalued female artists to their collections. This is in general the current art world trend.
And I have clients who have been collecting for a long time and know exactly what they want — the artist, particular time period and price range. I try to find it for them, often from someone else's wall.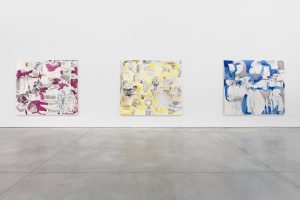 Photo: Marianne Boesky Art Gallery NYC
Galavante: For first time art buyers, who have never invested in art, what is the Karen Boyer key piece of advice to start?
Karen: My first piece of advice for anyone buying art is to buy what you love — even if it's only for an investment.
Galavante: What are your top four tips for starting your art acquisitions?
Karen: My four tips for starting a collection are:
Look at a lot of art before you begin buying so you know what you like.
Don't buy with your ears — many people buy what their friends are buying or what someone tells them will increase in value.
Take the time to do your due diligence on the artists and galleries, or hire a professional who can do it for you.
Treat your art like any other asset — insure it, protect it and include it in your estate plan.
Galavante: In your professional opinion, are art fairs a good place for first-time buyers to go?
Karen: Fairs tend to be overwhelming, and there is a lot of pressure to make quick decisions without being able to do the proper due diligence. Any art fair is a great place to begin looking at art, but I don't think it's the best place to begin buying.
Galavante: How do first timers know they are paying the right price?
Karen: I hate to say it again, but prices are subjective, so due diligence is the best way to know. Prices are based on many factors, including where the artist is in their career, where they went to school, what galleries represent them, what private and public collections own their work, what museum shows they've been in, the size and year of the work, and performance at auction, if any. Knowing the right questions to ask is key.
Galavante: What if you want to sell the art — how liquid is the market?
Karen: If you buy correctly, the art market can be fairly liquid. And you can sell your art privately, through an advisor, or publicly, at auction. However, much of the art market is illiquid, which is why you should always buy what you love.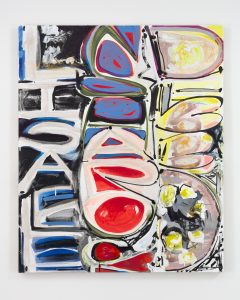 Artist Suzanne McClelland
Galavante: Thank you so much for such comprehensive insight. We're excited to fill in a few places in our office art, so we'll be in touch. Any last words of wisdom?
Karen: I would say don't be intimidated. Buying art should be fun. If it's not, you're doing it wrong!
Whether you are a beginning or experienced collector, Karen will help you confidently build your own collection, not only as an investment but as a representation of yourself.
Contact Karen Boyer at: 
[email protected]
917.656.8141
Also check out Karen's Miami restaurant recommendations, on our Miami Hot List for when you're in town.
If you liked this article, you may also want to check out these: