Is it possible to go on a week-long trip with a carry-on and still look your chic, stylish self? Or arrive in Milan after a flight from New York, and go directly to a work dinner looking like a million bucks? The answer is yes, thanks to what new knitwear designer Serino creates with its classic, keep-forever pieces. Whether you're headed to the beach or the city, here are four Serino pieces that create eight distinct looks. In other words, these are the travel clothes that you need in your suitcase now.

15% Off This Month – We're Not Going to Bury the Lede
Before you even read another word, know that for you, as a Galavante insider, 15% off is yours on Serino until June 30th. Which means your travel clothes and suitcase just got a whole lot more streamlined, and stylish. Use code Galavante15 at checkout.

A New Era in Fashion
The days of bottomless online clothing stores are over. We are all more conscious about the environment and sustainability. That consciousness carries over to how we choose our wardrobe. Serino's new line focuses on well-made sustainable basics that work for all occasions.

By the Fashion Insiders
Serino is the collaboration between  Joseph Serino, formerly of Calvin Klein and Nike, and Lexi Sacchi, an industry fashion buyer.
As a leading developer for large fashion labels, Serino found himself traveling almost every week, often with just a carry-on. He needed clothing that was suitable to go from plane to board meeting to drinks. With all the wear, he needed these pieces to be as durable as they were stylish.
The seed was planted, and last year, Serino launched. You can find Serino online and in NYC's quintessential West Village neighborhood. We know it's unusual today to have a storefront, but it sure is nice to be able to try on clothing. The Serino fabrics are next-level quality. Also, because it's knitwear, it's wrinkle proof, which makes it ideal travel clothing.

Timeless is the Goal
Serino's curated pieces for each season are cut from one bolt of fabric, and streamlined into seasonal colors. The line features pieces for both men and women, and they are meant to mix and match, as well as with your own wardrobe. This is another reason Serino is optimal travel clothing; with just a few pieces, you can create multiple looks.
The silhouettes transcend dress codes. Where in the past you may have wanted to pack a day dress, loungewear, and a two-piece suit for the evening, Serino makes it possible to choose one outfit for every occasion.
We would wear the fine knit slip dress and knit blazer. Paired with cool sneakers and a belt bag, the outfit can be dressed down for the day. The knit fabric echoes that of your favorite cardigan which will always be appropriate no matter where you are before happy hour. However, the cuts of each piece are unique, and make a casual outfit signature.
For the evening we would switch out the sneakers for pumps…and put our hair up. The subtle changes made with minimal pieces emphasize the sleek collar and figure-skimming fit. Heels immediately makes the dress evening-appropriate.

Fewer Pieces, More Versatility
These are four basic pieces from the women's line that create eight unique looks. In other words, this is all you need as the base for packing for your summer travels, from Greece to France and beyond.
The Pieces
#1 The Fine Knit Shirt
Colors: Black, Heather Grey, Navy, Cream, and Camel
Price: $395

#2 The Elevated Knit Jogger
Colors: Black, Grey and Navy
Price: $375
# 3 – The Two-Button Unlined Knit Blazer
Colors: Black, Grey and Navy
Price: $725
#4 The Fine Knit Slip Dress
Colors: Black, Grey, Navy, and White
Price: $325
The Looks
# 1: The Jogger + Fine Knit Shirt
Wear it for: Brunch and tooling around a new city
#2: The Fine Knit Jogger + Heels
Wear it for: Dinner and drinks
#3: Knit Blazer + Jogger
Wear it for: Day meetings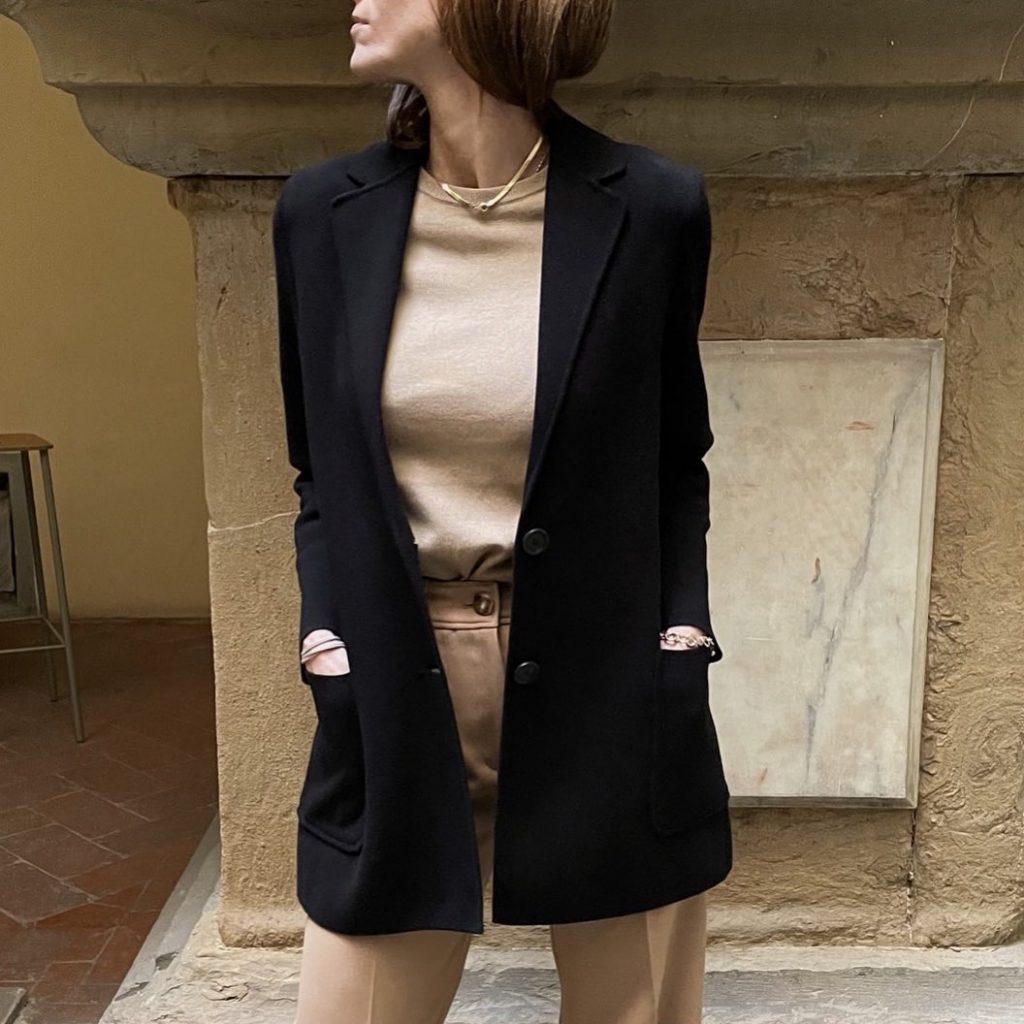 #4: The Fine Knit Shirt + Slip Dress
Wear it for: Touring around the city or country.

#5 The Fine Knit Shirt as a Bathing Suit Cover
Wear it for: The beach in Ibiza, St. Tropez, and Amalfi

#6 Knit Shirt + Slip Dress
Wear it for: Business meetings

#7  The Slip Dress + Heels
Wear it for: A night out on the town

#8 Blazer + Slip Dress
Wear it for: Day to night. Go from afternoon tea out to a big fancy dinner.
Related Articles
Three more sustainable brands we love.