Hippie Fish, despite being renovated, is one of the oldest modern eateries on Mykonos. It dates back to the 1960s, so it must be doing something right to have kept its doors open.  If you're looking for a restaurant in Mykonos with sea views, fresh fish, and a chic-chill vibe, Hippie Fish ought to end up on your list. But what is the dining experience really like? Here's the review.

Overview
Hippie Fish is an open-air restaurant in Mykonos on Agios Ioannis Beach. It's popular for its sushi but has a wide range of seafood, Greek favorites, and innovative specialties. Almost any seat in the house will provide stunning views of the clear sea and the surrounding Cycladic architecture. While the restaurant cultivates a laid-back atmosphere, in Mykonos fashion, it is nice laid-back. This means reservations in advance and white linen button-ups.
Atmosphere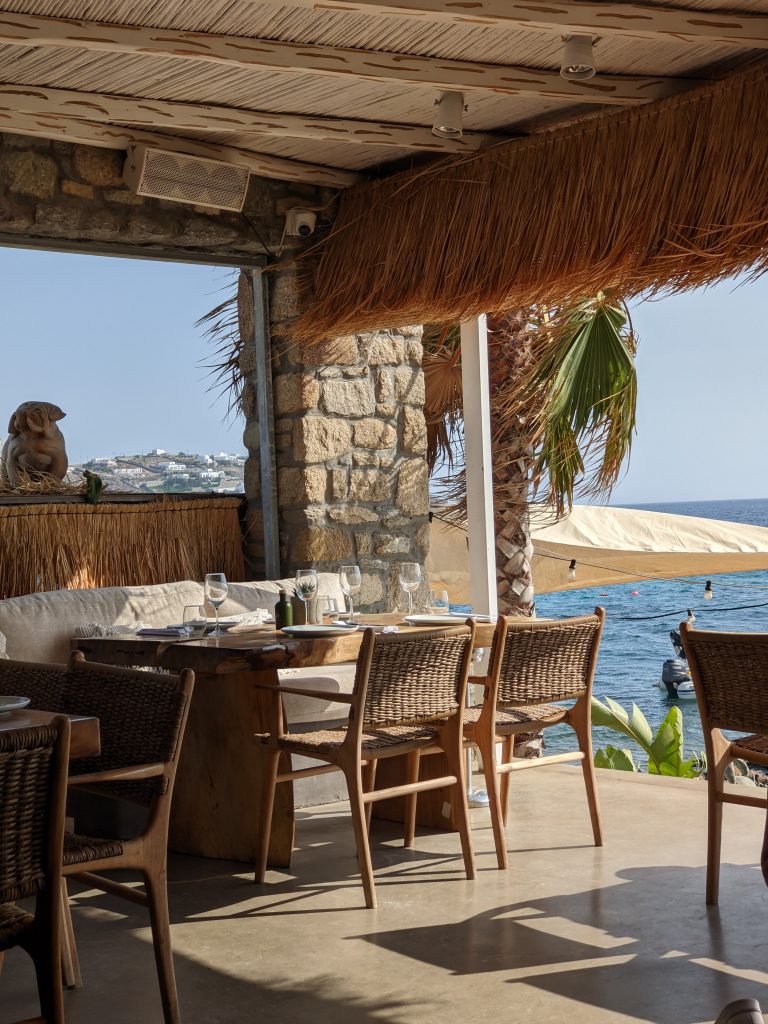 The extraordinarily well-cultivated atmosphere of Hippie Fish is perhaps its shining attribute. The floor plan is clever, offering all guests the best table. There is indisputable island energy that emanates from all corners of the space. Straw hangs from the open window ways, blowing effortlessly in the off-shore Mediterranean breeze, mirroring the nearby palm trees.  The stone interior is a modern take on classic Greek architecture. Wicker chairs and couches line tables to promote the ultimate chill dining experience.
Food
The seafood at Hippie Fish, unsurprisingly, is clean and fresh.  In fact, the staff served up some of the prettiest tuna sashimi we've seen. The menu is for the most part stripped down and classic, save for a few added elements of texture and flavor for a unique flair. We tried the Capellini fresh clams, and while it was perfectly good, and the clams were in fact fresh, it did not stick out as an extremely memorable or exceptional dish. We recommend sticking to the raw menu for the more mouth-watering flavors.
Drink
In Greece, cocktails work a little differently. Especially at a restaurant in Mykonos. Like everything about seaside life, they're just a little bit sweeter. This may or may not be your jam, but it's certainly reflected in the craft cocktail offerings at Hippie Fish. If fruity, saccharine cocktails are what you're after, Mykonos is the place to dive in. Go for something with melon, pineapple, or passionfruit. We tried the Electric, which adds melon to sweeten up what might have been a plain margarita. The result was crisp and refreshing, if approaching dessert territory.
Service
In a restaurant on Mykonos, you can expect top-notch service with a smile. What they say about Greek hospitality is irrefutably true. Unfortunately, it seemed that the staff at Hippie Fish may have been spread too thin due to an on-premise event. After ordering one dish, the waiter returned about 20 minutes later to inform us that tit wasn't in fact available, and we'd have to re-order. Of course, an off day is an off day, but it's kinda important to know what you have and what you don't while taking an order. Despite this, the staff was attentive and kind, and able to answer any questions about the menu.
Overall: 7/10.  The main draw is the atmosphere and fresh fish, both of which can be found all over Mykonos. Extremely fair pricing.
FAQs
Q: What makes Hippie Fish unique?
A: The restaurant exudes island energy with the Mediterranean breeze while balancing modern and classic takes on Greek architecture. To add to the distinct atmosphere at the restaurant, it serves fresh, mouth-watering seafood paired with fruity cocktails.
Q: Does Hippie Fish deliver?
A: No, this restaurant is dine-in only.
Q: What is the rating of Hippie Fish as per Galavante?
A: Galavante rates this restaurant 7/10 — it excels by capitalizing on its environment and fish, but this is not enough to stand out among the vast crowd in the area.
Hippie Fish Mykonos Information
Address: Ai Yanni Beach, 84600 Box 56 Mykonos, Greece
Opening hours:
Sunday               9a.m.-12a.m.
Monday             9a.m.-12a.m.
Tuesday             9a.m.-12a.m.
Wednesday       9a.m.-12a.m.
Thursday           9a.m.-12a.m.
Friday                 9a.m.-12a.m.
Saturday            9a.m.-12a.m.
Phone number:   +30 2289 023841